Japan ETF Loses Currency Hedge Tailwind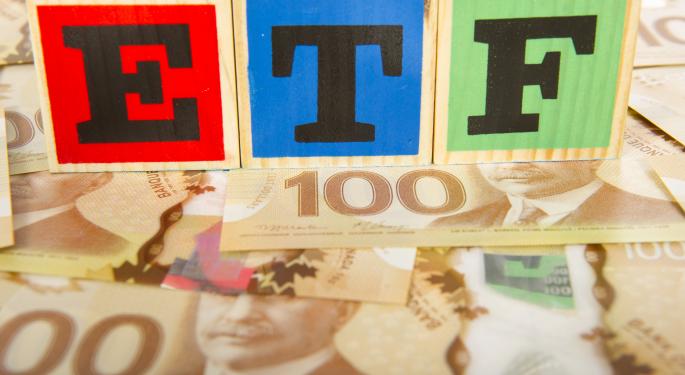 The Japanese stock market has had a tremendous start to the year by almost any measure. Continued efforts by the country's central bank to stimulate growth have pushed equity valuations to multi-year highs and recent stabilization in the yen currency has bolstered foreign investors as well.
One of the overriding themes of the last several years in this market has been the devaluation in the yen that has been a tailwind for currency-hedged ETFs such as the WisdomTree Japan Hedged Equity Fund (NYSE: DXJ).
This ETF tracks an index of over 300 Japanese stocks paired with short positions in the yen. In the case of DXJ, a falling yen and rising stock market provide a magnification effect that significantly boosts returns over a traditional un-hedged basket of stocks.
So far this year, DXJ has gained nearly 16 percent as stock prices have shot higher.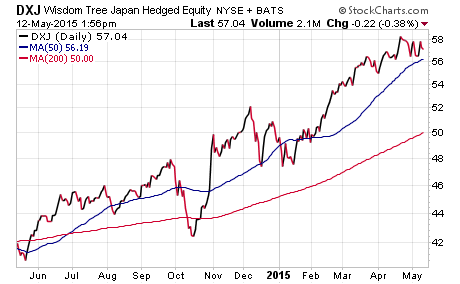 While this strength has been impressive, the muted sideways price action of the CurrencyShares Japanese Yen Trust (NYSE: FXY) has proven to add little in the way of additional performance so far this year.
The iShares MSCI Japan ETF (NYSE: EWJ) tracks an index of over 300 large- and mid-cap companies in Japan though a traditional non-currency hedged structure. This ETF has been around since 1996 and has accumulated over $18.8 billion in total assets.
So far this year, EWJ has posted a gain of 15 percent and has easily paced gains in DXJ. The chart below shows a comparison of both fund's performance since the beginning of 2015.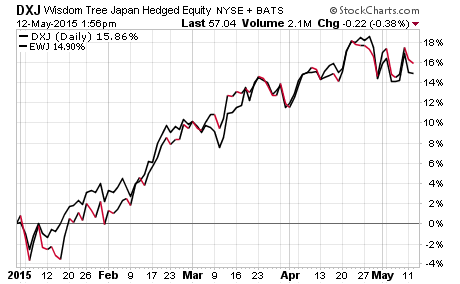 When building out the international portion of your portfolio, some currency strategists recommend that neutral (or sideways) currency trends still favor hedged exposure. Nevertheless, this lack of conviction in the yen has leveled the playing field with more conventional funds such as EWJ.
Another top performer this year has been the iShares Japan Large-Cap ETF (NYSE: ITF). This fund tracks 150 large-cap stocks in Japan, with Toyota Motor Corp (ADR) (NYSE: TM) as the top holding. ITF has gained 16 percent in 2015 and represents a unique option for investors looking to own the largest companies in Japan.
Posted-In: JapanCurrency ETFs Trading Ideas ETFs Best of Benzinga
View Comments and Join the Discussion!