Currency Hedged ETFs Are Back In Play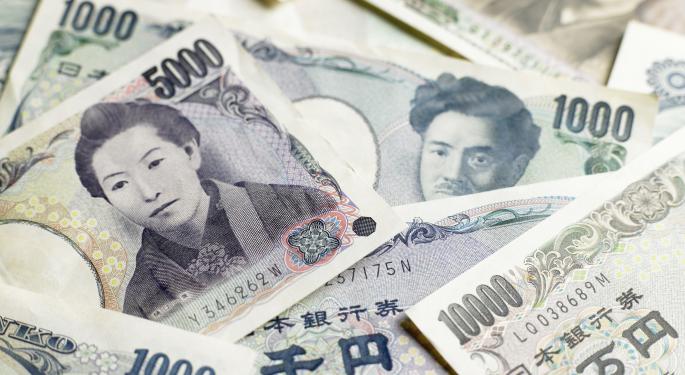 The recent weakness in the euro and yen currencies, along with subsequent strength in the U.S. dollar index, has put currency hedged ETFs back in the center of investors' radar screens.
The Guggenheim CurrencyShares Euro Trust (NYSE: FXE) and Guggenheim CurrencyShares Japanese (NYSE: FXY) have fallen 3.4 percent and 4.8 percent respectively over the last month. The monetary policies set forth by central banks in Europe and Japan has been one of the key drivers for this swift dive lower.
However, as with any significant shift in price, there are opportunities that have emerged from the turmoil in the currency markets that ETF investors can take advantage of. Specifically, currency hedged ETFs are now once again making waves for superior performance versus a similar basket of non-hedged stocks.
Related Link: 3 Middle East ETFs To Watch Amid President Obama's Speech
The WisdomTree Japan Hedged Equity Fund (NYSE: DXJ) recently broke out to new year-to-date highs on the back of the yen falling to new lows versus the U.S. dollar. This ETF tracks a basket of 300 Japanese stocks along with short yen futures contracts.
The purpose of this strategy is to remove the effect of currency fluctuations and hone in on strictly the performance of Japanese equity securities. When the yen is falling, this ETF is built to outperform a traditional equity-only index such as the iShares MSCI Japan ETF.
Over the last month, DXJ has appreciated 4.6 percent versus 0.46 percent for EWJ.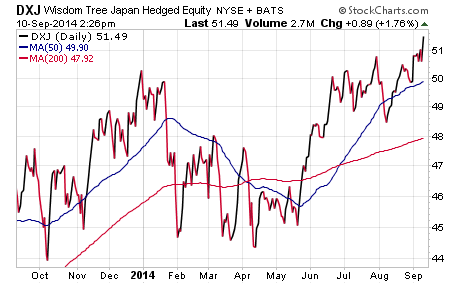 Another relative newcomer to this space is the WisdomTree International Hedged Dividend Growth Fund (NYSE: IHDG). This ETF includes a wide assortment of short currency futures contracts and international stocks from around the globe. Top country allocations include the United Kingdom, Switzerland and Germany.
The purpose of this unique strategy is to provide greater international diversification than a single country ETF. IHDG also selects stocks that WisdomTree has identified as having above-average prospects for future dividend growth. Companies within the index are given a larger weighting based on the growth of their dividends over time.
These currency hedging indexes can provide a distinct advantage to international investments under circumstances that favor a rally in the U.S. dollar.
View Comments and Join the Discussion!
Posted-In: Currency ETFs ETFs Best of Benzinga