Disappointing Earnings Weigh On Dow ETF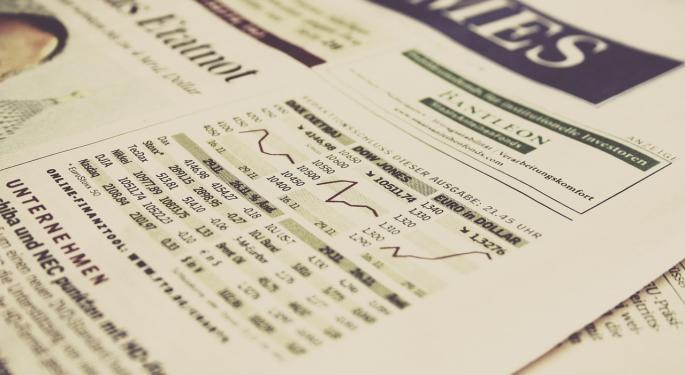 The Dow Jones Industrial Average (DJIA) is one of the most historically significant of all the major market indicators. This bellwether has been in existence since 1896, and its narrow group of just 30 mega-cap stocks has evolved over time to include some of the United States' most iconic brands.
The foremost exchange-traded fund to track the DJIA is the SPDR Dow Jones Industrial Average ETF (NYSE: DIA). This ETF has over $12.6 billion in total assets and charges an expense ratio of 0.17 percent.
One of the more interesting quirks of this iconic index is the price-weighted asset allocation. Rather than focusing on market cap as the primary driver of position size, DIA weights its components based on the size of their share price.
Related Link: Mid-Day Market Update: Dow Dips Over 1%
A Closer Look
The top three holdings include Goldman Sachs Group Inc (NYSE: GS), International Business Machines Corp. (NYSE: IBM) and 3M Co (NYSE: MMM).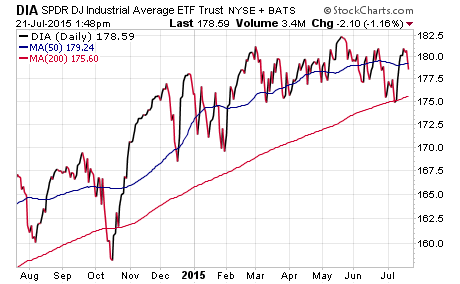 Tuesday's Trip
On Tuesday, DIA felt the ill-effects of an overweight holding in IBM and United Technologies Corporation (NYSE: UTX), which both reported quarterly earnings that fell short of investor expectations.
DIA fell more than 1 percent intraday, as the 6.4 percent weight of IBM and 4 percent weight of UTX dragged its share price lower. Both holdings experienced steep declines amid heavy volume as sellers took control.
On a year-to-date basis, DIA has gained just 1.55 percent, compared to 3.88 percent in the broad-based SPDR S&P 500 ETF Trust (NYSE: SPY). This recent underperformance is likely the result of high concentrations in industrial and financial sectors in DIA, which have been lethargic this year.
Looking Ahead
One potential savior for the Dow this week could be Apple Inc. (NASDAQ: AAPL), which reported earnings after the bell on Tuesday. Apple replaced AT&T Inc. (NYSE: T) in March of this year and currently makes up nearly 5 percent of the total DIA portfolio.
As the largest U.S.-listed company by market cap, Apple's earnings will be closely dissected to glean information on consumer behavior and technology trends.
Image Credit: Public Domain
Posted-In: Dow Jones Industrial AverageBroad U.S. Equity ETFs Trading Ideas ETFs Best of Benzinga
View Comments and Join the Discussion!