3 Mid-Cap ETFs Face Important Test Of Support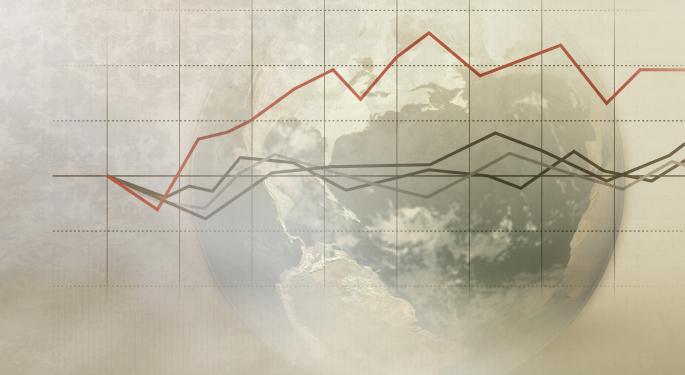 The market narrative this year has focused on the outperformance of large-cap stocks and underperformance of small-cap stocks. This trend has been persistently dominant as investors have sought the safety of larger companies with strong balance sheets and low volatility characteristics.
One area that has been largely overlooked in this saga is the performance and price action of mid-cap stocks in 2014. There are currently 49 ETFs that track some aspect of the mid-sized capitalization market with varying focuses on growth, value, blend or fundamental indexes.
The SPDR S&P Mid Cap 400 ETF (NYSE: MDY) covers approximately 7 percent of the total U.S. equity market, which encompasses companies with $1.5 to $4.5 billion in market capitalization.
Related Link: Deutsche AWM Celebrates 3-Year Anniversary Of Currency Hedged ETFs
MDY contains 400 holdings with overweight exposure to financials, technology and industrial sectors. This ETF has more than $14 billion in total assets and charges an expense ratio of 0.25 percent.
So far this year, MDY has gained 2.4 percent after hitting a high of as much as 8 percent at the end of August. The recent sell-off and return of volatility has prompted investors to reduce exposure in smaller and mid-sized companies to mitigate downside risk.
MDY is now rapidly approaching its 200-day moving average, which it hasn't pierced in nearly two years.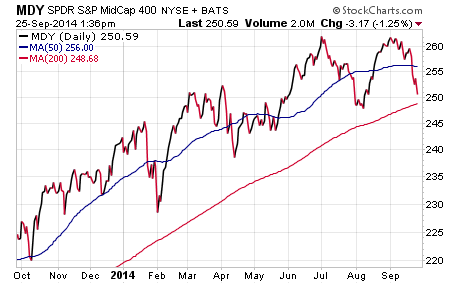 A significant break below this long-term trend line may prompt additional defensive repositioning away from MDY and similar mid-cap indexes. A top competitor in this space is the iShares Core S&P Mid-Cap ETF (NYSE: IJH), which tracks the same 400 underlying stocks with a moderately lower expense ratio of 0.14 percent.
Investors seeking an alternative option may want to consider the Vanguard Mid-Cap ETF (NYSE: VO), which tracks the CRSP U.S. Mid Cap Index. VO has gained 6.6 percent this year and bested many competitors as a result of its varying sector and company exposure.
As September volatility continues to work its way through the markets, keep an eye on these mid-cap ETFs for clues to stabilization or further downside risk.
Posted-In: Broad U.S. Equity ETFs ETFs Best of Benzinga
View Comments and Join the Discussion!