Jobs Report Offers Something For Bulls and Bears, But Headline Numbers As Expected
It's non-farm payrolls day on the Street, and headline numbers came in about as expected. But deeper in the report there were some positive data and also some numbers that raise a bit of concern about the state of the economy.
There were 215,000 jobs created during the month, a little above consensus for 205,000. Unemployment crept up to 5% from 4.9% in February, slightly higher than consensus estimates for a steady rate. The top-line numbers looked good.
Probing more deeply into the report, there was some good and some bad. On the bullish side of the ledger, wages, which had fallen 0.1% in February, rose 0.2% in March and were up 2.3% year-over-year. The workweek was flat at 34.4 hours, and the number of Americans in the labor force rose slightly to 63%, still climbing from its lows of last autumn. Both wages and workweek had fallen in the February report. The U.S. Federal Reserve closely monitors wage growth and hours worked as it looks for signs of inflation in the economy.
But when we look at where jobs were actually created, it appears that there's some reason for concern. Retail, construction and healthcare led the way as far as job creation in March, the Bureau of Labor Statistics said. But there were job losses in manufacturing and mining. The manufacturing losses were the biggest concern, and it's also notable that retail seems to be leading the way in job gains.
Headline numbers were down a bit from February, when the economy added 242,000 jobs, with unemployment steady at 4.9%. The February jobs number was revised slightly upward to 245,000 on Friday.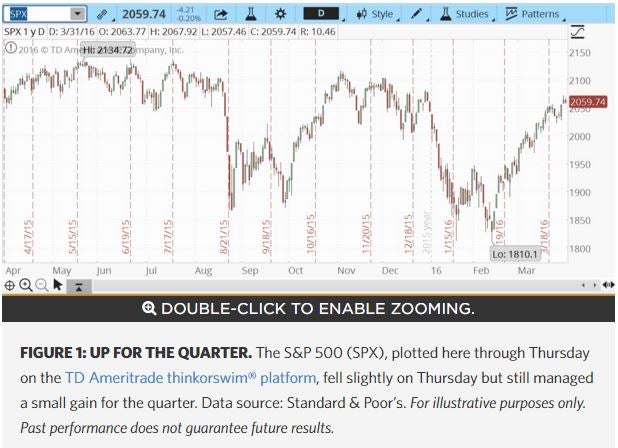 There wasn't much early market reaction to the reports, as investors seemed unsure what to make of the numbers. Stocks remained lower, and Treasury bond yields ticked up just a bit. With every jobs report, investors wonder how the Fed might interpret it as it shapes rate policy. But it's unclear if this report will change any thinking on that front.
There were other developments early Friday aside from the jobs numbers. Crude oil prices, which had rallied sharply for most of March, continued their recent slide, with U.S. front-month futures recently falling more than 2% to below $37.40 a barrel. Media reports cited skepticism among traders about major oil producers' plan to freeze production. A producers' meeting is scheduled for April 17, but Bloomberg reported that Saudi Arabia, the largest producer, will only freeze its production if Iran and other major producers do so.
Gold futures also stumbled out of the gate Friday after posting their best quarterly rise in nearly 30 years. Gold had gotten a boost earlier this week from Fed Chair Janet Yellen's dovish remarks about the economy. New York Fed President William Dudley spoke late Thursday but didn't discuss interest rates.
There is other economic news today. ISM manufacturing data are due at 10:00 a.m. ET, along with construction spending. Vehicle sales data are scheduled throughout the morning.
Overseas markets were mixed, with losses in Europe and Japan but rising stock prices in China.
Last Year's SPX Highs In Sight: Though it may seem hard to believe, the highs posted last May by the S&P 500 Index (SPX) slightly above 2130 aren't all that far off. During Thursday's trading day, the SPX was trading just 3% below that level. The index tested that level again last July and last November, but did not reach it.
Bearish Earnings Season Forecast: FactSet, in its recent Earnings Insight report, predicts an average earnings decline of 8.7% for companies in the S&P 500. If there's a decline in earnings for Q1, it will mark the first time the index has seen four consecutive quarters of year-over-year declines in earnings since Q4 2008 through Q3 2009. And the downward momentum has picked up since the start of the year, with estimated earnings for companies in the S&P 500 falling by 9.3% since Dec. 31, FactSet said.
Chicago PMI Rings a Positive Bell: A measure of Chicago-area economic activity rebounded in March, with the Chicago Business Barometer, or Chicago PMI, rising to 53.6. Any reading above 50 indicates improving conditions. There were sharp bounce-backs in Production and Employment, the Institute for Supply Management said. The report is a sign that indicates steady economic growth in the U.S.
Inclusion of specific security names in this commentary does not constitute a recommendation from TD Ameritrade to buy, sell, or hold.
Market volatility, volume, and system availability may delay account access and trade executions.
Past performance of a security or strategy does not guarantee future results or success.
Options are not suitable for all investors as the special risks inherent to options trading may expose investors to potentially rapid and substantial losses. Options trading subject to TD Ameritrade review and approval. Please read Characteristics and Risks of Standardized Options before investing in options.
Supporting documentation for any claims, comparisons, statistics, or other technical data will be supplied upon request.
The information is not intended to be investment advice or construed as a recommendation or endorsement of any particular investment or investment strategy, and is for illustrative purposes only. Be sure to understand all risks involved with each strategy, including commission costs, before attempting to place any trade. Clients must consider all relevant risk factors, including their own personal financial situations, before trading.
TD Ameritrade, Inc., member FINRA/SIPC. TD Ameritrade is a trademark jointly owned by TD Ameritrade IP Company, Inc. and The Toronto-Dominion Bank. © 2016 TD Ameritrade IP Company, Inc. All rights reserved. Used with permission.
Posted-In: Economics
View Comments and Join the Discussion!