Spending On Vices, Dining Out Appears To Be Slowing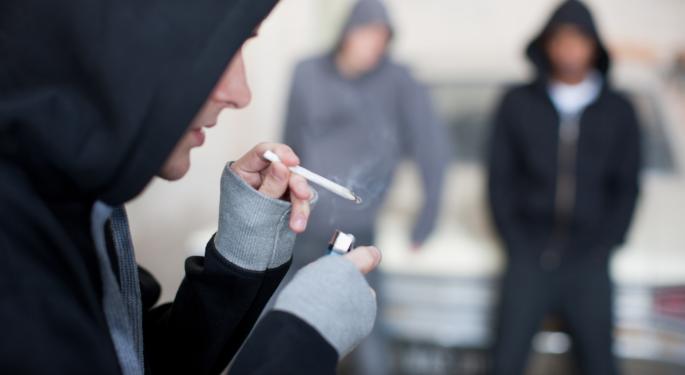 Family Playtime Means Less Vice Time
August summer vacations leave little money and opportunity to vice (yup, it's a verb). Additionally, even more travel means even less vicing. Americans have become more focused on vacations, to the detriment of other forms of consumer spending.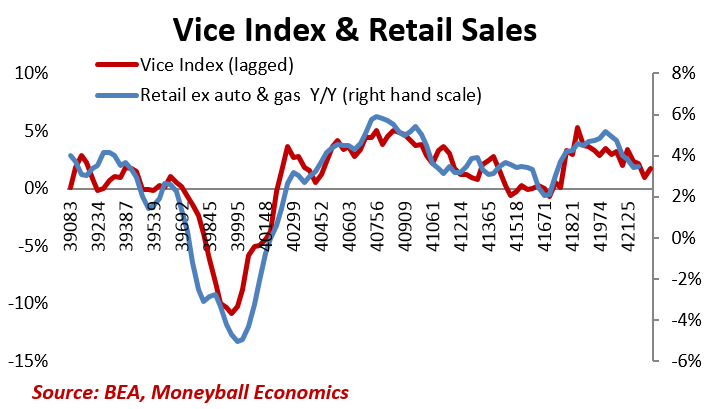 In general, however, spending is slowing.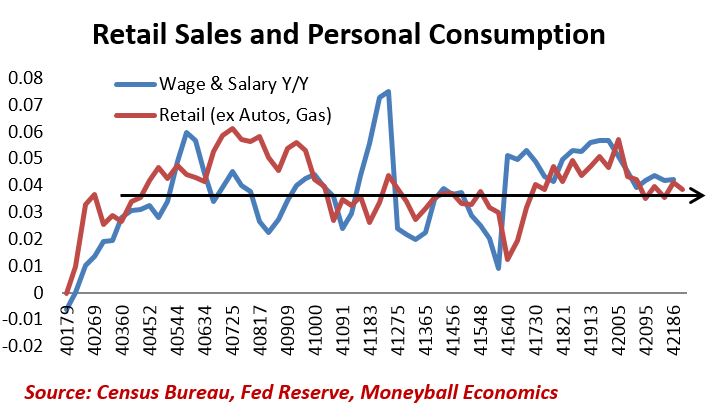 In the previous cycle, households leveraged up and outspent their incomes using various forms of credit (debt). In this cycle, households are living more within their means and avoiding debt.
Spending follows income, literally. As the chart shows, retail spending growth lags income growth by one month.
Several takeaways from this:
Wage growth is downshifting, and pulling spending down with it.
Wage growth (and therefore spending) will be further impacted by a global (Chinese) slowdown.
This year's holiday shopping season will be higher than last year's. Ultimately companies expand payrolls when revenues are growing and profits are strong, but heading into 4Q, corporate profits are under threat because revenues were stagnating. For companies with global exposure (>50% sales generated outside the US), 3Q revenues are forecast to contract -12%. For companies less exposed (<50% of sales generated outside the US), revenues will grow 2%.
Excluding energy companies from the mix improves the figures a little but growth remains in the low single-digits, which won't really move the hiring dial, or lead to fantastic raises and bonuses.
We are on course for a steady-but-mild shopping season – maybe 3% year over year, which would be slower than last year's 4.1%. Budgets have been mostly set for this year, but they are susceptible to some incremental cut-backs if more bad news comes or the stock market remains stuck.
Already concerns about the economy have risen, as indicated by Google Trends.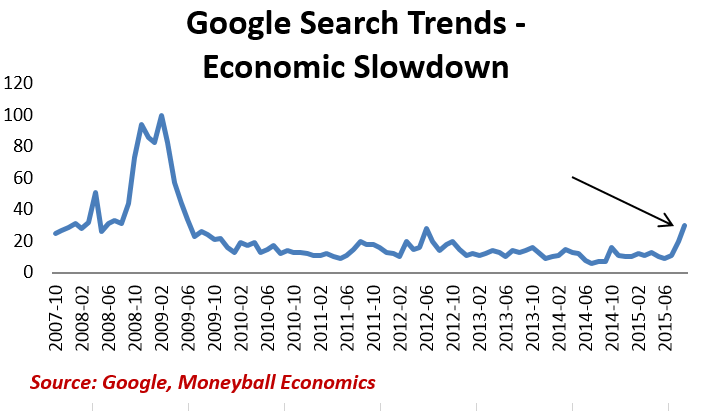 Restaurant Operators Turn More Bearish
Pay attention to restaurant and bar spending. It's been the fastest growing sector in the retail space. It's also a proxy for shopping. People out shopping and playing also tend to dine out. Foot traffic for one turns into foot traffic for the other, and it's one of the first places where consumers pull back if they sense financial stress.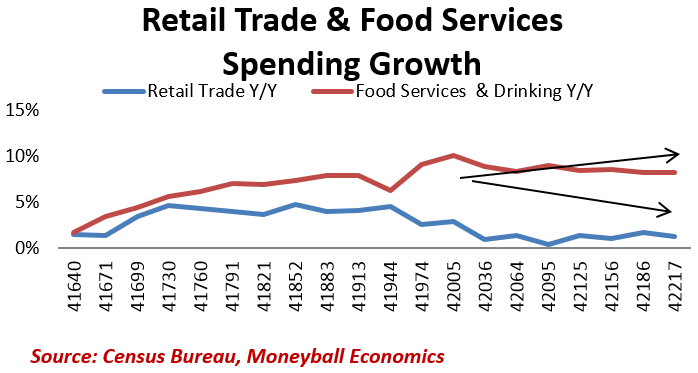 Notice that growth is coming down a bit. At the same time, something happened in August that chilled restaurant operators. In July, they were happy. Foot traffic and corresponding sales levels grew. In August, they turned more pessimistic.


More operators expect the economy to be worse in six months than expect it to be better.
The Bearish Scenario: Take the slowing growth at face value. Restaurant operators are reporting less sales because consumer spending is slowing, be it on food or shopping or vices.
The Bullish Scenario: A strong economy has meant more summertime travel (domestic and abroad) and less shopping time.
Either way, it translates into a pullback going forward.
Cannabis Profits Going Up In Smoke
Cannabis retail prices keep falling. Price discovery continues for this new market. After falling about 30% since legalization, prices for legal recreational marijuana recently plunged again. Prices are down almost 50%.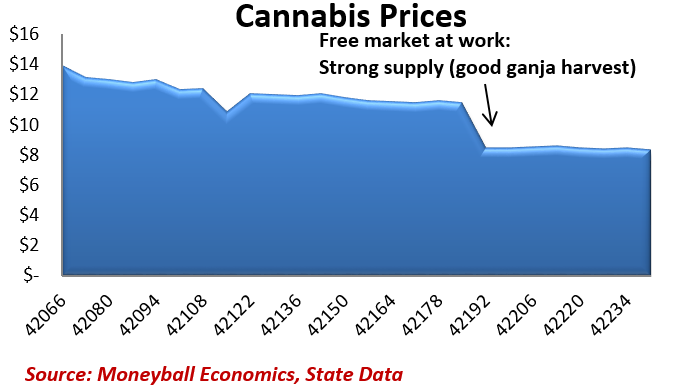 This supports our thesis that the money is not going to be made in farming. Profits will follow the consumables: the oils and food products. Consumers pay more for consistent quality and branding. For example, Doritos chips are mainly cheap corn with a massive margin charged for branding.
Are we going to see price protection for cannabis growers? Very likely, once tobacco or other traditional farmers enter the game. Meanwhile, do not invest in growing. Invest only in processing.
Adding It All Up
The stock market is down 10% since July. No doubt some stocks are oversold, but being long in this market is tough. Business incomes aren't growing much and neither are household incomes. Add to this the fact that China is fighting to avoid a hard landing and the US isn't completely decoupled from a global slowdown.
Consumer stocks are not the place to be.
If you have to be long, consider semiconductor stocks. There's a lot of consolidation on the way in this space. Alternately, you could embrace the bear: buy ETFs that are short emerging markets and materials. One risk you face here is that China could launch some fiscal stimulus that leads to more road building, but that would be a short-term risk.
Posted-In: Food Sales retail sales Vice Vice IndexEconomics Markets Best of Benzinga
View Comments and Join the Discussion!