Consumer Spending On Ice: S&P 500 Uptrend Still Intact For Spring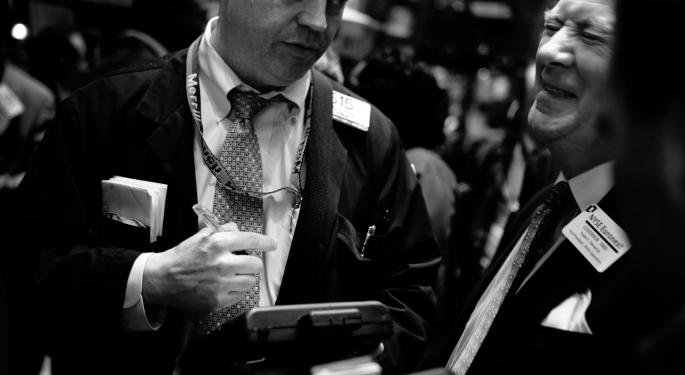 Americans socked away a surprisingly large chunk of change in February as they reined in spending and hoarded savings from lower gasoline prices, putting a crimp in the economy.
And they felt good about it. "The consumer is confident according to surveys," says JJ Kinahan, chief strategist at TD Ameritrade. "But there is a disconnect between confidence and spending. The confidence is not being played out in the durable goods and retail sales numbers."
Consumers followed the severe weather patterns and put their spending, which drives roughly two-thirds of total U.S. growth, on ice in February. U.S. personal spending inched up a paltry 0.1%, following January's 0.2% pullback. At the same time, Americans boosted their savings rates to 5.8% in February, the highest level since the end of 2012, according to the Commerce Department report.
The University of Michigan Consumer Sentiment Index hit 93.0 in March, down from 95.4 in February. Despite the decline, a reading above 90 is still considered a strong number.
The cautious approach to consumer spending hasn't broken the broader stock market uptrend. "There is no real shift in sentiment. Buying dips has paid off for the last year. It is a trend until it's broken," Kinahan says.
As the old market saying goes: the trend is your friend. Longer-term investors and short-term traders can look to a variety of technical indicators to help measure and identify trends. These tools range from a simple moving average to a Bollinger Band indicator, which is often used to help identify extremes and short-term targets.
Related Link: Does Your Trading Style Fit Your (Real) Personality?
The S&P 500 has bounced roughly from 2000 to 2100, but the longer-term uptrend hasn't been broken. "Bollinger Bands give you an indication of a few different levels where you might want to consider buying," Kinahan says. Figure 1 shows how Bollinger Band lines can identify potential support and resistance for a market.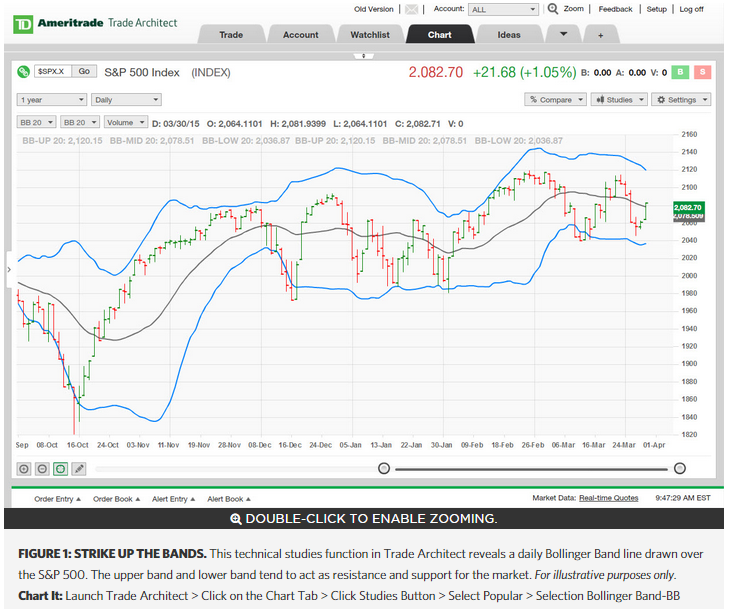 Investors looking to dive into the world of charting will find that Trade Architect offers a number of drawing and studies tools that can be used across trading and investing time horizons. "If someone is trading intraday or on a swing basis, you can apply these indicators to a shorter-term chart and use [that] for potential entry and exit points throughout the day," says Chad Cocco, Active Trader group, TD Ameritrade. "They also offer a longer view on daily and weekly charts. You can apply the studies to longer-term charts to determine potential entry and exit points if you are a buy-and-hold investor."
Stock trading, unlike consumer spending, doesn't get iced with freezing weather. When the temperatures turn higher, it's likely consumer spending will, too.
This piece was originally posted here by Kira Brecht on March 31, 2015.
Spreads and other multiple-leg option strategies can entail substantial transaction costs, including multiple commissions, which may impact any potential return.
A rollover is not your only alternative when dealing with old retirement plans. Please click here for more information on rollover alternatives.
Futures and futures options trading is speculative, and is not suitable for all investors. Please read the "Risk Disclosure for Futures and Options" prior to trading futures products.
Market volatility, volume, and system availability may delay account access and trade executions.
Past performance of a security or strategy does not guarantee future results or success.
Options are not suitable for all investors as the special risks inherent to options trading may expose investors to potentially rapid and substantial losses. Options trading subject to TD Ameritrade review and approval. Please read Characteristics and Risks of Standardized Options before investing in options.
Supporting documentation for any claims, comparisons, statistics, or other technical data will be supplied upon request.
The information is not intended to be investment advice or construed as a recommendation or endorsement of any particular investment or investment strategy, and is for illustrative purposes only. Be sure to understand all risks involved with each strategy, including commission costs, before attempting to place any trade. Clients must consider all relevant risk factors, including their own personal financial situations, before trading.
TD Ameritrade, Inc., member FINRA/SIPC. TD Ameritrade is a trademark jointly owned by TD Ameritrade IP Company, Inc. and The Toronto-Dominion Bank. © 2015 TD Ameritrade IP Company, Inc. All rights reserved. Used with permission.
Posted-In: Chad Cocco JJ KinahanEconomics Markets Best of Benzinga
View Comments and Join the Discussion!