Which Would You Rather, A-To-Z Version: AAR Corp or Zweig Total Return?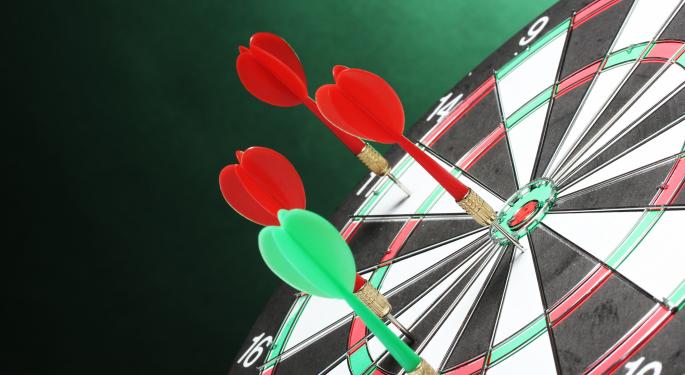 There is an old adage that says a monkey playing darts (i.e., completely random selections) can sometimes outperform the markets.
With that concept in mind, we thought it would be interesting to take a couple of random stocks and see just how they stacked up against each other, as far as 2013 returns are concerned. Our version involves simply take the first stock and last stock that were listed on the NYSE's website, in alphabetical order, and compare them.
For the sake of this unscientific comparison we went with AAR Corp (NYSE: AIR) the Zweig Total Return (NYSE: ZTR).
AAR Corp is a multiservice engineering, manufacturing and products company which mostly services the aerospace industry and the government. The company began 2013 at $19.00, and was quickly headed upward. The company's 2013 chart features the kind of smooth upward climb that makes investors salivate.
Related: Apple vs. Tesla Motors - Which Would You Rather Invest In?
ZTR entered 2013 trading at $12.50 and moved higher immediately. The stock's upward momentum stalled in late May at $13.45, after which the stock traded between $12.60 and $13.50 until late in the year. In late October to early November ZTR broke out of its trading range, jumping to $13.95 in November. ZTR closed out the year at $13.94, after briefly touching $14.00 in late December. Its 12 percent return was far below the market's 26+ percent returns, and probably would more appeal to those looking to play it safe.
So, can a monkey playing darts really outdo the S&P 500 or the DOW? It's telling that not many people have a primate as their stock broker. What that old saying may really point towards, however, is not how to choose a stock to purchase, but a way to discover new stocks.
Often the big name stocks draw all the attention on TV and in the news. They can be buoyed by the positive coverage, and brutalized by the negative coverage. Perhaps a strategy of selecting companies at random and investigating them would be a great way to uncover some hidden gems.
View Comments and Join the Discussion!
Posted-In: Economics Markets Best of Benzinga