How Are Michigan Automotive Stocks Performing?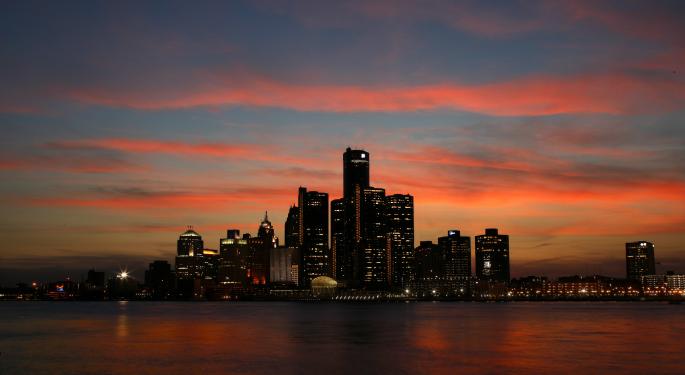 The state of Michigan is well known for its thriving auto industry and its roots in rock and roll. But investors will be interested in learning that Michigan boasts some of the best performing stocks on the market.
The state government has implemented an incentive program for businesses to pitch their tents in Michigan and some of the most prominent industries in the country, such as manufacturing, are enjoying considerable success.
The entire manufacturing industry in Michigan, for example, generates about 30 percent of the state's total revenue. That fact alone should be enough to send investors scrambling to snatch up available shares of stock in the companies in that sector.
But there are other companies in other sectors in Michigan that are performing well. The following are some of the stocks that investors will want to look at heading into 2014.
Dow Chemical (NYSE: DOW) – This multinational company located in Midland, Michigan, is a chemical manufacturer that produces plastics, performance chemicals, and agricultural products.
With approximately 54,000 employees worldwide, Dow has locations in 160 countries and has an annual research and development expenditure of more than $1 billion. The market cap of the stock is just under $24 billion and it pays a 5.9 percent dividend.
Ford Motor (NYSE: F) – As one of the leaders in automotive innovation and production, the Ford Motor Company has had quite a history. On the verge of becoming defunct and its corporate bonds being downgraded to junk status just prior to the 2008 global economic crisis, Ford has rebounded in a big way over the last five years.
Despite having not sought government bridge loans the way other auto manufacturers did once the crisis began, the company was able to revamp its financial infrastructure and managed to generate revenue of over $134 billion in 2012. Ford is expected to close out 2013 by topping that number as its stock price has climbed consistently throughout the year.
General Motors (NYSE: GM) – Like Ford, GM is one of the most recognizable and iconic American automobile manufacturers in the world. The company's 13 car brands include GMC, Buick, Chevrolet, Cadillac, Isuzu, Opel, Jie Fang, Vauxhall, UzDaewoo, Wuling, Baojun and Holden.
With its headquarters in Detroit, GM also was affected by the 2008 financial crisis and sought bridge loans from the federal government in order to maintain operations. The company generated $150.2 billion in revenue in 2011 and in 2012 produced almost 10 million vehicles. The stock began the year at about $30.00 and is poised to finish out near $40.00.
Penske Automotive(NYSE: PAG) – Penske Automotive is the second largest automotive dealership group in the world with 327 retail franchises, selling 42 different car brands. The company is located in Bloomfield Hills and saw a 52-week high of $44.34 on its stock price. The stock has seen a slight dip in recent weeks, however, and is not expected to rebound much heading into 2014.
Visteon (NYSE: VC) – This automotive parts company was founded in 2000 and sells vehicle electronics, systems, modules and components worldwide. As a relatively young company, Visteon has seen a consistent rise in its stock price over the years in general and in 2013 in particular.
The stock began the year at just under $60.00 and closed out the month of October at $76.31. Based on recent history, Visteon is one of the best bets for investors looking to diversify with Michigan-based companies in 2014.
Posted-In: Economics Markets Best of Benzinga
View Comments and Join the Discussion!