How To Lock In Profits By Investing In The Corrections Industry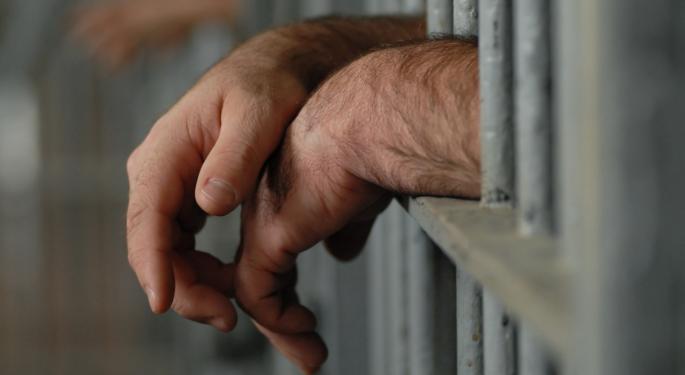 It is somewhat difficult to imagine that the criminal element in the United States could actually help investors on Wall Street turn a profit.
But, that is exactly what is happening as more and more investors are starting to cash in on the burgeoning corrections industry.
The fact that the United States has more prisoners per capita than any country in the world, is the result of a years-long seemingly endless river of prisoners cycling in and out of America's prisons.
This has led to most correctional facilities experiencing consistent overcrowding which in turn leads to supply chain benefits for prisons such as medical supplies and food. All of this points to an abundance of investment opportunities for those looking to diversify their portfolios.
The Corrections Corporation of America (NYSE: CXW) owns nearly half of all United States correctional facilities and as America's largest private owner of prisons has chosen to build new prisons only in locations in which it already has long-terms contract in an effort to more quickly recover capital costs.
There are also opportunities for the company to profit from the acquisition of state-owned facilities.
The GEO Group (NYSE: GEO) is the second-largest private owner of prisons in America behind CCA.
The company owns 100 facilities across the country and utilizes a community service outsourcing model that works to oversee and control the arraignment-to-reintegration life cycle of the inmates in its facilities. The company also acquired Cornell Companies – another correctional facilities operations corporation specializing in remote monitoring - in 2010.
All of this has led to small but consistent growth reported over the last two years (5% in 2011 and 2% in 2012) and both GEO and CCA have profited nicely from population compensation and daily rate pricing stability.
While these companies have carved out something of a niche in the corrections industry, another company, 3M (NYSE: MMM) has gone the way of electronic monitoring technology and provides prison-caliber security of convicted criminals without the actual prison facility.
Corrections Corporations of America has a respectable monitoring segment in its own right, as does GEO Group, but they have stiff competition in 3M as one of the leaders in this young but ever-growing segment.
Global economic setbacks in recent years have caused 3M to see low sales numbers. Nevertheless, the company garnered an operating income increase of four percent from its security segment in its latest fiscal year. Its 2012 operating cash flow was just over $5 billion with a yearly R & D budget of nearly $2 billion giving 3M the financial muscle to take over the security segment.
These three corrections industry big wigs – GEO Group, 3M and Corrections Corporations of America – are solid bets for investors looking to diversify. They all have the potential for significant growth in the coming years but it is important that investors find an angle such as the one provided by 3M with their dominance of the tech side of the corrections game.
The long-term investment picture for prisons looks promising and the three players mentioned in this article are leading the way both for themselves and for those investors smart enough to include them in their portfolios.
View Comments and Join the Discussion!
Posted-In: prisonsEconomics Trading Ideas Best of Benzinga