Chinese Economy Key to Revenue Growth in Corporate America?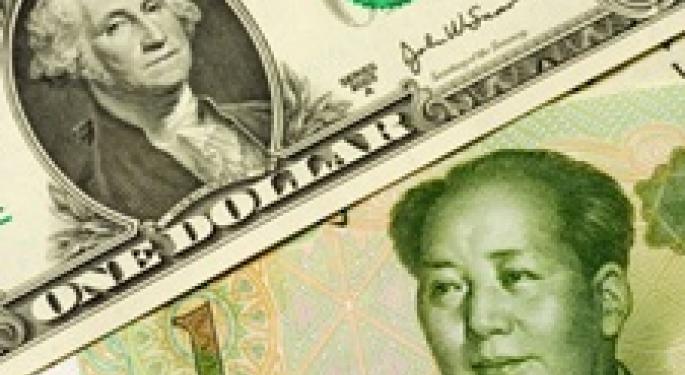 One of the issues I've raised several times over the past couple months has been the question of growth potential for corporate earnings going forward.
Generally, over the past couple of years, corporate earnings have been quite strong, with companies cutting costs and buying back shares. But at some point, we do need to see revenue growth if corporate earnings are to continue rising. However, with America lacking an extremely strong economy, some U.S. corporations are looking elsewhere.
While most of the global economy remains stagnant, the Chinese economy is growing in importance every single year. While many people might have the old notion that the Chinese economy is simply a place of cheap manufacturing, this perspective needs to be reconsidered.
Many corporations are generating strong corporate earnings by selling into the Chinese economy from their domestic consumption. You might not think it, but the Chinese economy is a huge market for American firms. Just consider the recent growing emphasis on Apple Inc.'s (NASDAQ: AAPL) possible deal with China Mobile Ltd. (HKX/00941), which has over 750 million total customers. (Source: China Mobile Ltd., September 25, 2013.)
Not only is the Chinese economy developing and growing a huge number of middle-class consumers, but that nation is also one of the top countries for luxury sales. As an investor in many American companies, how that nation develops is quite important, as it will certainly be a crucial variable for corporate earnings here in the United States.
However, recent data are mixed regarding the forecast for the Chinese economy going forward. The China Beige Book International reported that the Chinese economy has slowed this past quarter in the transportation and manufacturing segments, contrary to other data that have been released. (Source: "China Beige Book Shows Slowdown, Opposite Official Data," Bloomberg, September 24, 2013.)
Many investors and business owners are expecting the Chinese economy to begin re-accelerating, which they are incorporating into their corporate earnings forecasts. If this report is correct—showing that revenues, profits, and employment are not growing at the pace people expect—this would certainly have a serious impact on many firms.
This is just one data point, and there have been other reports showing the Chinese economy is strengthening. (Remember: when considering economic data, it's important to not take one number that differs from the others and run away with it, panicking. Put things in perspective for the long-term by considering multiple data points for a more rounded picture.)
The real issue I have over the next few years is that much of the growth in the Chinese economy, which has driven corporate earnings for many American companies, is generated from credit growth.
We've all seen what happens when people spend more than they have (remember the sub prime mortgage crisis?). Now, the Chinese economy appears to be incurring a similar debt increase, except in China, corporations are increasing their debt load, too. There are reports of more companies borrowing heavily, just to finance sales. Credit cannot continue growing forever; at some point you hit the wall and there is a contraction in credit growth, which will hit the Chinese economy, and severely impact corporate earnings.
Without the potential opportunities for U.S.-based corporations to grow revenues in the Chinese marketplace, there may be little left for these corporations unless consumer spending in the U.S. economy picks up. For the time being, there doesn't appear to be any panic forming in the Chinese economy, but I would certainly keep my eye out for any cracks that might appear, as they may just affect U.S. companies more than you think.
This article Chinese Economy Key to Revenue Growth in Corporate America? was originally published at Investment Contrarians
The preceding article is from one of our external contributors. It does not represent the opinion of Benzinga and has not been edited.
View Comments and Join the Discussion!