If You Don't Think the Stock Market Is Addicted to the Fed's Printing…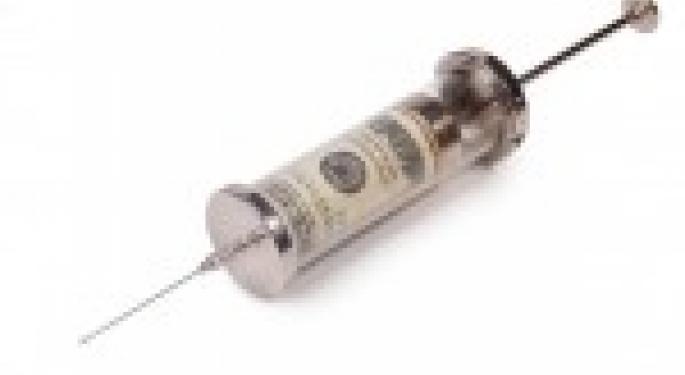 By George Leong
If you don't believe me that the stock market is addicted to the easy money flowing through the veins of the economy, then recall what happened on Tuesday.
Just like in June, when stocks were flying high, the Federal Reserve came out at its Federal Open Market Committee (FOMC) meeting talking about the need to slice down its bond buying.
This time around, Dennis Lockhart, the president of the Atlanta Federal Reserve Bank, reiterated the thoughts of the central bank after suggesting cuts to its bond-buying program could happen as early as next month's FOMC meeting or later in the year should the economic recovery and jobs growth show signs of fragility.
The stock market fell on the news and continued selling on Wednesday. If this doesn't suggest a serious addiction to easy money, then I'm not sure what to say.
Also Read: NYSE Holidays 2013
Look, the tapering will come and the stock market needs to be accepting of it. Now, the economy may continue to stall, as reflected in the first- and second-quarter gross domestic product (GDP) growth, and this may push off the tapering for a few months, but it is coming, folks, and it will have an impact on the stock market.
Of course, we need to also see more jobs created, especially in middle-class America. This group is having a difficult time and is gasping for air. But with the unemployment rate making a surprise downward move to 7.4% in July, there's some concern that the improving jobs market is nearing the Fed's target of seven percent—which could mean goodbye to easy money.
Now, you all must be tired of hearing about the bond tapering and how Federal Reserve Chairman Ben Bernanke has created a nation of addicts. But it's true, and we must be realistic and understand that the times of easy money are nearing an end. Don't worry too much, though; we still have the record-low interest rates, which should be around for another year, as long as the jobless rate doesn't decline to the Fed's target of 6.5% and inflation remains manageable.
Here's how I see it: if the economy strengthens and people get jobs, it really isn't that bad. Stock market participants have already made their easy money, so let's now hope for the nation to strengthen instead of hoping for worse just so the Fed maintains its bond buying and continues to dole out easy money.
The reality is that there will still be money to be made in the stock market, even as bond yields edge higher. It will just take some time for the stock market to kick its addiction.
This article If You Don't Think the Stock Market Is Addicted to the Fed's Printing… was originally published at Investment Contrarians
The following article is from one of our external contributors. It does not represent the opinion of Benzinga and has not been edited.
Posted-In: Economics Federal Reserve Markets
View Comments and Join the Discussion!