Economic Growth Falters: Which Stocks to Buy or Avoid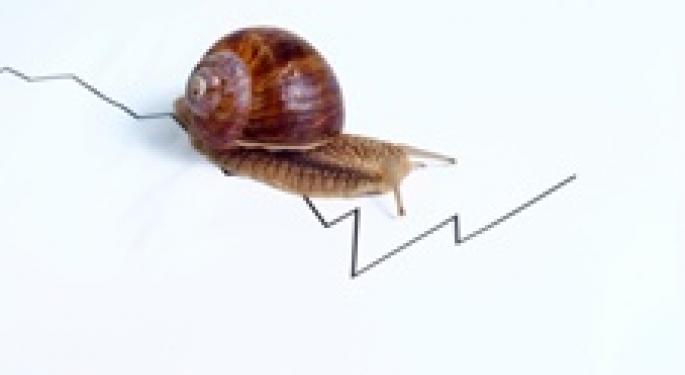 By Sasha Cekerevac for Investment Contrarians
One of the most closely watched parts of the global financial system is the Chinese economy. I don't need to tell you that the economic recovery in America and the rest of the world is quite sluggish. Many had hoped that China could help propel the global economy higher; however, there are now concerns that this might not occur.
Recent data on the Chinese economy are signs that economic growth is not accelerating. For the first three months of 2013, the Chinese economy posted growth of 7.7%, a lower rate than the fourth quarter of 2012, in which the Chinese economy grew at 7.9%. (Source: Yao, K., et al., "China growth risks in focus as first quarter data falls short," Reuters, April 15, 2013, accessed April 16, 2013.)
The Chinese economy is a huge player within the international financial system. If the nation was to regain its economic growth rate of the past, this would have a substantial impact on many people and companies around the world.
The Chinese economy posted industrial production growth of 8.9% year-over-year, below expectations of 10% growth. Power generation was up only 2.1% year-over-year in March, and steel output declined 3.2%, both below expectations.
Don't forget, China is a huge buyer of many raw materials, including copper and iron ore. This latest data is additional evidence that economic growth is not accelerating, and investors need to reallocate their portfolios in accordance with this information.
One slight positive note was that retail sales within the Chinese economy increased 12.6% year-over-year in March, above expectations of 12.5% and higher than the recorded 12.3% increase for February.
The Chinese economy is undergoing a massive transition. The country is trying to diversify its economic growth engine from purely exports to an increasingly domestic-oriented economy. This can have positive benefits for American investors, as U.S.-based firms are increasingly selling to the growing middle class in China.
What is clear: the commodity super cycle we've seen over the past 10 years appears to be ending, with the Chinese economy shifting away from economic growth based on producing basic items such as steel and toward an increasingly service-oriented economy.
This to me indicates that many of the raw materials that people have invested in over the past decade by way of economic growth within the Chinese economy might not see the same profits over the next decade.
Instead of investing in iron and copper ore, I would look to firms that can sell their products in China. Economic growth will continue for the Chinese economy, but it will be at a slower pace and in a different format.
Retail sales continue to grow in the Chinese economy, and the middle class will expand over the next several decades. I would concentrate on firms that can benefit from this shift in economic growth.
We all know that car sales are already huge within the Chinese economy, and this sector will only continue increasing. Many restaurant chains have already begun expanding within China and, as the average person within that nation continues to have higher levels of disposable income, I see this trend set to continue as well.
Just because economic growth isn't running at the levels we've seen over the past decade anymore doesn't mean there aren't investment opportunities. Quite the contrary; there are always opportunities, only they are not always obvious.
The Chinese economy will continue growing, albeit at a slower pace, and there will be plenty of investment opportunities. It just takes a little more work, but, then again, making money is never easy.
This Article Economic Growth Falters: Which Stocks to Buy or Avoid was originally published at Investment Contrarians
The preceding article is from one of our external contributors. It does not represent the opinion of Benzinga and has not been edited.
Posted-In: Economics Markets Trading Ideas
View Comments and Join the Discussion!