Jobless Claims Unexpectedly Drop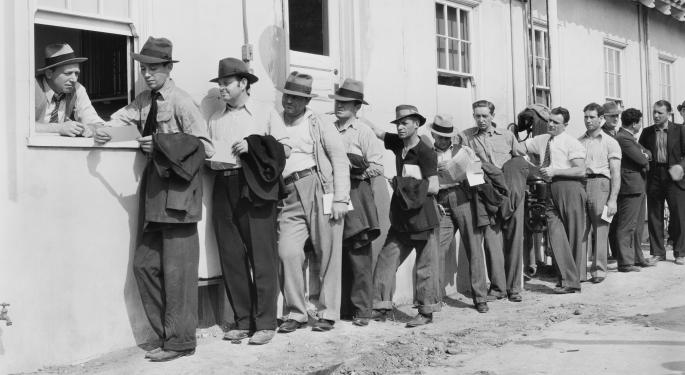 Jobless claims dropped to a six week low, defying analysts expectations for an increase in claims. In the week ending March 2, the advance figure for seasonally adjusted initial claims was 340,000, a decrease of 7,000 from the previous week's revised figure of 347,000.
This drop was unexpected, as consensus had penciled in an increase in claims to 355,000.
The 4-week moving average was 348,750, a decrease of 7,000 from the previous week's revised average of 355,750. This represents a gradual decline in new claims for unemployment benefits since last year, when there were 374,000 initial unemployment claims a year ago.
The number of claims for the four-week moving average is at the lowest since March 8, 2008, a few months after the recession began in December 2007.
This decreased layoff activity may portend an increase in hiring, though perhaps not at a robust-enough pace to reduce substantially the ranks of the unemployed in the very near term.
Of course, this week's data are after the "reference week" for the February jobs report, when the Bureau of Labor Statistics conducts its twin surveys of households and businesses for producing the Employment Situation report, better known as non-farm payrolls.
The advance seasonally adjusted insured unemployment rate was 2.4 percent for the week ending February 23 (these data are reported with a lag), unchanged from the prior week's unrevised rate. The advance number for seasonally adjusted insured unemployment during the week ending February 23 was 3,094,000, an increase of 3,000 from the preceding week's revised level of 3,091,000.
The 4-week moving average was 3,121,750, a decrease of 37,500 from the preceding week's revised average of 3,159,250. Some of this decrease may be related to people transitioning from the regular state-administered unemployment benefits to the emergency and extended unemployment programs, funded by the federal government.
Those people collecting emergency and extended payments decreased by about 225,400 to 1.78 million in the week ended Feb. 16 (these data are reported with a lag).
The total number of people claiming benefits in all programs for the week ending February 16 was 5,401,893, a decrease of 362,275 from the previous week. There were 7,387,649 persons claiming benefits in all programs in the comparable week in 2012.
While the drop in continuing claims among all benefit programs, including extended unemployment benefits, is probably welcome news, the caveat is that not all of these people may have found jobs. Instead, they may drop off the unemployment claims roster because their benefits have expired.
Others may no longer be eligible for benefits because they are no longer looking for a job, such as to return to school or attend to family obligations. Thus, we cannot attribute a drop in total claims to rising employment levels.
California reported the biggest drop in new claims, with a decrease of 40,352 from the prior week. Massachusetts reported the biggest increase in claims, by 4,024, which state officials attributed to the inclement weather and school vacations. Thirty-seven states and territories reported a decrease in claims, while 16 reported an increase.
These data are reported with a one-week lag. The Department of Labor reported no unusual factors affecting jobless claims this week, with no states estimating jobless claims instead of reporting actual figures.
Posted-In: Employment Situation U.S. Bureau of Labor Statistics U.S. Department of LaborEconomics Markets Best of Benzinga
View Comments and Join the Discussion!