The Fiscal Cliff: A Race Against Time And Price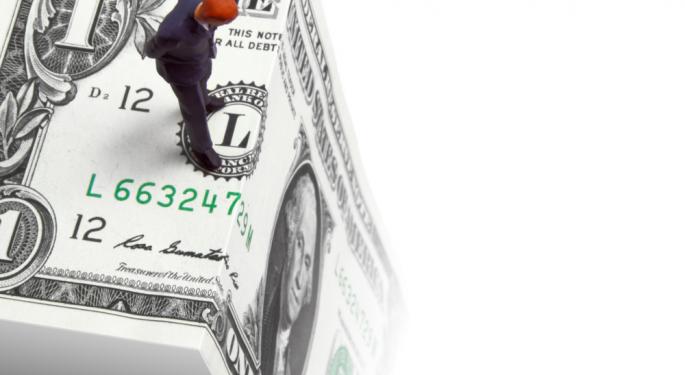 Chart by DailyFX
The Pit Bull pointed something out late in the day last Thursday. He said that it was very unusual to have a TRIN reading of 64 with the S&P going down. While there was a nice little bounce off the lows late Thursday, it was not until Friday that we actually got the answer to the issue the Pit Bull raised.
I knew something was up when Mike from PrincetonTrader hit me up on the chat Friday saying that the low in the S&P was in. That took me right back to the Pit Bull's question. The TRIN, also known as the Arms Index, is just one of the things the Pit Bull has taught me to follow. The TRIN shows shifts in the price and volume, and when he pointed it out the SPZ was making new, late in the day lows. We know that's not the whole story, but when you see a higher TRIN reading like that and the stock market is going down, it does indicate a shift from selling to buying.
There have been a lot of turning points after big selloffs/corrections. The markets have rallied after almost every major stock market event. They rallied after the 1987 crash, the 1999-2000 tech bubble, Y2K, 9-11, Gulf Wars 1 and 2, the subprime crisis and most recently the micro crash (the flash crash). If you stuck your neck out during the big selloffs and bought stock, you got paid. All these events turned out to be buying opportunities. With the S&P 500 down over 5% in the last 7 sessions, Friday's rally was not enough to offset the week's -1.5% loss. The immediate reaction to the headlines that Washington was working on a compromise was a quick rally in the S&P futures. After the high the ESZ started to sell off again as many traders thought it was premature to think that the government can come up with a solution that makes everyone happy.
Short on time: While Congress will be back in session next week, time is running short. Assuming everyone is back to work next Monday, there are 5 total days left in November and with the congressional calendar showing Congress breaks for the Christmas holiday on Dec. 17 and doesn't return until 2013, that means there are 16 days including the weekend for the government to come up with some viable solutions to avoiding the fiscal cliff. That means the government has 21 total days to clean this up. Bespoke Investment points out that investors have been selling the year's winners. Apple is down 25% from its $700 high, General Electric is down 14% and Google is off 16% from its 2012 high. We don't think this is over yet, but we do think a compromise is under way. We just wonder if it's going to be enough to save the S&P from another downgrade.
Danny Riley is a 34-year veteran of the trading floor. He has helped run one of the largest S&P desks on the floor of the CME Group since 1985.
Our view:
It looks like the government is in a hurry to get things fixed. The current situation mirrors the fight to raise the debt ceiling that led to a downgrade of the United States' top credit rating, in July of 2011. The way we see it is everyone is short and it's all buy stops above. While the government is working on a fix, that doesn't mean it's going to be the one the markets are looking for. While we think there is a potential to move higher, we also do not think the battle over the fiscal cliff is over, meaning that an attack on the downside cannot be ruled out either. Our view is to sell the early rally, then buy weakness. As always, keep an eye on the 10-handle rule
Today's data:
It's 6:00 a.m. and the ESZ is up 6.5 handles at 1366.25, crude is up 96 cents at 87.88 and the EC is trading 1.2772, up 42 ticks.
In Asia 7 out of 11 markets closed higher (Shanghai Comp. + 0.11%, Hang Seng +0.49%)
In Europe 9 out of 12 markets are trading higher (CAC +0.40%, DAX +0.02%)
Today's headline: "S&P 500 Futures Advance as US Budget Talks Advance"
Economic calendar: Today: Existing home sales, housing market index; earnings from Lowe's, Tyson Foods, Urban Outfitters and Jack in the Box. TUESDAY: Housing starts, Richmond Fed's Lacker speaks, Bernanke speaks at the Econ. Club of New York, Kindle Fire HD w/4G LTE ships and earnings from Hewlett-Packard, Best Buy, Campbell Soup, Chico's, Salesforce.com. WEDNESDAY: Weekly mortgage applications, jobless claims, PMI manufacturing index flash, consumer sentiment, leading indicators, oil inventories; earnings from Deere . THURSDAY: MARKETS CLOSED; Thanksgiving! – Markets Closed. FRIDAY: Black Friday – NYSE closes at 12:00 CT / CME closes at 12:15pm CT
Volume: 2.58mil ESZ and 13.5k SPZ trade
Fair value (7 a.m.): S&P -2.75, NASDAQ -1.00
MrTopStep Closing Print Video:http://www.mrtopstep.com/videos/?id=34436
_____________________________________________________________
Follow us on Twitter @MrTopStep http://twitter.com/mrtopstep
Sign up for our free mailing list at http://mrtopstep.com/ for full report.
DISCLAIMER: The information and data in the following report(s) were obtained from sources considered reliable. Opinions, market data, and recommendations are subject to change at any time. Their accuracy or completeness is not guaranteed and the giving of the same is not to be deemed as an offer or solicitation on our part with respect to the sale or purchase of any commodities or securities. MrTopStep, its officers, directors and its contributors may, in the normal course of business, have position(s) which may or may not agree with the opinions expressed in this report.
The preceding article is from one of our external contributors. It does not represent the opinion of Benzinga and has not been edited.
Posted-In: Economics Markets Trading Ideas
View Comments and Join the Discussion!