Why Apple Was Up in a Weak Market Monday (AAPL)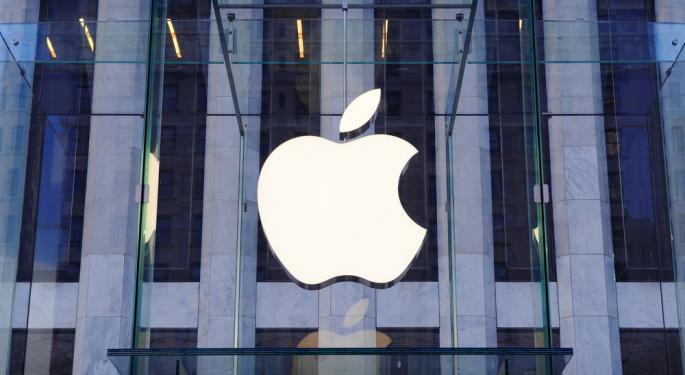 Why was Apple (NASDAQ: AAPL) up a full percentage point on a day when the Dow was down triple digits?
Because of an update from Jefferies that was centered on something that is likely at least one year away.
It took Jefferies analyst Peter Misek longer than most to upgrade the stock. While other analysts were releasing research notes singing Apple's praises, Jefferies was the hold out. With a mean price target of $548, Jefferies held its $425 price target and "Hold" rating but Monday, all of that changed.
It upgraded the stock from Hold to Buy and raised the price target to $600. Why the change? Information it obtained on a trip to Asia to meet with suppliers, better margins and the iPhone 6.
First, Asia. Misek and company spent last week in Asia meeting with Apple's suppliers. These suppliers don't work exclusively for Apple; they manufacture parts used in numerous smartphones. Because the competition was rapidly heating up between companies like Samsung (OTC: SSNLF) and Apple, these manufacturers saw themselves in the perfect position to raise prices.
Related: New comScore Data Shows Apple Gaining Market Share
But then came the new iPhone 5S and iPhone 5C, a Samsung phone that received tepid reviews, Blackberry (NASDAQ: BBRY) that is all but dead, and a general cool-down of the competitive environment that left suppliers more accommodating. According to Misek,
"In contrast to earlier this year when suppliers boasted that Apple would not be able to push them around anymore, they are now scrambling to be in Apple's supply chain as competitor ramps have not gone as planned. For example, Galaxy S4 sales missed internal targets leading Samsung to not raise foundry prices for Apple like we expected."
This prompted Misek to raise his fiscal year 2014 gross margin estimate to 39.8 percent—up from 36.3 percent.
The iPhone 6
Are you one of those people who is just a little annoyed that you're already seeing Christmas trees and "holiday" products finding their way to shelves in September? You might feel the same way about the iPhone 6 talk so soon after the launch of Apple's two new phones.
But it's happening. The report noted that there will be around 85 million iPhones eligible for an upgrade by next September when the iPhone 6 should come to market. Add to that the five to 10 million others who chose not to upgrade to the 5S or 5C and you have nearly 100 million potential customers. He also noted that Apple would like to pull the iPhone 6 launch forward but due to new display technology, that isn't likely to happen.
Also mentioned in the report is his view that the iWatch will launch in March with a $300 price point and 1.8 inch display and the iTV will likely reach the market in the next year noting Apple's purchase of TV panels at the 55, 60, and 65 inch size levels.
Disclosure: At the time of this writing, Tim Parker was long Apple.
Posted-In: Apple Blackberry iPhone 6 iTV JefferiesUpgrades Analyst Ratings Tech Best of Benzinga
View Comments and Join the Discussion!