The Street Weighs In On Musk's SEC Settlement As Tesla Shares Rip Higher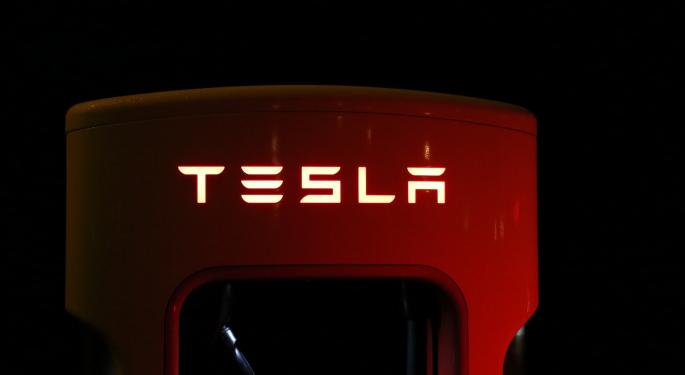 Tesla Inc (NASDAQ: TSLA) stock skyrocketed 16 percent Monday after the company announced a fraud settlement with the U.S. Securities and Exchange Commission. According to the terms of the settlement, Tesla is paying a $20 million fine to the SEC, and CEO Elon Musk is paying a personal $20 million fine and stepping down as chairman of Tesla.
While investors clearly see the development as a positive for the company, here's a sampling of what Wall Street analysts had to say.
Best-Case Scenario
Tigress Financial analyst Ivan Feinseth said the settlement is extremely beneficial for the company.
"I believe the company lucked out and I also believe the board will put increased coverage in place, especially over Musk's Twitter account," Feinseth wrote.
Morgan Stanley analyst Adam Jonas said the most important takeaway from the settlement for Tesla investors is that they will not be facing a long-term negative newsflow cycle related to the fraud charges.
"The resolution over the weekend significantly reduces the risk of spillover effects on capital markets, company morale,and brand value," Jonas wrote.
Loup Ventures' Gene Munster said the way the settlement played out was virtually a best-case scenario for Tesla investors.
"The open board chairperson role creates an opportunity for Tesla to potentially put someone in place that is capable of influencing Musk and helping Tesla reach sustainability," Munster wrote.
Global Equities Research analyst Trip Chowdhry said the SEC now has nothing to do with the long-term Tesla investment thesis.
"TSLA's business fundamentals are super solid... Elon Musk is getting matured and bogged down by the propagandists," Chowdhry wrote.
Not Out Of The Woods Yet
Citi analyst Itay Michaeli said the settlement removes the worst-case scenario for Tesla investors, but the stock still has its fair share of risks.
"This weekend's surprisingly swift SEC settlement is a positive development in the context of what we believe had been a growing risk of a downward confidence spiral (underscored by Friday's stock/CDS reaction)," Michaeli wrote.
Barclays analyst Brian Johnson said a conclusion to the fraud drama shifts focus back on Tesla's fundamental issues.
"We on the red pill side will continue to focus on what we see [as] the longer-term over-valuation of the shares, while those on the blue pill side will probably see the settlement as vindication, esp. As the shares Monday should regain their Friday losses," Johnson wrote.
Bank of America analyst John Murphy said the settlement doesn't mean there's smooth sailing ahead for Tesla.
"A Dept of Justice (DOJ) inquiry, reportedly, and class action lawsuits (potentially from both the short and long investor base) over the initial announcement and subsequent events remain outstanding," Murphy wrote.
Ratings And Price Targets
While most analyst see the settlement as a positive for Tesla, analysts remain deeply divided on the stock:
Citi has a Sell rating and $258 target.
Tigress Financial has a Neutral rating.
Barclays has an Underperform rating and $210 target.
Morgan Stanley has an Equal-weight rating and $291 target.
Bank of America has an Underperform rating and $120 target.
Global Equities Research has a Buy rating and $500 target.
Tesla's stock was trading around $308.13 per share at time of publication Monday afternoon, up 16.3 percent.
Related Links:
Cramer: The SEC Just Gave Tesla Shareholders A Helping Hand
Monday Focus: New NAFTA Deal, With Payrolls Report, Fed Speech, Auto Sales On Tap
View Comments and Join the Discussion!
Posted-In: Analyst Color News Price Target Legal Top Stories SEC Analyst Ratings Trading Ideas Best of Benzinga