Trump's Trade Strategy: Pros And Cons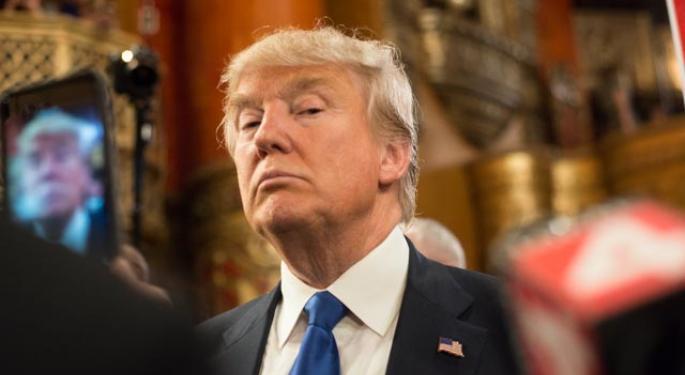 The market has reacted very negatively to President Donald Trump's aggressive approach to trade relations with China. Trump and his supporters argue, however, that the long-term benefits of a favorable trade policy could far outweigh the short-term market impacts of a trade war with China.
Height Capital Markets analyst Clayton Allen took a closer look at Trump's approach to the trade war and what the pros and cons could be for U.S. Investors.
Pros To Trump Strategy
Since Friday, Trump has imposed 25 percent tariffs on $50 billion of imported Chinese goods. China has retaliated with its own tariffs of $50 billion worth of U.S. goods, and Trump is now threatening an additional 10 percent tariff on another $200 billion of Chinese goods.
If it seems as if the trade war is escalating quickly, Allen says it's an important and necessary part of Trump's strategy and it could be one of the pros of his approach for investors.
"While Trump has significant leverage in the short term by virtue of being able to target more imports than the Chinese, this advantage is fleeting," Allen wrote in a note.
Trump is likely motivated to end the trade war quickly to avoid media backlash and potentially overshadowing Republican talking points of tax reform and a booming economy ahead of the midterm elections in November. A short war is also good news for investors, as financial markets tend to react extremely negatively to unpredictability.
Cons To Trump Strategy
Allen said the biggest con to Trump's strategy is that China may see that it can simply wait Trump out. In fact, Allen said he doesn't believe Trump intends to actually follow through with his most recent $200 billion tariff threat.
"We can assume that the new $200 billion, much like Trump's previous threat to apply tariffs on an additional $100 billion in imports, is primarily a threat rather than a fully realized policy," Allen said.
He said Trump's increasingly aggressive approach to the trade war is an example of the prospect theory of behavioral economics in which a gambler becomes increasingly risk tolerant as his chances of success decrease. In that sense, the longer the trade war draws out, the more investors can expect bold threats from Trump that could rattle the market.
Compromise Inevitable?
At the end of the day, Allen expects Trump and China to compromise on a new trade policy that will ultimately result in a significant reduction in the U.S.-China trade deficit but nowhere near the $200 billion reduction Trump originally demanded. Just how big that deficit reduction will be and exactly what it takes to get there will be the true test of whether or not Trump's trade war was a worthwhile endeavor.
Related Links:
More Trade Threats Spook Investors
Analysts Weigh In On US-China Trade Developments
Photo by Emily Elconin.
View Comments and Join the Discussion!
Posted-In: ChinaAnalyst Color Futures Politics Top Stories Markets Analyst Ratings General Best of Benzinga