How Long Will The Cryptocurrency GPU Boom Last?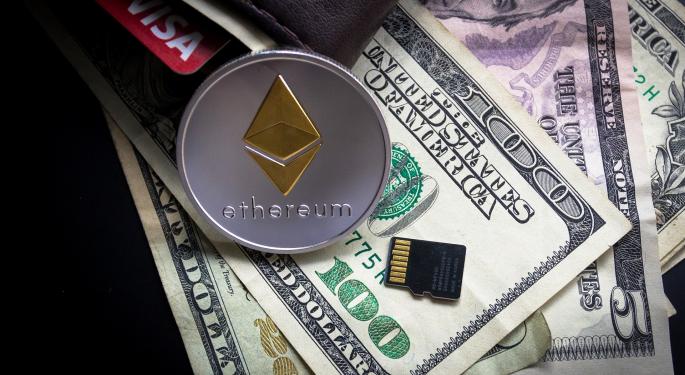 Two of the hottest investments on Wall Street in recent months have been semiconductor stocks and cryptocurrencies, and the link is no coincidence. Cryptocurrency mining requires a massive amount of computing power, which companies such as Advanced Micro Devices, Inc. (NASDAQ: AMD) and NVIDIA Corporation (NASDAQ: NVDA) have been happy to supply at a steep price.
Crypto Hardware
The majority of cryptocurrency mining is done using hardware called application-specific integrated circuits (ASICs) or graphics processing units (GPUs). ASICs are tied to mining a specific type of coin, and are the typical hardware of choice for mining bitcoin, Bitcoin Cash, Litecoin and other popular currencies. GPUs allow for much more flexibility but are typically less powerful. Miners still user GPUs to mine Ethereum, the second most popular global cryptocurrency behind bitcoin.
Bitcoin mining's transition from GPU hardware to ASIC has made the currency largely irrelevant to graphics vendors at this point, leaving Ethereum as the critical currency for GPU makers Nvidia and AMD.
All About Ethereum
"Broadly, we use Ethereum as a proxy for mining-related GPU demand, since Ethereum is by far the most popular blockchain platform mined using GPUs," Bernstein analyst Mark Li said in a new cryptocurrency report.
GPU demand tied to Ethereum mining is very difficult to predict because the hash requirement for mining changes rapidly and volatile price fluctuations in the Ethereum market dramatically influence demand and mining profitability, according to Li.
As of mid-January, Bernstein estimated Ethreum mining would still cover the cost of electricity and GPU pricing as long as the cryptocurrency remains priced at $500 or above. As of Thursday morning, Ethereum was trading at above $818.
Investing Implications
While all of this background is well and good, investors want to know how cryptocurrrency demand is going to impact AMD and Nvidia stocks. Li said both companies will likely continue to enjoy near-term tailwinds in their GPU businesses thanks to the supply pressures mining has created. Demand from both mining and gaming has give AMD and Nvidia near-term pricing power, which is great for margins and earnings.
But the cryptocurrency party may not last forever, and is contingent on rising prices as power demands continue to increase. If prices start to turn south, Li said it could get ugly fast.
"If mining eventually becomes sustainably unprofitable (for example, if currency pricing were to permanently collapse), there is a risk of cards purchased for mining getting dumped in the secondary market and depressing sales for a while," he said.
Preparing For The Worst
Back in November, Morgan Stanley analyst Joseph Moore said AMD has much more to lose from a decline in cryptocurrency mining than Nvidia. Moore predicted Ethereum mining would decline by 50 percent overall in 2018.
In the past three years, AMD stock is up 291 percent, while Nvidia shares have soared 988 percent.
Related Links:
AMD Has More To Lose Than Nvidia Should Bitcoin Mining Hardware Sales Decline
Does Bitcoin Actually Hold Any Value At All?
View Comments and Join the Discussion!
Posted-In: BernsteinAnalyst Color Cryptocurrency Top Stories Markets Analyst Ratings Tech Trading Ideas Best of Benzinga