Holiday Box Office Preview: 'This Could Be One Of The Strongest Christmas Weekends Ever'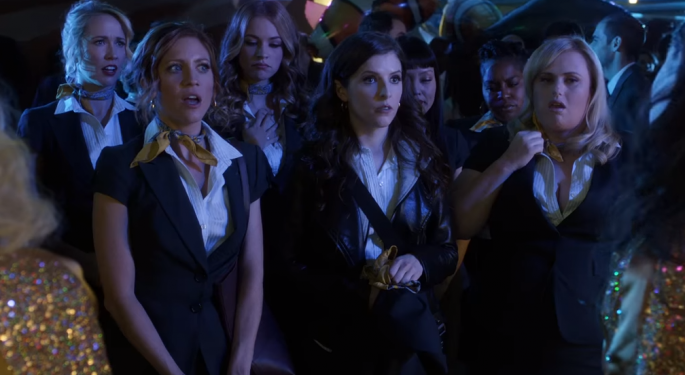 Last Christmas brought "Fences," "Hidden Figures" and "20th Century Women," and the year before that "The Revenant," "The Hateful Eight," "Daddy's Home" and "The Danish Girl." Both seasons also rode the residual power of "Star Wars" releases.
But Paul Dergarabedian, senior media analyst at comScore, Inc., thinks this year's holiday slate can compete.
"The calendar is definitely cooperating," Dergarabedian told Benzinga, referencing the weekend-extending Monday holiday. "I think this could be one of the strongest Christmas weekends ever."
MKM Partners managing director Eric Handler projected four-day gross of $254 million, 1.5 percent over 2016's comparable weekend, for the holiday's second highest revenue of all time.
Of course, it'll be tough to beat the year of "The Force Awakens," which pushed 2015's Christmas weekend $37 million above previous records. But 2017 could come close.
A Box Office Boon
And it's not a moment too soon. The year-to-date box office currently stands 3 percent behind last year, and this Christmas slate, plus the calendar year's weekend closeout, could help close the gap.
"That 3-percent deficit will probably turn into a 2-percent deficit by the end of the year, and we'll probably end up with about $11.1 billion plus at North American box office, which will be down from last year's record $11.382 billion," Dergarabedian said. "But to be down only 2 percent after the roller coaster ride of a year we've had is actually pretty impressive."
"The Last Jedi" pulled a lot of weight in the year-to-year contest. In its one-week run, the film reduced the deficit from 4 percent to 3 percent, and while Handler expects a falloff in the force over the next week, Dergarabedian is optimistic.
"With that movie and the strong lineup in the marketplace, we're knocking down the year-to-date deficit about a percent a week," he said.
While he doubts the last stretch will match pace, he's certain the year will close above $11 billion at the North American box office, only the third time the threshold has been breached.
What's New On The Menu?
The holiday weekend kicks off Friday with "Pitch Perfect 3," "Father Figures" and "Downsizing," a limited release of Steven Spielberg and Tom Hanks' "The Post," and expansions of "The Shape of Water" and "Darkest Hour."
Christmas Day's two limited releases and one wide release are already greenlighted by Metacritic, which gave "Phantom Thread" — a product of power-hitting director Paul Thomas Anderson, Oscar-winner Daniel Day Lewis and Comcast Corporation (NASDAQ: CMCSA) subsidiary Focus Features — a score of 94.
The marquee is rounded out by Sony Corp (ADR) (NYSE: SNE)-Ridley Scott collaboration, "All The Money In The World," and an update to the Aaron Sorkin repertoire.
Then Wednesday brings "Jumani" and "The Greatest Showman."
And all the while, "The Last Jedi" and "Wonder" continue their impressive runs.
"It is actually a pretty crowded marketplace," Dergarabedian said. "We do have a really strong performance here right at the end of the year with all these films…. Every genre is represented. You've got the award-season contenders, you've got a 'Star Wars' movie out there. You name the genre, it's out there. It's actually a really cool time to be a moviegoer."
Where Will The Money Go?
Handler expects continued dominance of the latest "Star Wars" title with $118 million over the four-day weekend, with "Jumanji" ($42 million), "Pitch Perfect 3" ($30 million), "The Greatest Showman" ($15 million) and "Ferdinand" ($11.5 million) closing out the top five.
And some stagnant, smaller showings could also see a swell.
"I think it's going to be, as expected, the big movies that are going to do well, but this will be a great time for moviegoers to catch up on their award-season contenders, like 'Disaster Artist,' like' Lady Bird,' like 'Three Billboards,' 'The Shape of Water,' 'Darkest Hour,' 'Call Me By Your Name,' and 'I , Tonya,'" Dergarabedian said.
Regardless of the ticket-booth leaders, the real winner this holiday is Hollywood.
"This is a great way to finish what has been a crazy, confounding year at the box office," Dergarabedian said. "While we won't get a record in North America, we're going to be looking at an uptick both at the international box office and global, and that's a strong place to be heading into 2018."
Related Links:
Movie Studios Blame Rotten Tomatoes For Box Office Woes
Posted-In: comScore Eric HandlerAnalyst Color News Events Exclusives Media Trading Ideas Best of Benzinga
View Comments and Join the Discussion!