Health Care Professionals Pilot VR, AR-Based Therapies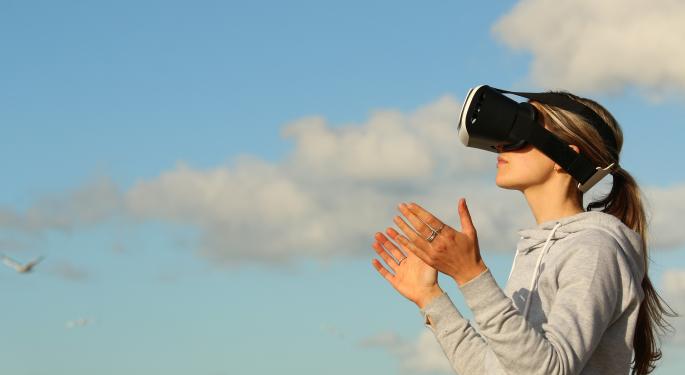 Much has been made about virtual and augmented reality's potential to transform the human experience, from education and athletics to business and entertainment.
And as physicians embrace more holistic approaches to medicine, VR appears particularly well positioned to disrupt the health care space.
VR In Mental Health
The teleport capacities of VR are particularly poised to aid in the treatment of mental health disorders ━ a use case Limbix aims to see out.
Limbix considers the immersive technology useful to private practice clinicians in cognitive behavioral therapy, particularly surrounding addiction, post-traumatic stress disorder, social anxiety and obsessive compulsive disorder.
"You can do exposure therapy better with VR than you can imaginally," Jonathan Sockell, director of marketing for Limbix, said.
The firm's software allows users to face anxieties around heights, flights, germs, public speaking and social interactions, and to get more comfortable in relevant situations.
It also uses VR to challenge addictions. The theory is that an alcoholic in a bar has to address a different level of temptation than exists in an office with a therapist. The more realistic practice strengthens the patient's resolve and ability to decline substances in real situations.
"When patients are outside the context of where their addictions are happening or being tested, it's much easier for them to say no," Sockell said.
Gene Munster, managing partner at Loup Ventures, said VR can also be used to reduce stress for immobile or hospital-bound patients by transporting them to more comforting environments. Similarly, it can create experiences for Alzheimer's patients calling on long-term memories or provoke recollection of loved ones or past homes.
This sort of liberation might also help address depression caused by chronic pain, according to the staff at AppliedVR, a firm focused on pain management.
VR In Holistic Health
AppliedVR's perspective is that mental health improvement may lead to more comprehensive health results.
"Ultimately, whenever you think about dealing with chronic pain, for example, there is a lot of comorbidity between mental health issues and the physical side of the pain," AppliedVR CEO Matthew Stoudt said. "Chronic pain is often associated with depression, and if you're going to go in and try to address that chronic pain, you can't just address the pain itself, but you also have to address the mental side of the equation."
Stoudt said VR can prevent depression from setting in and worsening patient pain.
VR As A Palliative
Not only that, but he sees VR as a viable palliative ━ a supplement to sedatives for in-office procedures. More than 100 health systems presently license AppliedVR technology for this purpose.
For acute pain, it's used as a means of distraction.
"You want to put cognitive load on the brain and get them to interact and do something that just simply takes their mind off what's happening to them," Stoudt said, referencing a study of burn victims in which VR limited subjective and objective measures of pain. "If we can get the person to stop focusing on that pain and start focusing on something else, the notion of distraction, we can literally get the person to feel less pain."
For chronic pain, the approach is to address underlying mental health elements, the depression associated with the pain. Using biofeedback, AppliedVR's latest technology, which will release mid-August, teaches coping methods to manage enduring pain.
Users drive the VR experience through various breathing patterns, which in the virtual world builds a wall or steadies a boat, but in reality, mitigates pain.
"If you're looking at teaching coping skills, it's about how do you get people to focus," Stoudt said. They learn meditation tools within VR and have a visceral connection with the experience so they can better recall how to replicate in real life.
AR In Healing
While not presently used as such, augmented reality might eventually aid not just the treatment of pain but the healing of orthopedic issues. AR is currently used in athletics to improve baseball and golf swings, a function applicable in physical therapy.
"Your physical therapy regimen could be done at home, or you put the glasses on and it says, 'Reach your arm to this point,' and you kind of grab a virtual ball and that helps build range in your shoulder," Munster said.
VR In Public Health
AppliedVR sees additional applicability in health prevention methods. The firm recently participated in a public health initiative driving positive behavior to address hypertension and salt intake. It used VR first to educate a population on the health detriments of certain dietary choices.
"We wanted to help give them empathy for what was going on inside the body, where you can take them inside the body and give them perspective of what's happening inside their kidneys, inside their heart," Stoudt said.
It then simulated trigger situations to provide practice for healthy stress management methods.
"When the person gets stressed out, they're going to revert back to that which gives them comfort [like salty food], so the part of this we had to work on helping giving them coping skills to help manage their stress and anxiety, which are triggers," he said. "So in that situation we developed, it's based on cognitive behavioral therapy and we teach mindfulness and meditation skills that they could use to handle that stress in a culturally relevant way."
AR In Treatment
On the physician end, AR has been used by surgeons to overlay information on live scope images, play out procedural steps or warn of potential dangers, Munster said.
He predicted that nurses could eventually use AR-enhanced glasses in patient rooms to, just by looking at patients, get a paneled rundown of patient history and treatment schedules.
Related Links:
Facebook's Big Push Into Augmented Reality
What Facebook's Brain-To-Text Project Would Do To The Economy, Tech Industry
Posted-In: Analyst Color Education Health Care Psychology Top Stories Exclusives Tech Interview Best of Benzinga
View Comments and Join the Discussion!