10 Questions (And Answers) About Tesla's Model 3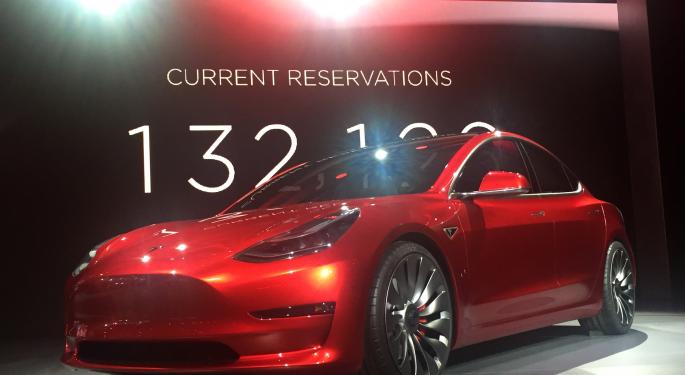 Tesla Inc (NASDAQ: TSLA) is riding the Model 3 mania, with the shares of the company up close to 1 percent in pre-market trading on Monday.
The first batch of the company's mass-market electric utility vehicle, the Model 3, rolled out of the production line last Friday, with the world going gaga over it. Reviewers were left short of adjectives to extol its virtues, as they heaped praises on Elon Musk's newest EV model line-up, which has brought the technology within the reach of an ordinary man.
The vehicle is priced at an affordable $35,000, with 100 units expected to be delivered in August and over 1,500 units for planned for September delivery.
Against this backdrop, Loup Ventures managing partner Gene Munster posed 10 key questions, which were answered by the initial rollout.
The analyst termed the answers to five of the questions as expected and four answers were better-than-expected, while merely one answer was a disappointment. The cost of Enhanced Autopilot feature was the sole sore point.
1. Strong Pre-Orders
Despite the stock's underselling on Friday, Munster noted that strong preorders for the Model 3, with the company announcing over 500,000 preorders, an increase from 373,000 reservations placed after the vehicle was previewed in March 2016.
Munster sees the showing as commendable, given the lack of advertisement thus far and the absence of test vehicles until late Friday.
2. Production Ramp May Be Drawn Out, In Line With Expectations
Citing Musk's comment about the difficulty involved in ramping up production, Munster said he expects 6,000 Model deliveries in 2017. Munster noted that difficulty involved in the flowing in of the 10,000 unique parts going into the Model 3 and the kinks in the assembly line.
3. Delivery Estimates As Expected
Loup Ventures said its estimates for 6,000 Model 3 deliveries in December 2017, 308,000 in 2018 and 373,000 in 20202 remain unchanged.
"Our breakout year for the company is 2023 when we have deliveries of 1.6m, up from 980k in 2020," the firm added.
4. ASP To Go Higher
Munster raised his ASP estimate at the end of 2018 to $50,000 from $44,000, given the increased interest in the long-range model which is priced at $9,000 over the base price, and the one with enhanced autopilot featured, priced at $5,000 over the base model.
5. Cannibalization Seen Favorable
Comparing Model 3 and Model S, Munster said both are altogether different, targeting different customers. Terming his estimate for Model 3 deliveries declining to 27,000 in 2023 from 49,000 in 2018 as conservative, Munster said he is leaving it unchanged.
6. Disappointed Over Cost Of Enhanced Autopilot Feature
Munster said he surmises there might be an upcharge in a few years for full autonomy from the $5,000 the Enhanced Autopilot feature is currently priced. The analyst believes the Enhanced Autopilot feature has the hardware for Enhanced Autopilot and will enable full autonomy in two to three years.
The current Enhanced Autopilot feature include traffic speed matching, changing lanes, merging on and off highways and parking and will be extended to more complex environments, Munster said. Citing TechCrunch, Munster said the self-driving feature will cost consumers an extra $3,000.
See also: Mike Khouw's Bearish Tesla Trade
7. Full Autonomy Matches Expectations
While noting that all Tesla Model 3 vehicles have hardware to upgrade to fully autonomous driving to be made available in a few years, Loup Ventures said if at all there is hold-up, it would be due to legal issues and not the technology.
8. Favorable Range
Munster noted that long-range battery version breaks the 300-mile barrier:
Standard battery, priced at $35,000: range of 220 miles, 0 to 60 mph in 5.6 seconds.
Long-range battery, priced at $44,000: range of 310 miles, 0 to 60 mph in 5.1 seconds.
9. Design Arresting, Performance Wows
Munster thinks the design and interior, with a minimalist interior, single panel landscape display, glass roof, no grill with all smooth surfaces, will enamor consumers. Though underperforming relative to the Model 3, the analyst thinks the performance will more than please buyers, who pay in the $30,000–$50,000 range.
"Elon Musk tweeted following the event that [there]will be a performance version of the Model 3 in the middle of 2018," Munster noted.
10. Safety As Expected
Munster expects the Model 3 to have 5-star rating, with it likely to be safer than 5-star rated Volvo S60.
As such, Munster believes Model 3 will serve as the most important catalyst to the world's adoption of EV and autonomous driving.
"And we expect it to play a big role in commercializing and consumerizing AI and robotics technologies," Munster said.
In pre-market trading. Tesla shares were up 0.76 percent at $337.60. However, by time of publication, shares had dropped 1.78 percent at $329.11.
_______
Image Credit: By Candy Red Tesla Model 3.jpg: Steve Jurvetsonderivative work: Smnt - This file was derived fromCandy Red Tesla Model 3.jpg:, CC BY-SA 4.0, via Wikimedia Commons
Posted-In: Analyst Color News Travel Events Top Stories Analyst Ratings Movers Tech Best of Benzinga
View Comments and Join the Discussion!