The App That Couldn't Shoot Straight? Some Cops Sour On Recent IPO ShotSpotter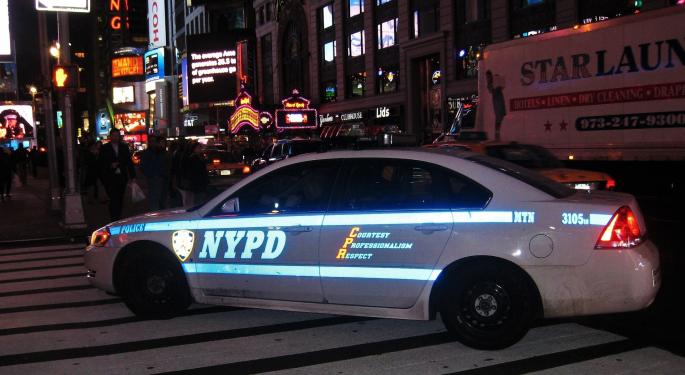 Recent IPO ShotSpotter Inc (NASDAQ: SSTI), a company that uses sophisticated tech to find out when and where the bullets have flown in crime-riddled cities, is making its mark on Wall Street. But some cop shops say the system's accuracy is a shot in the dark.
Imperial Capital analysts Jeff Kessler and Saliq Khan on Friday initiated coverage of the Newark, California-based company — which claims to be a weapon in the war on gun violence — with an Outperform rating and a price target of $16.
It closed at $12 on Friday, its lowest point since going public on June 7. It had a high of $15.05 on June 21.
Imperial Capital analysts predicted three-year revenues to increase 35 percent annually. The outfit has about 74 jurisdictions as customers worldwide.
The company's sensors are deployed "in urban, high crime areas, with the objective of helping to deter gun violence by accurately detecting and locating gunshots and sending near real-time alerts to law enforcement," the analyst note said.
Police in Fall River, Massachusetts, had been using the $90,000-a-year system since 2012, but decided to drop it because it reported some shots fired that never happened and missed some that actually did, the local Herald News reported.
ShotSpotter investor relations contact Matt Glover told Benzinga such failures to renew contracts are low.
"It is a privilege that the company works very hard to earn at each and every opportunity," he said in an email. "Taking this mindset and approach has earned ShotSpotter the enviable low gross attrition rate of less than 3 percent."
"The company knows there will be rare occasions where clients choose not to renew for any number of reasons — after being a customer for some period of time," he added. "The common element from the company's perspective is that in those rare occasions of a non-renewal ShotSpotter would have failed to demonstrate value. The company's job is to minimize those occasions and learn from each and every one, if and when they happen."
Related Link: ShotSpotter, Inc. Announces Closing Of Initial Public Offering
Recurring Complaints
A recurring complaint is that the system can record and locate gunshots, but is challenged in giving cops info to make arrests.
On July 25 in Miami, local police said ShotSpotter alerted police that were four shots were fired at a city intersection. Cops arrived on the scene to find an unidentified man who had been wounded. He subsequently was pronounced dead at the hospital and nobody was in custody.
More Misfires
WOODTV in Grand Rapids did an investigation of ShotSpotter's accuracy issues when that Michigan city considered signing up for the system in 2015, and found several instances where, for example, the sound of a dump truck registered as a gunshot. The police union called a proposed four-year, $1.2 million system a "money pit."
A month later, the city stepped away from the deal, deciding instead to hire more cops.
ShotSpotter is billed as a crime-fighting tool that would allow cops to arrive at shooting scenes more quickly. It uses sensors designed to detect not just locations, but the caliber of weapon and direction of gunfire. Each sensor can cover 10 square miles.
The company was founded in 1996 by Robert L. Showen, a physicist and electrical engineer.
Accuracy, efficacy and efficiency issues have dogged the company for years, from Connecticut to Brockton, Massachusetts, to Oakland, California. But cops in other areas, such as bullet-riddled Chicago, swear by the system.
Jennifer Doleac, a University of Virginia economics professor who did an exhaustive study of ShotSpotter results, said the company's closely held outcomes make its tech's effectiveness difficult to discern.
"As of right now, it is unclear what communities are getting for their money when investing in acoustic gunshot detection systems. Residents should insist on evaluation and data ownership when paying for this technology," she said.
Posted-In: Analyst Color Price Target Politics Top Stories Exclusives Analyst Ratings Tech General Best of Benzinga
View Comments and Join the Discussion!