'Go Talk To Your Doctor': Citron's Andrew Left Vs. EXACT Sciences CEO Kevin Conroy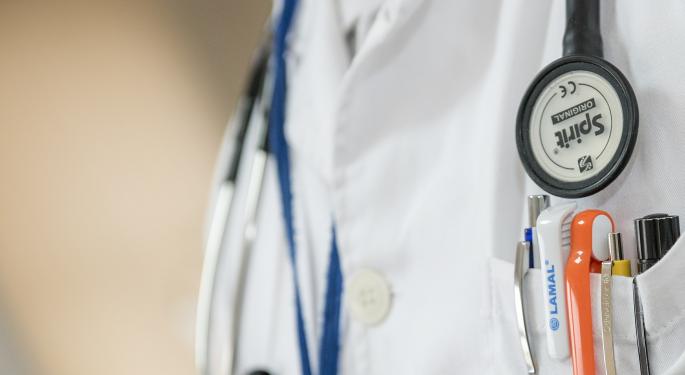 EXACT Sciences Corporation (NASDAQ: EXAS) shares initially plunged more than 7 percent Monday after Citron Research released a new bearish report on the company. According to Citron's Andrew Left, Exact is knowingly marketing an inferior colon cancer test.
"Exact markets (aggressively, to end user consumers) a 'poop in a box' test for colorectal cancer, the rationale being that is less fear-inducing for many people than colonoscopy," Left wrote.
Left predicted 40-percent downside in Exact's stock, accused the company of taking advantage of a "broken healthcare system" and quickly took his case to CNBC, where Exact CEO Kevin Conroy fired back on-air.
What Was Said
After Left told CNBC that Exact has "an inferior test that they're trying to compensate [for] by running commercials for people who are afraid to get a colonoscopy," Conroy responded that he's "dead wrong" about the direction of colon cancer diagnostics.
"I'm not dead wrong — it's his study," Left said, referencing Exact-funded research conducted by Stanford University.
Conroy offered an alternative interpretation of the results, noting that his fecal immunochemical test (FIT), Cologuard, is incrementally more cost effective than other methods. "[Left] hasn't fully digested that, but that is what the study said."
He said his product detects 94 percent of curable-stage colon cancers with a specificity of 87 percent, while colonoscopies detect 95 percent, rendering the methods comparable. Physicians and patients are thus granted options to select the right test for each individual.
"He's saying something very dangerous," Left shot back. "What he's saying is the patient should choose. No. The patient should listen to their doctor, and their doctor should choose, and if you go and look at the numbers for orders per physician and everything else, it shows you that the doctors are not choosing. You can run commercials and want the patient to choose, but a patient shouldn't do it."
The Figures Speak
CNBC cited a few reports suggesting rising physician interest in the product, but Left argued the sample size of the studies skew the results. He defended his initial report highlighting 1.4 prescriptions per physician per quarter.
"Look at the company's numbers," he said. "It's all right there. If physicians wanted to prescribe it, the order per physician would be going higher."
However, Conroy said an unnamed American guideline committee regards Cologuard and colonoscopy methods at parity, while Mayo Clinic is helping develop the product. He further asserted Cologuard's importance in screening people who refuse colonoscopies, even if the diagnostic is less effective.
Conroy said his test does detect pre-cancerous polyps, but not at the same rate as a colonoscopy. And while studies don't yet show it, he theorizes that more frequent tests will eventually even the playing field.
An Alternative Future
Left professed his faith in blood-based technology, which he admitted is behind the curve but will significantly improve in four years.
"Blood-based tests [are] very unlikely to ever displace any other tests," Conroy responded. "You want to detect stage one cancers, and you just can't do that reliably from blood."
Conroy said Left is making claims that will cost shareholders money, but he is wrong and the company expects to prove him wrong over the next few years.
"Thank you, Mr. Left, for your medical advice, but I would rely on the Mayo Clinic, not you," he said. "Go talk to your doctor and get screened, just like the guideline recommends." "And the doctor will tell you to get a colonoscopy," Left concluded.
After a tumultuous day of trading, Exact shares closed down nearly 4 percent at $32.43. Even after Monday's sell-off, the red-hot stock remains up 142.7 percent year-to-date.
Wayne Duggan contributed to this report.
Posted-In: Analyst Color Biotech News Short Sellers Short Ideas Health Care Analyst Ratings Movers Best of Benzinga
View Comments and Join the Discussion!