Credit Suisse's Take On Apple Services Business, Potential M&A Targets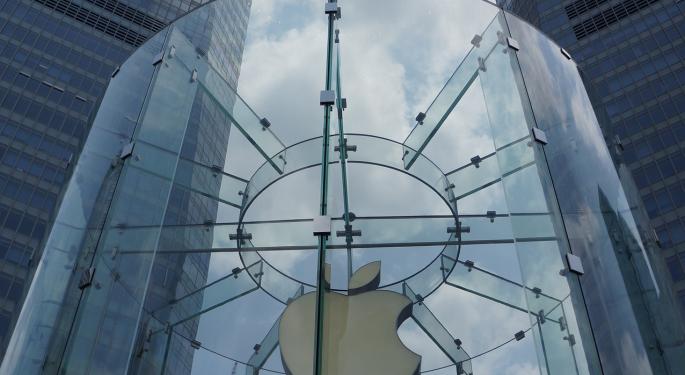 Issuing a note on Apple Inc. (NASDAQ: AAPL)'s services update, Credit Suisse derived five key conclusions. The firm also dwelled on options before Apple if it were to pursue inorganic growth and zeroed in on Netflix, Inc. (NASDAQ: NFLX) as the most likely option.
Apple's services business includes digital music, Apple Pay, cloud storage and apps.
1. Services Revenue Has Potential To Double
Analysts Kulbinder Garcha, Philip Wang, Syed Talha Saleem and Omar Sheikh estimate that Apple's services revenue could double by 2020, in line with the company's estimate. However, the analysts believe for that to happen, the company needs to broaden its service offering, with a more direct video offering.
"The main drivers of incremental revenues will be the App Store and Apple Music," the analysts said.
2. Affluent Connection
Based on its surveys, Credit Suisse parsed the profile of the installed base users of services, which it estimates to be 1.1 billion devices and about 650 million users:
Highly affluent (typically 50 percent more affluent than non-Apple users).
Highly transacting youth.
Average age of about 36 years.
The demographics of installed base users are similar across the emerging and developed markets, the firm noted. This similarity, according to the firm, is important as Apple's user base will continue to shift towards emerging markets over time.
3. Rewarding Margins
Credit Suisse estimates that Apple's services business has a gross margin of 70 percent and helped to absorb iPhone gross margin pressure, currency fluctuations and rising commodity prices.
"Given its continued growth, we believe Services could actually drive GM above 40 percent long term ceteris paribus," Credit Suisse said.
"This could present meaningful upside to medium term estimates. We believe that GM can remain about 38 percent over the medium term."
4. 4 Options With Video
Credit Suisse identified video as one area where the company has a strategic gap. Given the nature of its installed base, the firm thinks video is clearly a source of opportunity.
The four options Credit Suisse sees for video are:
No change to the current model — an Electronic Sell-Through platform, although it believes this is a small TAM.
Become a "virtual MSO" by aggregating broadcast and cable networks; However, the firm thinks clearing sports rights in local markets adds complexity.
Invest directly or create exclusive content by contracting with talent /sports rights.
Acquire.
5. M&A Dilemma
Credit Suisse thinks Netflix is a more likely option if Apple decides to grow inorganically. The firm provided its thinking on the various M&A targets for Apple.
Netflix: The firm is of the view that a Netflix deal might make sense, although it believes a $60 billion deal for Netflix would be ambitious.
"However, given the desirability of providing video streaming content to Apple users and devices, it is a possibility with improved terms with content owners and potentially bundling with other Apple services," Credit Suisse added.
Time Warner Inc (NYSE: TWX): The firm believes a Time Warner deal could give Apple access to top quality content such as HBO, DC, and Harry Potter, giving it an edge in original content. However, the firm sees this as a remote possibility, given that Time Warner is trading at a premium post its acquisition by AT&T Inc. (NYSE: T).
Walt Disney Co (NYSE: DIS): As with Time Warner, Credit Suisse thinks a Disney buyout would open the gates to world class assets in Pixar, Marvel, Lucasfilm, Disney Classic, etc. along with a high-quality brand consolidation opportunity, although valuation could be a deterrent.
Related Links:
The Case For Why Apple Should Buy Disney
5 Reasons Apple Won't Buy Disney
View Comments and Join the Discussion!
Posted-In: App Store Apple App Store Apple Music Apple Pay iPhoneAnalyst Color Analyst Ratings Tech Best of Benzinga