Earnings: Will Best Buy Outpace Wall Street's Forecasts Again?
Best Buy Co Inc
(NYSE: BBY)
, the big-box electronics and entertainment retailer, is set to release Q4 earnings ahead of the bell Wednesday, on the heels of 15 straight quarters of solidly outpacing Wall Street's expectations. According to some analysts, the streak has been due in part to higher operating margins, an aggressive stock-buyback program and a bevy of new products.
BBY, which has been shuttering domestic stores since 2014, appears to be among the few traditional bricks-and-mortar retailers that have managed to keep earnings rising amid slumping and flat revenues over that period, according to the company's financial results.
It has attributed that success, at a time when traditional retailers have been hurt by the growth of e-commerce, to "disciplined promotional strategy" and the "rate of technology innovation, the quality of our assortment and our ability to execute," it said in its Q3 release. Some analysts have noted that its store-within-a-store strategy, mostly for mobile-phone sales, has helped drive per square foot revenues. At the same time, BBY has been able to expand its online revenue by double digits over the last year, the company said.
This will be the first year that analysts and investors haven't had an opportunity to get an early peek at holiday sales results, which BBY has typically released in January. BBY said in last year it was discontinuing the November-December sales results report because January had become an important selling period as consumers used gift cards and post-holiday discounts to pick up merchandise.
The consensus revenue estimate from third-party Wall Street analysts is $13.607 billion, a touch lower than the $13.623 billion it reported during the same period last year, according to the Earnings Analysis tab on the thinkorswim platform from TD Ameritrade. BBY said recent product recalls in mobile phones and appliances would likely impact Q4 revenues by $200 million.
The per-share consensus from third-party Wall Street analysts for non-GAAP diluted earnings from continuing operations is $1.66, which is about 9% higher than the non-GAAP $1.53 results a year ago, and sits on the high end of BBY's forecast from Q3. BBY is the middle of a previously-announced two-year commitment to buy back $1 billion worth of stock. As of the end of Q3, BBY said it had purchased 15.7 million shares for a total of $517 million.
The options market has priced in an expected share price move of just more than 8.5% in either direction around the earnings release, according to the Market Maker Move indicator on the thinkorswim platform.
Call options trading has been heaviest at the monthly 46 strike. Puts have been active at the weekly 43.5 strike and the monthly 42 strike. The implied volatility sits at the 90th percentile. (Please remember past performance is no guarantee of future results.)
Note: Call options represent the right, but not the obligation, to buy the underlying security at a predetermined price over a set period of time. Put options represent the right, but not the obligation, to sell the underlying security at a predetermined price over a set period of time.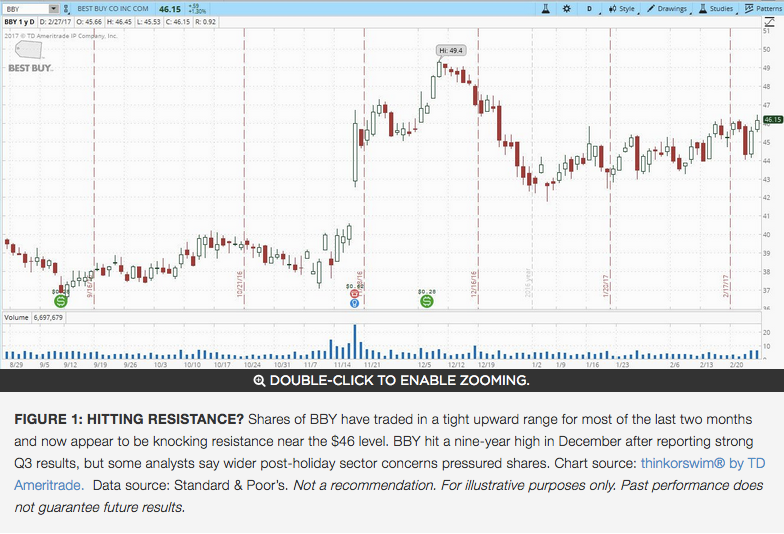 Posted-In: Analyst Color Earnings Previews Options Retail Sales Markets Tech Trading Ideas
View Comments and Join the Discussion!