Earnings: Did The Presidential Campaign Bump Twitter User Numbers?
What do the presidential campaign and the NFL have in common? Twitter (NASDAQ: TWTR) investors might find out when this platform for public expression reports Q4 results ahead of the market's open Thursday.
Those events were major happenings during the quarter, and some analysts expect they might be the biggest drivers behind Q4 results.
As with other social media sites, many analysts say they are interested in user numbers and engagement. The monthly active user metric, what the industry refers to as MAU, is likely to be the go-to growth number they'll consider. In Q3, TWTR reported that it had 317 million MAUs worldwide, up 3% from the year-ago period and 1% from the previous quarter.
Other analysts say they're interested in TWTR's live strategy, which one said might be a good tool to attract new Twitter users, but appears "too complicated" to attract the average Internet user. They note that the quarter will be the first to offer solid data on live streaming of Thursday night NFL games. TWTR has been beefing up its live-stream programming in recent months by announcing new deals such as the red-carpet pre-shows for the Academy of Country Music Awards, the Billboard Music Awards, and the American Music Awards. Some analysts say they'll be interested in hearing how TWTR plans to monetize these live events.
"Our live strategy is showing great progress," Anthony Noto, TWTR's chief financial officer, said in the Q3 press release. "We've received very positive feedback from partners, advertisers and people using the service, and we're pleased with the strong audience and engagement results."
What analysts also might take note of is TWTR's efforts to weed out bad behavior on the platform. On Tuesday, TWTR announced that it added three tools aimed at filtering out less relevant replies to tweets, keeping trolls off the platform by better monitoring new accounts for those that have been blocked or banned, and altering its search function to block "potentially sensitive" material in normal searches.
Finally, some analysts say they want to know if there are any suitors interested in buying TWTR, a big source of speculation, as well as volatility, last fall.
On Wall Street, consensus revenue estimates stand at $737.71 million, above the $710 million reported a year ago, according to the third-party consensus average on the Earnings Analysis* tab on the thinkorswim® platform from TD Ameritrade. On a per-share basis, profits are expected to come in at $0.12, below last year's earnings of $0.16 a share.
The options market has priced in an expected share price move of about 8.1% in either direction around the earnings release, according to the Market Maker Move indicator on the thinkorswim platform.
Call options trading has been heaviest at the weekly 18 and 18.5 strikes while puts have been active at the 18, 17.5 and 17 strikes. The implied volatility sits at the 25th percentile. (Please remember past performance is no guarantee of future results.)
Note: Call options represent the right, but not the obligation, to buy the underlying security at a predetermined price over a set period of time. Put options represent the right, but not the obligation, to sell the underlying security at a predetermined price over a set period of time.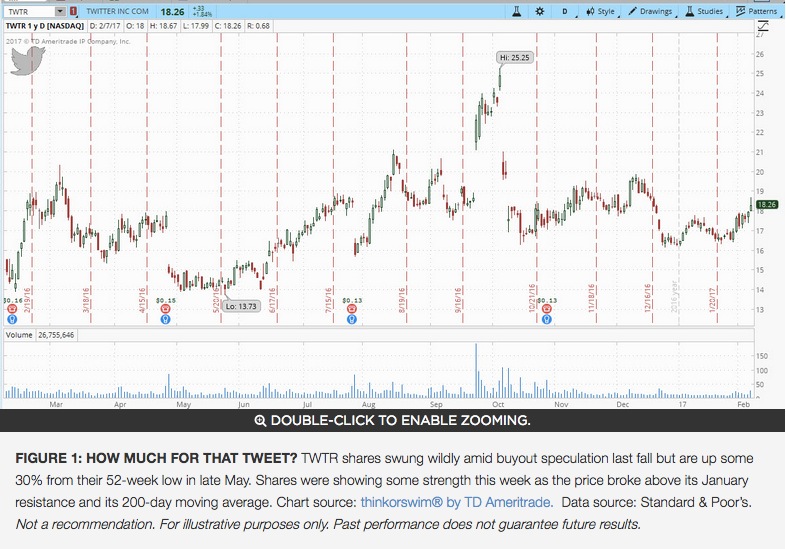 Posted-In: The Ticker TapeAnalyst Color Earnings Previews Options Markets Tech
View Comments and Join the Discussion!