eBay And Amazon: Hunting For Pairs During Earnings Season
I have three favorite seasons: Earnings season, truffle season, and Derby Prep season. Earnings season can be an exciting, and often hectic time – not unlike Derby season. There's a constant stream of news to digest and it usually comes with heightened volatility as stocks can quickly move up or down as traders and investors respond to the information. Earnings could have blown past, or hugely missed, expectations. Management could issue much stronger, or weaker, guidance than was expected. A company may report great earnings, but its competitors may have done better. Getting everything right when it comes to earnings is one of the most difficult tasks in trading – not unlike picking the winner of the Kentucky Derby.
Finding Pairs
Here's one tactic you might not be considering in your earnings pre-work: finding stocks that appear to have earnings correlation. Companies in similar sectors that report earnings before others may provide traders with insights into the mojo of the sector. Consider what might look like an earnings correlation between Amazon Inc (NASDAQ: AMZN) and eBay Inc (NASDAQ: EBAY) due to the fact that they both have a large exposure to e-commerce. It's important to remember they are still two very different businesses and what is good for one isn't necessarily good for the other. A quick side by side comparison using the Company Profile feature in thinkorswim® can help users quickly compare and contrast the revenue contributions of the core business lines at both companies.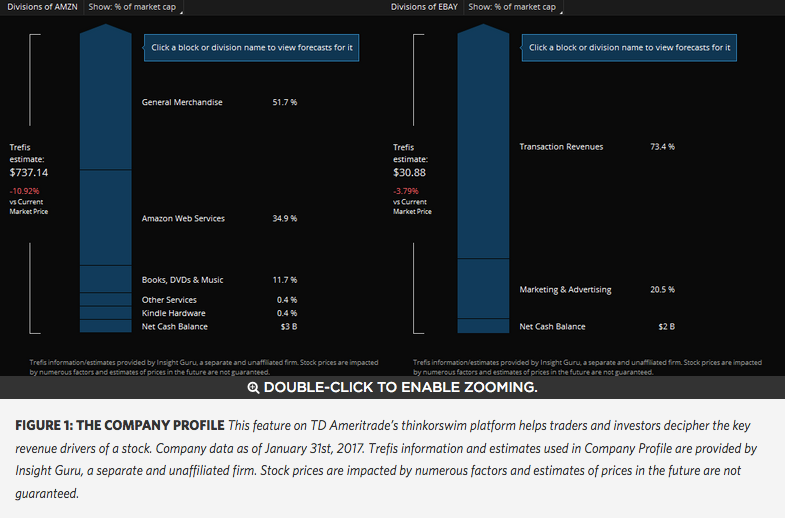 But back to the main crux of what I want to convey. EBAY usually reports its quarterly results about a week before AMZN. This year, EBAY reported on January 25 and AMZN reports tomorrow (February 2) after market close. In the past, there have been some similarities in the two stocks' price movement following their earnings releases, shown in figure 1. EBAY's stock is up a little over 7% since its Q4 profit met expectations. For AMZN, the options market has priced in an expected share price move of 4.4% in either direction around its upcoming earnings release, according to the Market Maker Move indicator on the thinkorswim platform. On the thinkorswim® platform there is a technical study which looks at how closely price movements are correlated for any two companies. According to this feature, EBAY and AMZN carry at 78% correlation.
On the thinkorswim platform there is a technical study which looks at how closely price movements are correlated for any two companies. According to this feature, EBAY and AMZN carry a 78% correlation.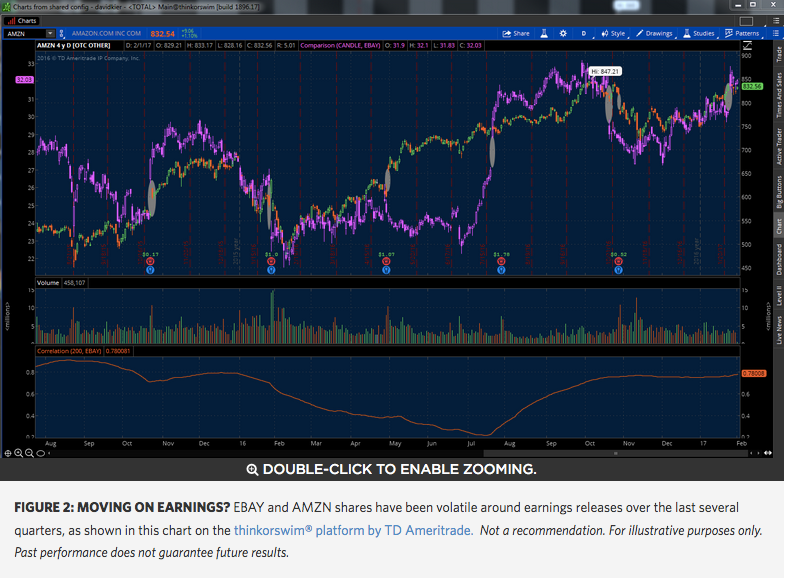 Want to tinker with thinkorswim? Here's the link to my EBAY/AMZN chart so you can slice and dice the data anyway you like with thinkorswim® sharing!
Beyond The Charts
It's never a good idea to trade a stock based on a quick glimpse at a chart. Earnings season is crunch time, and robust data analysis may be an important part of your trading strategy. A new tool in the thinkorswim platform, the Earnings Analysis tab, is an inclusive set of quarter-to-quarter data that may help you better understand the nuances that factor into stock and derivative moves going into earnings season.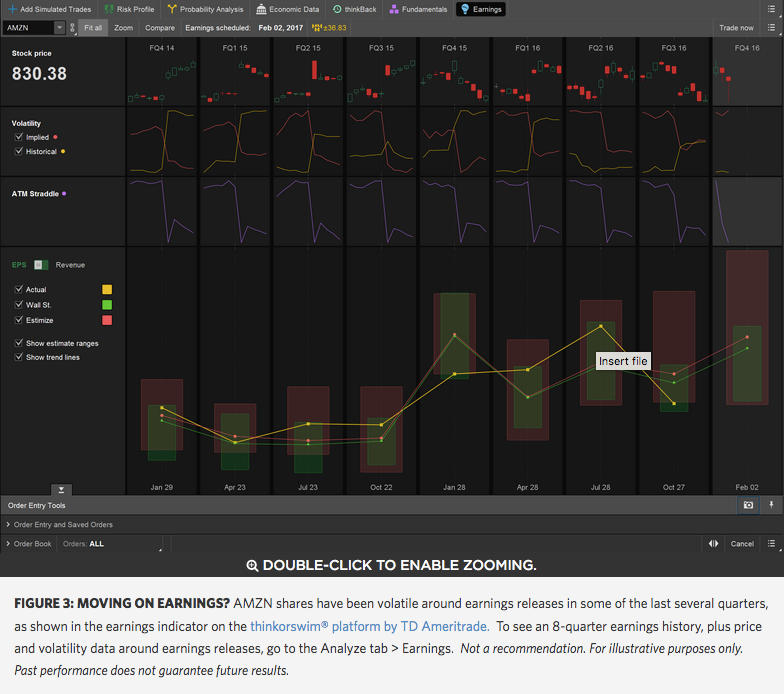 The feature offers customized data from Estimize*, a crowd-source tool of earnings estimates from a number of sources, with thinkorswim data points that may give you a bigger picture of how a company has been performing over the last eight fiscal quarters. The tab, shown in figure 2, offers quarter-over-quarter and year-over-year comparisons on gauges like stock price, implied volatility, and historical volatility. It's loaded with tons of information that may help you research potential trading opportunities. What jumps out immediately is the fact that the crowd sourced EPS estimates for AMZN are more bullish than the Wall Street Estimates.
How do I use all these little tidbits of information? As standalone data, it doesn't inform much. If you are bold enough to trade into earnings, you need to do your due diligence and really cultivate an analytical process that is all your own. What I've offered here is just one additional data point (correlation) which you might want to consider adding into your broader process.
Posted-In: The Ticker TapeAnalyst Color Earnings Technicals Tech Trading Ideas
View Comments and Join the Discussion!