Oil Blowout Fuels Early Gains As Hopes Rise For OPEC Deal; Energy Sector Jumps
Oil hit a gusher early Wednesday on hopes for an OPEC deal, and stocks, especially the energy sector, appeared set to follow suit. That's quite a turn-around from yesterday, when energy sector names crumbled on worries a deal wouldn't be reached.
Early today, squabbling OPEC members finally seemed set to agree on a production cut, various media reported, perhaps as much as 1.4 million barrels a day. Crude oil prices zoomed up more than 8% to near $49 a barrel on hints of an agreement, which could, if approved, dramatically re-work the energy landscape. Stock futures, particularly some large energy names, rose in pre-market trading.
It's been two years since OPEC decided to let the market determine oil prices, which helped lead to last winter's decade lows below $30 a barrel. That downward move put the energy sector, and to some extent, the rest of the stock market, under pressure. Now, there's hope that with an agreement, oil prices could top $50, underpinning energy stocks, which have already revived smartly from their early 2016 bruises. Other stocks that could conceivably get a boost from a sustained rally in oil include electric car companies, which tend to see higher sales when gas prices go up.
Before getting too excited about a possible agreement, keep in mind that until it actually gets done, it may be prudent to take care and not make any big bets one way or another. This is a bit like last summer when almost everyone seemed sure the Fed would raise rates, only to see that fall apart in the last two weeks before the Fed meeting. That's not to say an OPEC deal won't get done; just that it can often pay to let things cross the finish line before taking a major new stance.
Today isn't all about oil. There's plenty of economic data to digest, as well, including PCE prices, a measure the Fed is said to watch closely for inflationary signs. And private sector job growth soared by 216,000 in November, ADP said. That compared with estimates for around 165,000, according to analysts on Wall Street. Official payrolls data from the government are due Friday. The private sector jobs are interesting to look at, but the data people really want to see are Friday's.
In addition, pending home sales come later this morning, along with Chicago PMI (see below) and weekly crude oil inventories. Remember, whatever agreement oil producers reach, U.S. oil supplies remain historically high, and U.S. oil drillers have been steadily adding rigs for several months since the historic lows last spring.
The tech-heavy Nasdaq hit a record intra-day high on Tuesday, so continue watching tech stocks as well as energy names.
From a technical perspective, the S&P 500 Index (SPX) faces resistance at 2219 and has support at 2182.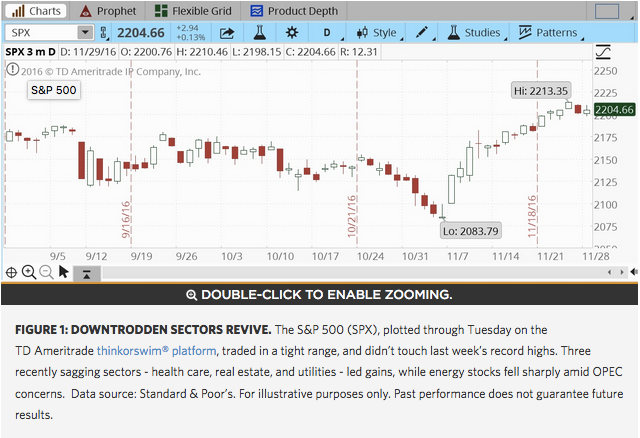 Does Market Have Faith in Infrastructure Plans?
The industrial sector, up nearly 10% in the last month, was among the weakest performers on Monday before recovering a bit on Tuesday. Immediately following the election, we saw companies like Deere & Company (NYSE: DE) and Caterpillar Inc. (NYSE: CAT) benefit from ideas that the new president would commit to major funding for construction and other projects. But remember, what's said on the campaign trail doesn't always translate into action. Will President-elect Trump be able to accomplish his infrastructure goals? It remains to be seen, and both DE and CAT stumbled early this week. These two could be worth following closely as the new year approaches for a better sense of how much credence the market puts into Trump's economic plans.
Strong Data Keep Coming, but Can PMI Follow Up?
It's been another humdinger of a week so far for U.S. economic data, with the latest Q3 Gross Domestic Product (GDP) estimate at a two-year high of 3.2% and November consumer confidence crushing estimates with a 107.1 reading (Wall Street analysts' consensus estimate had been 100.0). Consumer confidence data, which mostly measured confidence before the election and is now at its highest level since before the 2008-09 recession, could continue to surge in next month's report in part due to the stock market's rally since the vote, Briefing.com observed. And home prices also jumped. Coming up next: Chicago PMI later this morning. Consensus is for a reading of 52.0, Briefing.com said, up from 50.6 the prior month. Any reading above 50 indicates expansion. The Fed's Beige Book later today could also give insight into the performance of U.S. regional economies.
Volatility View
As U.S. stocks edged up on Tuesday, the volatility indexes that underpinned them drifted lower. The CBOE Volatility Index (VIX), a measure of the implied volatility of a strip of near-term options on the S&P 500, slipped a quarter point to 12.90, still above the 12.21 level touched last week, but well below the pre-election high just shy of 22. By early Wednesday, VIX had fallen even further, down to 12.45. The day's largest gainer among volatility indexes was OVX, the CBOE Crude Oil ETF Volatility Index. OVX rose 2.53, or 4.81%, to 55.09, its highest level since March, ahead of Wednesday's OPEC meeting. Also ticking higher Tuesday was EUVIX, the CBOE/CME FX Euro Volatility Index. Investors are likely eyeing this weekend's referendum in Italy, which, on its face, is a vote on constitutional reforms, but has been described by some as a "Brexit moment" for Italy. Opposition parties have vowed to push for abandonment of the eurozone, and Italy's Prime Minister Matteo Renzi has said he will resign, should the referendum fail to pass.
Posted-In: Analyst Color News Eurozone Commodities Econ #s Economics Markets Real Estate
View Comments and Join the Discussion!