BlueFin Skeptical On iPhone Builds, Cuts Shipment Forecasts By 15%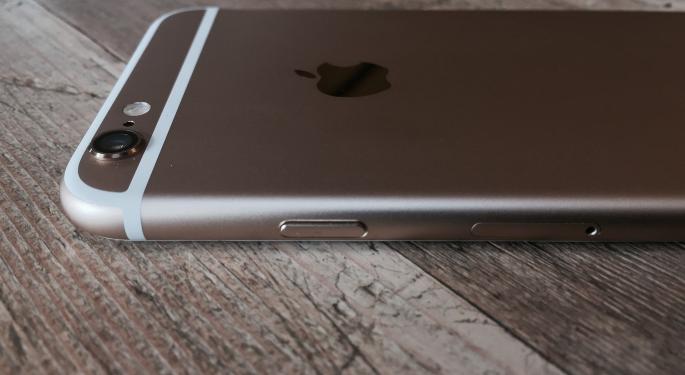 Apple Inc. (NASDAQ: AAPL) reported in-line iPhone shipments of 51.2 million for 1Q, while cutting its 2Q guidance for iPhone builds and shipments. BlueFin Research Partners' John Donovan mentioned that the Apple story continued to be likeable over the long term.
Analyst John Donovan said that the reduction in iPhone builds was largely on account of the 6S platform. The 2Q shipment forecasts have been lowered by 15 percent to 40.5 million units to reflect the reduction in builds and the weak TAM and demand scenario.
2016 Likely To Be a Challenging Year
Donovan believes that 2016 would be a tough year for the entire smartphone segment, including Apple. He expects the company to adopt a more aggressive pricing approach for iPhone inventories in order to prepare for the release of a new device later in the year.
Related Link: Apple: Here's What Everyone On The Street Is Saying
Apple's 1Q Mac shipments were just over 4 million and the reduction in builds from April onwards indicates a decline in unit shipments in the PC sector.
Apple May Launch Special Anniversary Phone In 2017
Apple is unlikely to release iPhone 7 earlier than planned, given the extended cycle time of the apps processor, Donovan pointed out. He added that the company was likely to introduce drastic changes in the new iPhone model to be launched in 2017 which marks the 10th anniversary of the iPhone platform.
Donovan expects iPhone 7 to offer only minimal upgrades in performance with all the leading-edge technology emphasis likely on the phone release. The company may even skip iPhone 2017 and directly move to iPhone 8 or launch a special edition of the iPhone.
"To that end, we 2017 do see a bump in shipments in CQ4 based on a combination of a new phone release, users ripe for an upgrade from the iPhone 6 platform that skipped the 6S, as well as the financing program opportunities which allows for upgrades each time a new phone is released," the report stated.
Donovan believes that Apple's long-term growth prospects remain bright and there will be ample time to buy the stock ahead of the next share price rise.
Posted-In: BlueFin Research Partners John DonovanAnalyst Color Best of Benzinga
View Comments and Join the Discussion!