Everything Everyone's Saying About Tesla After The Model 3 Launch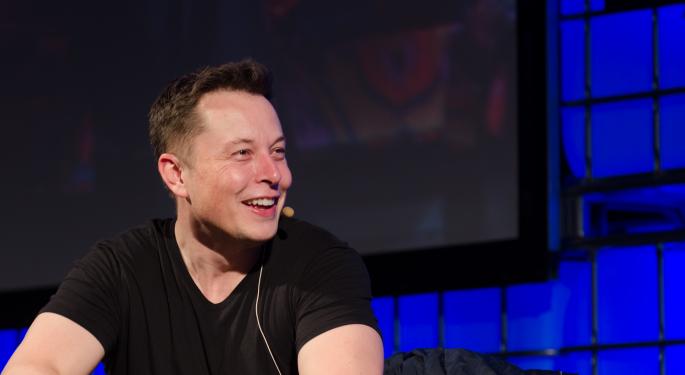 Tesla Motors Inc (NASDAQ: TSLA) shares surged on Friday after last night's highly-anticipated unveiling of the new Model 3. Here's a rundown of what people are saying about Tesla's first attempted venture into the mass automobile market.
Washington Post
David Cho says, "The new vehicle could carve a path for the company to regain some of the momentum it had when its cars were garnering rave reviews." Tesla's reputation took a hit last year when Consumer Reports reported reliability problems with Tesla's Model S.
Related Link: $10 Billion Call? Chowdhry Sees Tesla Model 3 Reaching 300,000 Preorders
Wall Street Journal
John Stoll reports that Tesla "secured about 135,000 reservations during the first day of ordering for the Model 3, with initial demand for an electric car that won't go on sale for at least another year shattering expectations." He also call's Tesla's goal of raising annual sales by tenfold to 500,000 in the next five years the company's "steepest challenge."
Mike Ramsey reports that potential Model 3 buyers took the day off work on Thursday to wait in line outside Tesla showrooms to put a deposit down on the Model 3. He also suggests that the Model 3 could be coming at a critical time because "Tesla's website suggests demand for the Model S sedan may be cooling, particularly as interest grows in the segment where the new Model X plays."
Quartz
Steve LeVine calls the Model 3 a "make-or-break" vehicle for Tesla that could potentially justify the stock's lofty valuation if it ends up becoming a huge hit. "But if it sells only at middling scale like current electrics, cash-burning Tesla could go bust," he cautions.
Related Link: It's No Joke, Evercore Values Tesla Stock At $310
Reuters
Hyunjoo Jin reports that LG Display Co Ltd. (ADR) (NYSE: LPL) is another big winner from the launch of the Model 3. LG will be supplying information displays for the new Tesla model.
CNBC
Phil LeBeau reports that demand for the Model 3 is "blowing away expectations." Although the Model 3 is not expected to be delivered until at least late 2017, LeBeau sees the enthusiasm of the people waiting in line to reserve the car as a sign that a large number of them will follow through and actually buy the car when it comes time to commit.
The Verge
Andrew Hawkins says a four-minute YouTube supercut of last night's unveiling is the all that the Model 3 enthusiasts will have to sustain their excitement between now and the end of 2017.
Marketwatch
Victor Reklaitis reports that there are plenty of Model 3 skeptics out there that are pointing out the "fanboy" nature of Tesla and Musk followers. In addition, skeptics note that the huge initial demand for Model 3s is likely due to buyers wanting to ensure they get the car before the expiration of the $7,500 tax credit, and that the electricity that powers the Model 3 is generated at coal and fossil fuel-burning power plants.
Related Link: Will Tesla's Model 3 Cannibalize Demand For Model S And Model X?
MotorTrend
Alex Nishimoto has penned MotorTrend's first review of the Model 3, noting that "the car inherits many styling cues from the Model S up front, but forgoes a grille in favor of a blunted front bumper that simulates the shape of the Model S' fascia." He also mentions that cost-cutting measures include a much simpler interior than the Model S, a mostly steel (rather than aluminum) structure, and a simple door lever instead of touch-sensitive door handles.
Daily Beast
Edward Niedermeyer plays devil's advocate on the Model 3, predicting that "it won't hit the road for two years, it won't be as cheap as promised, and it will be plagued with problems." He also believes that Tesla is rushing the Model 3 to market because it was down to its last $1.2 billion in cash by the end of 2015 and will soon need to raise more.
Disclosure: the author holds no position in the stocks mentioned.
Image credit: Heisenberg Media, Flickr
Posted-In: Model 3 Tesla Model 3Analyst Color News Events Top Stories Best of Benzinga
View Comments and Join the Discussion!