Selling Nostalgia: WWE's Falling Stock, Ratings Drop Spark Shane McMahon's Return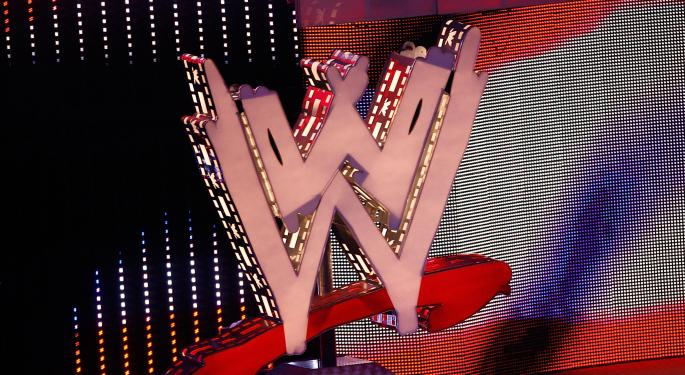 The blurred line between reality and fiction was cleared long ago by World Wrestling Entertainment, Inc. (NYSE: WWE). The real world of WWE, however, has occasionally made for pretty interesting storylines.
The latest example? Shane McMahon returning to the company after a six-year absence.
Here Comes The Money
McMahon, the son of WWE Chairman and CEO Vince McMahon, returned Monday on WWE Raw live from Detroit, Michigan. He received a rousing ovation and appeared visibly emotional for a few moments.
Why did he return? WWE's recent business struggles, primarily. McMahon told his real-life sister and on-screen baddie, Stephanie McMahon, that she and her husband Paul "Triple H" Levesque are responsible for WWE's decline the past couple of years.
"[You've] been really running this company into the ground," Shane said. "Let's take a few indicators. Let's look at the stock, let's look at ratings, let's look at the plethora of talent injuries."
The 30-minute segment setup one of the main events at Wrestlemania 32 on April 3: Shane McMahon vs. The Undertaker in a Hell In The Cell cage match for (storyline) control of Raw.
Levesque is a full-time executive with the company and part-time wrestler; He's the current WWE World Heavyweight Champion. Shane McMahon left the family business in 2010 to pursue other businesses interests, primarily as CEO of You On Demand Holdings, Inc. (NASDAQ: YOD), the first video-on-demand and Pay-Per-View service in China.
Related Link: How Much Will Daniel Bryan's Retirement Hurt WWE?
Best For Business
This instance of bringing real-life scenarios to television programming is rare but successful for WWE. Stephanie and Triple H have been using the phrase "best for business" since 2013 and are both integral executives within the company.
More importantly, Shane's return and subsequent match against the legendary Undertaker is yet another way WWE can sell the nostalgia of its late-1990s/early-2000s heyday.
Shane recently turned 46 years old and The Undertaker is about to turn 51; This well can only be visited so many more times before these wrestlers completely break down.
The "Attitude Era" was arguably the company's most successful period for ratings and mainstream buzz. It's also been one of the biggest selling points of the WWE Network.
WWE Network
The company launched its OTT network in February 2014, when WWE's stock was about to reach its all-time high. Since peaking at that $30 level, it has been cut in half since. Over the last several months, Raw has dropped to ratings levels not seen since 1997. For traders and investors, however, the WWE Network is what's in focus.
"The network and OTT networks in general are still pretty new," Macquarie analyst James Clement told Benzinga earlier this month. "I think in fairness to management, I think it's very difficult to predict subscriber builds over time."
With Wrestlemania 32 six weeks away and the return of a huge star, it will be interesting to see what that subscriber count looks like the day after Wrestlemania.
WWE added 1.22 million paid subscribers for its over-the-top WWE Network as of the end of 2015, up 72 percent year-over-year. That total was down from 1.3 million the company reported in Q3. Clement said, "I think what people were looking for and didn't get was more specific guidance [1.25-1.35 million subscribers] about where the subscriber level might at Wrestlemania."
Posted-In: James Clement Monday Night RawAnalyst Color News Events Opinion Top Stories Tech Best of Benzinga
View Comments and Join the Discussion!