Apple And Facebook Earnings Could Carry Psychological Impact: Here's Why
The earnings season is in full swing this week, with a number of blue-chip players and some of the nation's largest technology companies, including Apple Inc. (NYSE: AAPL), Facebook, Inc. (NASDAQ: FB), Microsoft Corporation (NASDAQ: MSFT), and Amazon.com, Inc. (NASDAQ: AMZN), dominating the lineup.
What could these big boys potentially say about their sector and the economy? And what broad-market implications might emerge? These companies' collective footprint—and the fact that so many investors hold these stocks—could mean a potential earnings-induced, near-term boost to a battered Wall Street. Of course, these powerful names could pile on to the Streets' woes should their earnings disappoint.
Will Apple Shine?
Whenever Apple (AAPL) speaks, Wall Street listens. This is, after all, the world's most valuable company, per market capitalization, and the most widely held stock among TD Ameritrade clients. AAPL will share performance figures and operations insights when the technology giant reports earnings post-close Tuesday. Analysts reporting to Thomson Reuters are looking for record results with a per-share profit of $3.23 on topline sales of $76.61 billion.
But those analysts may be more attuned to specific iPhone sales results. These sales, industry analysts fear, aren't growing as much as they had been. Remember, too, that this is the historically healthy Q4 results, which didn't include a new must-have gadget this time around. If estimates for sales of 75 million to 76 million iPhones are realized, it would represent only a 1.3% increase over the same period a year ago.
Currency fluctuations are typically an issue for multinationals and AAPL has attacked this drag by raising iPhone prices in many top markets including Japan, Canada, and Australia, Street analysts note. "We believe this had a dampening effect on international demand," a Goldman Sachs analyst said in a recent note to investors.
Anything lower than 2% gains in iPhone sales sets off alarms, analysts say. It doesn't help that year-over-year iPhone shipments from 2014 to 2015 vaulted 46%, thanks, in part, to a new, bigger design. It's tough to beat that mark.
What are traders banking on? At a time when implied volatility for most stocks is trending on the high side, AAPL's sits smack dab in the middle of the range, at the 50th percentile. With the stock trading near $100, short-term option traders are looking at a 5.5% stock move in either direction around the earnings release, according to the TD Ameritrade thinkorswim® platform's Market Maker Move indicator. Stand outs include buyers of the 105 and 100 call options alongside buyers of the 95 put options. See action in the underlying in figure 1, below.
Note: Call options represent the right, but not the obligation, to buy the underlying security at a predetermined price and over a set period of time. Put options represent the right, but not the obligation, to sell the underlying security at a predetermined price over a set period of time.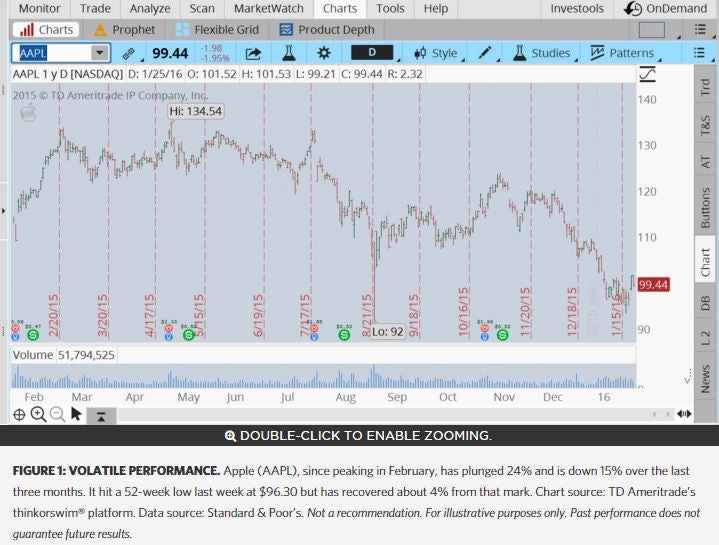 Who's Not on Facebook?
Also in the earnings confessional this week is Facebook (FB). It will report ahead of the market's open Wednesday. Industry analysts are looking for the social-networking firm to turn in stronger numbers of their comparable based on robust ad sales and Instagram revenues.
For the quarter, the Thomson Reuters survey average is for earnings per share of $0.68 a share—a 26% gain over last year's $0.54. Expected revenues of $5.38 billion would mark a near-40% year-over-year leap. FB has a strong track record—10 straight quarters—of surprising investors with better-than-expected results.
As for trading activity, FB's implied volatility is more in tune with other stocks during this earnings season, sitting at the 70th percentile. Short-term option traders are looking for the earnings news to potentially generate a 6.5% move in the stock in either direction, according to the TD Ameritrade thinkorswim® platform's Market Maker Move indicator. Notably, buyers are lining up for the weekly 100 call options and the weekly 90 put options.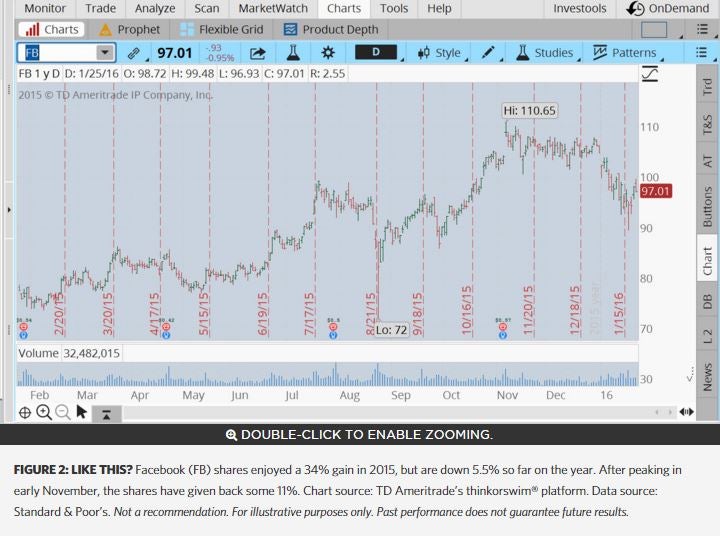 Did AT&T's Mega Buy Matter?
How did that mega-acquisition of DirecTV last year impact the financial statements of AT&T Inc. (NYSE: T)? We'll find out when the blue-chip telecom unveils its results after the market closes Tuesday.
Street analysts are projecting a per-share profit of $0.65 on revenues of $42.79 billion, according to the Thomson Reuters survey. A year ago, its profit was roughly 18% lower at $0.55, while revenue was 24.2% lower at $34.44 billion.
T's 2.7% 2015 share gain managed to outpace the S&P 500's essentially flat results. So far this year, the stock is ahead nearly 3% and in the last week alone, shares are up better than 4%.
Going into earnings, short-term option traders are looking for the earnings news to potentially generate a 2.5% move on the stock in either direction, according to the TD Ameritrade thinkorswim® platform's Market Maker Move indicator. As one of the few blue-chip stocks to end 2015 on the upside, some see T as a salmon swimming against the stream; its implied volatility reflects that at the 38th percentile.
TD Ameritrade and all third partied mentioned are separate and unaffiliated companies, and are not responsible for each other's policies or services.
Inclusion of specific security names in this commentary does not constitute a recommendation from TD Ameritrade to buy, sell, or hold.
Market volatility, volume, and system availability may delay account access and trade executions.
Past performance of a security or strategy does not guarantee future results or success.
Options are not suitable for all investors as the special risks inherent to options trading may expose investors to potentially rapid and substantial losses. Options trading subject to TD Ameritrade review and approval. Please read Characteristics and Risks of Standardized Options before investing in options.
Supporting documentation for any claims, comparisons, statistics, or other technical data will be supplied upon request.
The information is not intended to be investment advice or construed as a recommendation or endorsement of any particular investment or investment strategy, and is for illustrative purposes only. Be sure to understand all risks involved with each strategy, including commission costs, before attempting to place any trade. Clients must consider all relevant risk factors, including their own personal financial situations, before trading.
TD Ameritrade, Inc., member FINRA/SIPC. TD Ameritrade is a trademark jointly owned by TD Ameritrade IP Company, Inc. and The Toronto-Dominion Bank. © 2016 TD Ameritrade IP Company, Inc. All rights reserved. Used with permission.
View Comments and Join the Discussion!
Posted-In: Analyst Color Earnings News Previews Markets Trading Ideas