Grain Expert: Monsanto's Acquisition Of Syngenta Would 'Make Sense' For Shareholders, Not Necessarily For Customers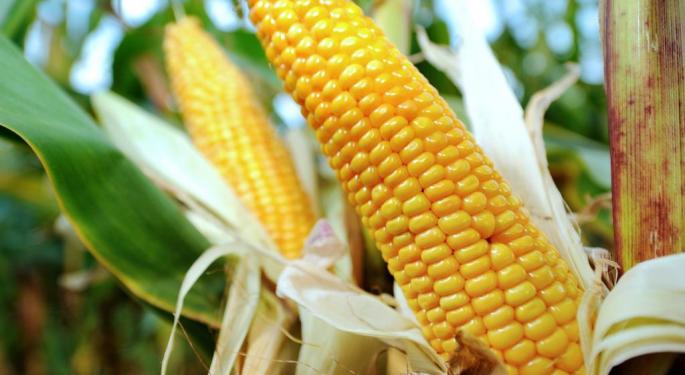 Shares of Syngenta AG (ADR) (NYSE: SYT) surged higher by more than 7 percent about reports surfaced that Monsanto Company (NYSE: MON) is considering a takeover bid.
Angie Setzer, Vice President of Grain for Citizens, told Benzinga that a deal "would make sense" and offer Monsanto "limited competition to contend with."
However, Setzer noted that further consolidation in the space may not be a positive for customers or the industry as a whole.
According to Bloomberg, Monsanto is considering another takeover bid to acquire Syngenta, one of its main rivals.
Monsanto withdrew a $46.6 billion proposed takeover of Syngenta back in August. Since then, Syngenta has been in talks with ChemChina for a $42 billion all-cash offer.
Speaking to Benzinga, Angie Setzer said a potential acquisition of Syngenta "would make sense" for Monsanto. First, an acquisition would streamline and consolidate the two companies and bring together additional levels of product line and expertise. Second, with Syngenta out of the way, Monsanto would have "limited competition to contend with" in the short term.
"It would likely be a win-win for both groups as well as Monsanto's stock as the joint venture would produce the bulk of chemicals used in production agriculture as well as have an in depth seed business with top-notch development and research programs," Setzer added.
However, she cautioned that consolidation in the industry at such a large scale may not necessarily be in the best interest of farmers and consumers.
According to Setzer, a combined Monsanto-Syngenta entity could be "slow to react or adjust" to changes and shifts in the industry, leaving farmers with "little ability to maneuver" in a changing environment. In addition, she suggested that Monsanto and Syngenta have spent years building reputations and developing relationships with wholesale suppliers which could "potential be destroyed" or "at the very least damaged" if the two companies join forces.
Bottom line, Setzer is "not convinced" that a combination would be a good move for customers or the industry as a whole. However, she is convinced that such a move is "very good" for both Monsanto and Syngenta shareholders.
Posted-In: Angie Setzer Bloomberg ChemChinaAnalyst Color News M&A Top Stories Exclusives Best of Benzinga
View Comments and Join the Discussion!