Foursquare Was Right: Apple Sets Records With iPhone 6s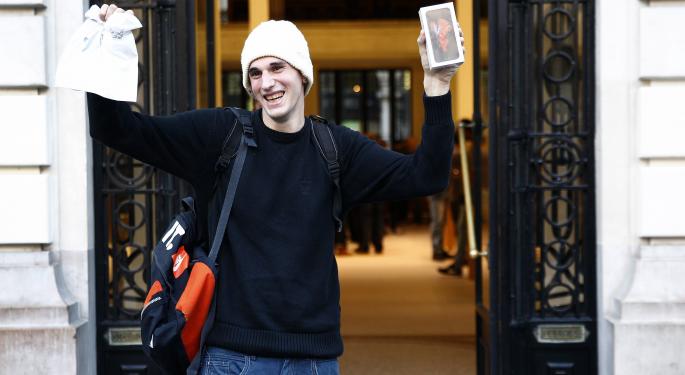 Foursquare predicted that Apple Inc. (NASDAQ: AAPL)'s iPhone 6s sales will surpass previous records on launch day.
Foursquare noted its foot traffic data is among the world's "largest database of information" and suggested Apple will sell 13-15 million iPhones over the weekend.
Apple confirmed on Monday it had sold over 13 million iPhone units.
Foursquare's Chief Operating Officer Jeff Glueck predicted in a blog post ahead of the iPhone 6s launch that Apple will see record sales over the weekend.
Glueck noted that Foursquare has access to the world's largest database of information on foot traffic trends across the globe. He added that this is "seriously powerful" data and has only grown stronger, more accurate and more insightful over time.
Related Link: Trip Chowdhry: iPhone 6s Was Strong, But Apple Stock May Continue To Languish
Glueck pointed out that in 2012, Apple reported sales of around five million iPhone units during its launch weekend, an increase of around 140 percent over the normal weekly sales volume during the quarter. In 2013 and 2014, Apple sold around nine to 10 million units, marking an increase of around 245 percent and 230 percent, respectively. In fact, visits to Apple stores actually begin spiking in the week leading to the launch day.
Based on Foursquare's proprietary data leading up to the iPhone sales launch, Glueck predicted that launch day foot traffic would be about 360 percent of a typical Friday. This would imply Apple sells 13 million to 15 million iPhone units over the weekend, which would surpass all previous records.
Bingo!
Apple announced on Monday that it has sold more than 13 million new iPhone 6s and 6s Plus models within three days of launch, marking a new record.
"Sales for iPhone 6s and iPhone 6s Plus have been phenomenal, blowing past any previous first weekend sales results in Apple's history," said Tim Cook, Apple's CEO in a press release. "Customers' feedback is incredible and they are loving 3D Touch and Live Photos, and we can't wait to bring iPhone 6s and iPhone 6s Plus to customers in even more countries on October 9."
Apple's sales momentum is likely to continue as the phone is scheduled to launch in an addition 40 countries on October 9, followed by an additional six countries on October 10. On October 16, the phone will launch in an addition three countries. By the end of the year, Apple will have completed the global launch of its new iPhone and will be available for sale in over 130 countries.
Posted-In: Foursquare Foursquare Foot Traffic iPhone 6S iPhone LaunchAnalyst Color Top Stories Analyst Ratings Tech Best of Benzinga
View Comments and Join the Discussion!