Apple's TV Service Could Be 'Netflix On Steroids'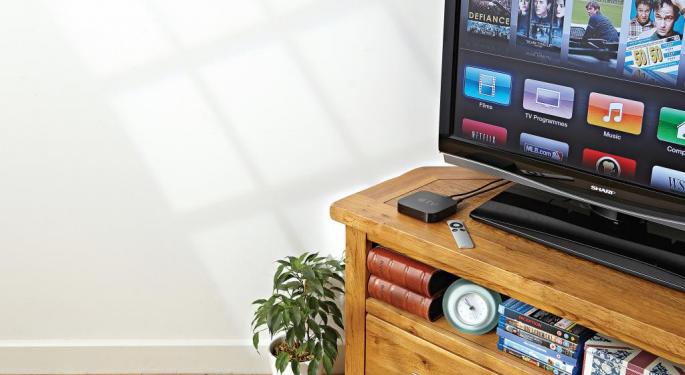 Apple Inc. (NASDAQ: AAPL) reportedly abandoned any and all plans to release television set, which did not surprise anyone, but rumors insist the company is still interested in the business.
Recent reports indicated that Apple might be looking to crack the pay-TV market, but there are a number of obstacles that may be impossible to overcome. The latest rumor comes from Variety, which reported Apple's intent to produce original content for an unannounced service.
"What did Apple do when it released the iPhone? They ended up dominating the smartphone industry," tech expert Sean Udall told Benzinga. "They try to come into an industry and become one of the three largest players and ideally the largest player."
Udall said there is little doubt that Apple is building a pay-TV service of some kind, but he doesn't expect the company to compete with the likes of Comcast Corporation (NASDAQ: CMCSA). He said the bundle -- particularly those that include Internet, cable and phone services -- is the best entertainment deal available.
"It's a great deal," said Udall. "If you try to replicate that, especially if you need [specific] channels…I want Bloomberg and CNBC. I want certain sports channels [and] pay channels. To replicate that without a cable bundle, I guarantee it would cost me more, especially if I want a phone and 100-meg Internet service."
Udall expects Apple to target Netflix, Inc. (NASDAQ: NFLX) instead.
"My view has always been they bring Netflix on steroids," Udall said of Apple's plans. He does not think it would be very difficult for Apple to acquire 60 to 70 percent of the content already present on other streaming services, which is not exclusive.
It would be more challenging for Apple to acquire content from Walt Disney Co (NYSE: DIS) and DreamWorks Animation Skg Inc (NASDAQ: DWA), which have exclusive deals with Netflix. Hulu recently scored its first major deal after signing with EPIX.
"Even YouTube does original content," Udall added. "If you're gonna have a system -- a media content delivery system -- you're gonna have original content."
Related Link: Is Apple's 'Drought Of Innovation' Finally Over?
Risky Business
Patrick Moorhead, president and principal analyst at Moor Insights & Strategy, is a fan of the pay-TV concept but does not think that Apple should produce original content.
"Original content is always exciting, but also realize that people are shopping around to everybody," Moorhead told Benzinga. "It's not as if Apple is going to inspire some new genre of content."
Moorhead is most concerned that Apple will offend some of its customers with the content it produces.
"I think this is risky for Apple," said Moorhead. "I think it's risky in that they will associate their brand -- the most powerful consumer brand on the planet -- they will take a major risk on messing that up for very low gain. Imagine this: you have the ability to offend the left, the right, the center, the LGBT."
Apple currently sells controversial content via iTunes (such as this movie from 2013), but Moorhead said that's less of an issue because Apple "didn't underwrite it."
"They're not funding it," he said. "They're not investing $50 million to own the content and fund the production of it."
Disclosure: At the time of this writing, Louis Bedigian had no position in the equities mentioned in this report.
View Comments and Join the Discussion!
Posted-In: Patrick Moorhead Sean UdallAnalyst Color Top Stories Exclusives Tech Best of Benzinga