Global Markets Are In A Multi-Trillion Dollar Hangover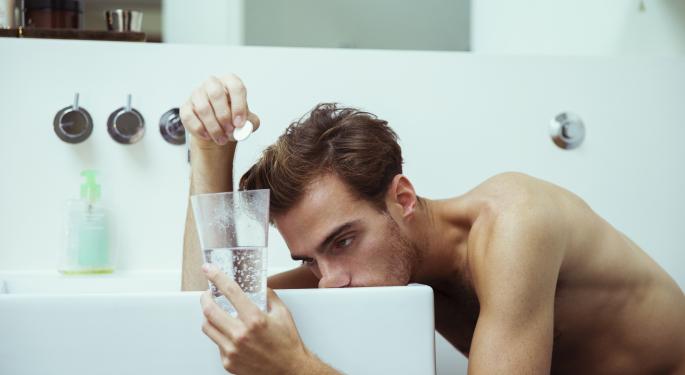 The global markets have been full of drama lately. The Greek government struggled for months to negotiate a favorable bailout agreement with its European creditors before ultimately submitting to increased austerity measures. The Chinese stock market is down 24 percent from its all-time high of early June. Commodity prices from gold to crude oil are at or near five-year lows. Canada is nearing a recession and cutting interest rates, while countries such as South Africa have been hiking borrowing costs.
So why is all of this happening at once, and what are investors to do? John O'Donnell, Chief Knowledge Officer for Online Trading Academy, sat down with Benzinga to offer some insights.
It's Only Natural
"I think what we're seeing with China and Puerto Rico and all of this other stuff is just a symptom of the problem," O'Donnell said.
According to him, the root issue is that central banks around the world have been making available excessively cheap liberal credit for 15 years. "Under Keynesian theory," he said, "this wouldn't be a problem. But Austrian business cycle theory says that cheap, liberal credit will eventually lead to a bust."
The answer, in O'Donnell's opinion, isn't to print more money. It's to purge all the malinvestments that were made under low interest rates. "The bust phase is like an alcoholic getting cured by a hangover. It doesn't feel good, but at the end of the day, [the bad stuff] is getting out of the system."
Among the investments that need purging, in O'Donnell's view, are ill-advised student loans, credit from Wall Street to the American energy sector, and sovereign bonds in much of Europe.
He admitted that it would be difficult to speculate on how long this bust would last, but he added that "there's nothing wrong with a recession...it's just the curing phase of the cycle."
Contagion
O'Donnell's biggest fear is contagion -- a domino effect whereby one large economic catastrophe would pull money out of a wide range of assets. "These things quickly become fueled by emotions of fear."
He has already seen this logic begun to be applied to forex markets. He noted that the Australian, New Zealand, and Canadian dollars have all been hit as of late. Meanwhile, people have flocked to the United States as a currency safe haven and have correspondingly driven up the value of the dollar. "It's driven by fear," O'Donnell claimed.
Advice For Investors
O'Donnell advised investors that in this bearish climate, short-term trading could actually present less risk than long-term investments. One major reason, he said, is because it allows market participants to generate gains by short-selling. He mentioned, furthermore, that predicting long-term value can be difficult in such a hazy market environment.
But according to O'Donnell, the prevailing image on Wall Street and in financial media is that long-term investments are always the safer option. He believes that this warped image has come about because mutual fund and hedge fund managers, who charge custodian fees for the money they hold, benefit financially from extended investments.
Nevertheless, O'Donnell suggested that the best investment may not be either long-term or short-term. Instead, he believes that holding cash large amounts of cash is the ideal tactic during credit purges. "Costs of goods and services go down, so your purchasing power goes up."
"A bust cycle isn't the end of the world," he reiterated. "It'll hurt, but we'll get through this."
Posted-In: Analyst Color Long Ideas Emerging Markets Eurozone Commodities Forex Global Top Stories Best of Benzinga
View Comments and Join the Discussion!