Economic Slowdown Could Spell Trouble For Chinese Solar Companies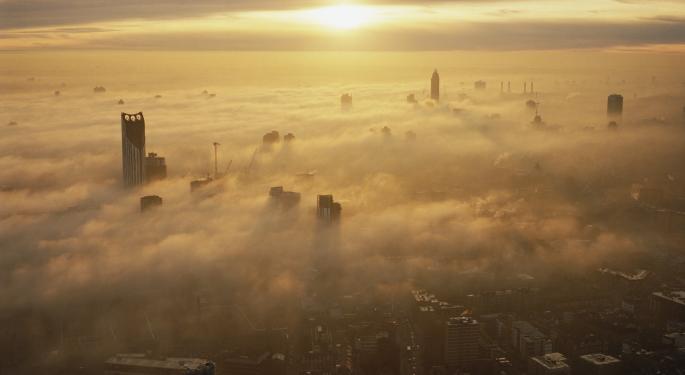 It is no secret that the Chinese economy has been struggling. The country's equities market has suffered two major downturns followed by stunted recoveries. The real estate bubble could be getting worse, as investors move their money away from stocks and into the housing market. The country's vital manufacturing sector has been contracting.
This is bad news for the solar industry, according to Phil Davis, founder of PhilStockWorld.com. He told Benzinga that China's economic situation has sparked concerns that the Chinese Communist Party could shift assets resources from investment in renewable energy in order to stimulate its stock market.
Indeed, the markets have reflected such concerns. Chinese-based JinkoSolar Holding Co., Ltd. (NYSE: JKS) has tumbled 16 percent since July 21. Trina Solar Limited (ADR) (NYSE: TSL) has dipped about 9 percent over the same period, while JA Solar Holdings Co., Ltd. (ADR) (NASDAQ: JASO) has fared relatively well, but still fell about 2 percent.
Related Link: Pros At Odds Over First Solar
Experts in the field see both short- and long-term risks for the Chinese solar space; additionally, trouble in China – the world's largest solar market – could signal caution for the broader solar industry.
Softening Projections
At the beginning of the year, the Chinese National Energy Administration set a goal for 17.8 gigawatts of newly installed solar capacity in 2015. Halfway through 2015, however, the nation had only added about 7.7 gigawatts of solar PV.
Adam James, senior solar analyst at GTM Research, told Benzinga that his firm expects a total of only 14 gigawatts installed for the year. But even though the number would fall short of the original target, he noted that it would still come close to the total amount of capacity installed throughout the entire world in 2010, highlighting China's current dominance of the sector.
James said that the country would continue to occupy that position for the foreseeable future. "As far as installations go, even into 2020 they will still be building at double the rate of second place. We expect a 25 percent growth rate through 2020 and 100 gigawatts installed by then [21 percent of global capacity]." Given these figures, he said, "whatever happens in China will have a disproportionate impact on the overall market."
Cut The Power
One of the most notable consequences of the economic slowdown in China has been relatively weak demand for electricity. According to a brief published by the China Electricity Council on July 21, acceleration of power consumption has slowed to 1.3 percent – its worst pace in three decades – during the first half of 2015. According to James, double-digit annual increases have been the status quo as of late. Yet still, fully nine Chinese provinces saw their demand fall during the first half of the year. Growth in electricity consumption has probably declined even further in response to recent market instability.
Despite weak demand, which the agency admitted was lower than supply, investment in energy infrastructure is still increasing. During the first six months of the year, almost 9 percent of the country's solar capacity went unused. "There are a bunch of solar plants that were installed last year but are not producing any solar power because consumption in end market has been so weak," James explained.
Some of the asymmetry between supply and demand may be due to government policy aimed to encouraging investment in renewable energy. China provides feed-in-tariffs to solar energy companies, offering above-market prices for each kilowatt hour of energy provided because of the relatively high costs of building the necessary infrastructure. "The policy in place generates a lot of demand for investment even though demand for electricity is too weak right now," said James.
Related Link: GTM Sheds Light On Solar City's Mexico Expansion
Reasons For Concern
The fixed payments to Chinese solar companies are determined partially by electricity consumption within the country. So with demand for power decelerating, the firms' revenues will likely soften as well.
Furthermore, according to James, the solar energy providers typically receive the government payments six to 12 months after they are due. He said the delays were due to "one of the most complicated administrative systems in the world." Provincial governments report to party officials on electricity consumption within their boundaries; the central government sends bills to each province based on the amount they owe the firms. After the central party official receives the money, they then disburse it to each solar company. This process, not surprisingly, can take up to a year to complete.
However, these payment delays have not posed a significant problem until recently, since the energy providers have been able to rely on their other source of cash: utility companies. The rates at which these local firms pay solar companies for their services are pegged to the price of coal-fired electricity. And with coal prices nearing decade lows, revenue generation from utility companies is lower than ever.
James summed up that the combination of revenues from both from the government and from utility providers as well as payment delays from the former have created "a cash flow problem" for China's solar energy firms.
Cash flow is not the only issue. James also highlighted a longer-term concern: financing risk. He said, "A lot of [solar] infrastructure right now is being financed by development banks." However, many, including him, worry that Chinese banks could be overextending themselves with their lending. "If credit dries up, that could be a big issue."
Why Build?
So with solar energy becoming less profitable and financing risk constituting a growing concern, why hasn't the Chinese government lowered its targets for solar capacity expansion? In fact, analysts at GTM Research anticipate that a new five-year plan from the Communist Party next year will hike targets for solar power.
James suggested that the reason may be "that a lot of the problems we're seeing right now are [regional]." Much of the excess capacity is located in the rural western reaches of the country, while the unmet demand is centered in urban hubs on the east coast. The government, he believes, is relying on an improvement in infrastructure over the coming years that will allow currently underutilized rural plants to export energy to more populous corners of the nation.
Furthermore, James emphasized, "When you invest several million dollars in a power plant, you're not looking for an immediate return." With decades-long horizons, party officials are more concerned with long-term prospects for the Chinese electricity sector than a short-term dipped triggered by a recessionary gap.
Related Link: Could Solar Energy Be Headed For Consolidation?
Offsetting Forces
Even if the Chinese solar industry does slow down in the short run, the negative consequences for the global market could be offset by other regions.
Between 2012 and 2015, Europe went from constituting 80 percent of the global solar energy market to only 20 percent. Meanwhile, Asia grew from only 10 percent of the market to now fully 50 percent of it. James doesn't doubt that a temporary, or even prolonged, decline in the Chinese solar industry could be outweighed by expansion in other areas of the world. Particularly, he noted optimistic growth outlooks for Latin America, the Middle East and Southeast Asia.
"No one knows what the future of solar looks like," he said. In the next few years, he expects a number of markets to accelerate rapidly as solar becomes an increasingly competitive energy source. "Even our aggressive outlook could end up being low compared to what actually happens."
Nevertheless, despite his positive outlook for the industry overall, James maintained that China's economic woes, particularly the slowdown in electricity demand, should make investors stop and think. "I do think that it's a long-term concern," he admitted.
Image Credit: Public Domain
Posted-In: Analyst Color News Short Ideas Emerging Markets Topics Global Top Stories Markets Best of Benzinga
View Comments and Join the Discussion!