BMW Reports Lackluster Earnings Amid Slowing China, Changing Product Focus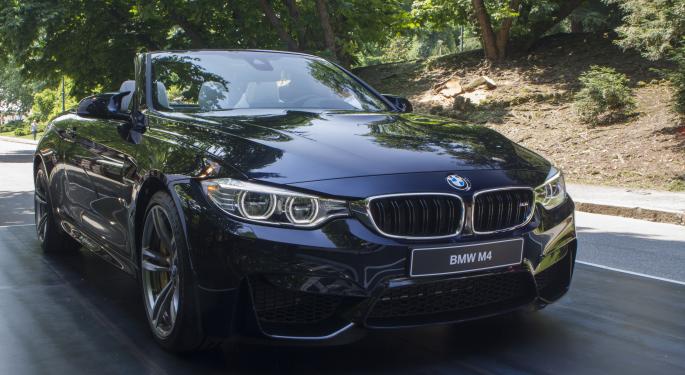 July was an overwhelmingly positive month for automakers. As companies released U.S. sales figures on Monday, widely expanded revenues and margins seemed to be the theme of the day.
But not everyone was joining in on the fun. BMW was one of the weaker performers, with only a 2.1 sales increase in the United States compared to 6 percent for General Motors Company (NYSE: GM) and Fiat Chrysler Automobiles NV (NYSE: FCAU) and 8 percent for Honda (NYSE: HMC) and Nissan.
Related Link: Driverless Cars: A $97 Billion Opportunity For These Companies
BMW's numbers are also softening globally. The company released its Q2 earnings on Tuesday, admitting that profits slipped by 1 percent during the quarter. Profit before interest and taxes dropped by a full 8.4 percent. The German automaker's stock took a 2 percent hit following the disappointing report.
China Slowing
In its earnings report, BMW executives attributed some of the backwards movement to a slowing Chinese economy. China, where BMW sales declined 1.4 percent during the quarter, has been a rich source of profits for German automakers over the past several years, said company management.
But Michelle Krebs, senior analyst for Autotrader, told Benzinga that China's economic woes' effects on the auto market won't stop at BMW. "China will impact everyone," she warned.
Nevertheless, the German manufacturer remained optimistic about the Chinese market over the long term. They cited the country's low level of vehicle ownership and emerging middle class.
Changing Focus
Krebs also highlighted another reason that BMW's sales may have slumped: "They're moving down the market, selling things like the 1 Series and the 2 Series -- smaller vehicles with thinner profit margins."
According to Krebs, the firm is trying to expand its customer base to appeal to millennials. This shift necessarily involves smaller, more affordable vehicles.
The company, in its earnings report, also highlighted that key models such as the 5 Series and 7 Series are nearing the ends of their life cycles. Renewing such products can be costly, management said, but will pay off as long as the updated versions outsell their predecessors.
No Need To Worry
But despite a lackluster July and weak Q2, Krebs doesn't think that BMW is in any serious trouble, especially within the United States. "The luxury market is strong, especially in sports utilities, and they have plenty of those," she said.
Posted-In: AutoTrader BMW Michelle KrebsAnalyst Color Exclusives Best of Benzinga
View Comments and Join the Discussion!