William Blair: GE Data Analytics Is 'The Next Big Thing'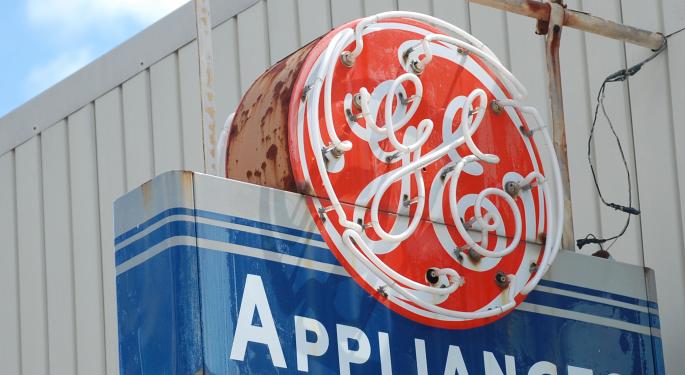 General Electric Company (NYSE: GE) reported better than expected second-quarter earnings earlier on Friday and also upped its earnings guidance for industrials business to $1.13–1.20 from an earlier $1.10–1.20.
Nick Heyman, William Blair analyst, was on CNBC to discuss how GE Software's data analytics has a lot of potential going forward.
The Next Big Thing
"It's a reinvention of the company," Heyman began. "They found the next big thing, I think, and that's probably GE Software's data analytics, which could in fact become as important by early/mid next decade as GE Capital was over the last couple of decades.
"By exiting Capital, the big unknown, they are really shifting back now to become the premier supplier of global base infrastructure – power, water, transportation, oil and gas – critical needs that are unmet around the world."
Related Link: Is Regulation A Risk For GE?
Tracking Industrial Equipment The World Over
Heyman was asked what exactly does GE Software's data analytics arm does. He replied, "Predictive analytics for them is now moving way beyond their 1 trillion installed base of industrial products. And in fact, they are able to through the industrial Internet and partners use their predict software to begin to track real-time what's going on all over the world for virtually all industrial equipments."
Importance Of Data Analytics
Heyman highlighted how important data analytics is for big industrial companies, saying, "We remember when companies way back were getting involved in digitizing their business models in the late '90s. And that certainly was a big transformative factor for industrial companies. But today, just GE, Honeywell and Rockwell are really involved in data analytics and that's really the next generation of digital aftermarket for industrial companies," Heyman concluded.
Image Credit: Bubba73 at en.wikipedia [CC BY-SA 3.0 or GFDL], from Wikimedia Commons
Posted-In: CNBC GE Capital honeywell Nick HeymanAnalyst Color Top Stories Tech Media Best of Benzinga
View Comments and Join the Discussion!