Why The PC Market Is Doing Poorly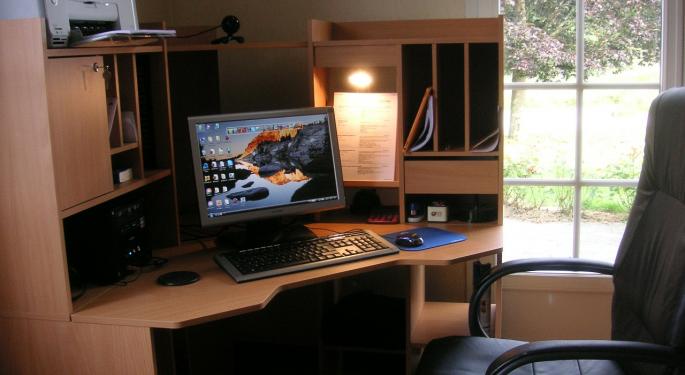 There is no denying the fact that PC sales have been on the decline for quite some time due to the rising popularity of tablets and smartphones.
According to Gartner's latest estimates, worldwide PC shipments fell 9.5 percent in the second quarter of 2015. In fact, this was the steepest decline since the third quarter of 2013.
"The weakness of desk-based PC shipments in the second quarter of 2015 is partly due to relatively large shipments in the second quarter last year when the market was driven by the end of XP support," Gartner analyst Mikako Kitagawa said in the Gartner release. "Despite inventory controls for the Windows 10 launch, mobile PC shipments grew in the quarter, which resulted in five consecutive quarters of mobile PC growth in the U.S. Affordable thin/light notebooks are attracting more business buyers."
Related Link: IDC: "PC Market Continues To Decline Ahead Of Windows 10 Release"
Kitagawa cited the strengthening U.S. dollar as the primary driver behind higher PC prices in local currencies. In addition, PC demand cooled off after last year's Microsoft Corporation (NASDAQ: MSFT)'s Windows XP support with no major growth drivers presenting themselves.
Microsoft Comments On PC Demand
"Last year was the peak of the XP refresh cycle, evidenced by Windows Pro revenue growth of 19 percent," Amy Hood, Microsoft's Chief Financial Officer said during the company's third-quarter conference call. This growth significantly outpaced the underlying PC market driven by higher attach [sic.] of Pro, particularly with large enterprise customers in developed markets. This quarter Pro revenue declined by 19 percent and is essentially flat to our Q3 FY 2013 levels as both business PCs and Pro mix in that segment returned to pre-XP refresh levels."
Intel: PC Market Should Be...

Brian Krzanich, Intel Corporation (NASDAQ: INTC)'s CEO commented during the company's most recent annual shareholder meeting that he is forecasting the PC market to be "flat to slightly down mid single-digits over the long term." He also noted that there will be years of stronger PC demand and shipments and years where it will lower.
"But over the long haul, we think it will be stable to down mid-single digits," the executive also reaffirmed.
Statista: 'PC Market Plunge Is Picking Up Pace'
Statista is out with a new chart that may cause Intel's Krazanich to perhaps revisit his long-term forecast.
Statista's chat clearly shows declining PC shipments in all but one quarter since Q2 2012. The one positive quarter occurred in Q4 2014, but the chart shows the gains as being relatively insignificant by comparison.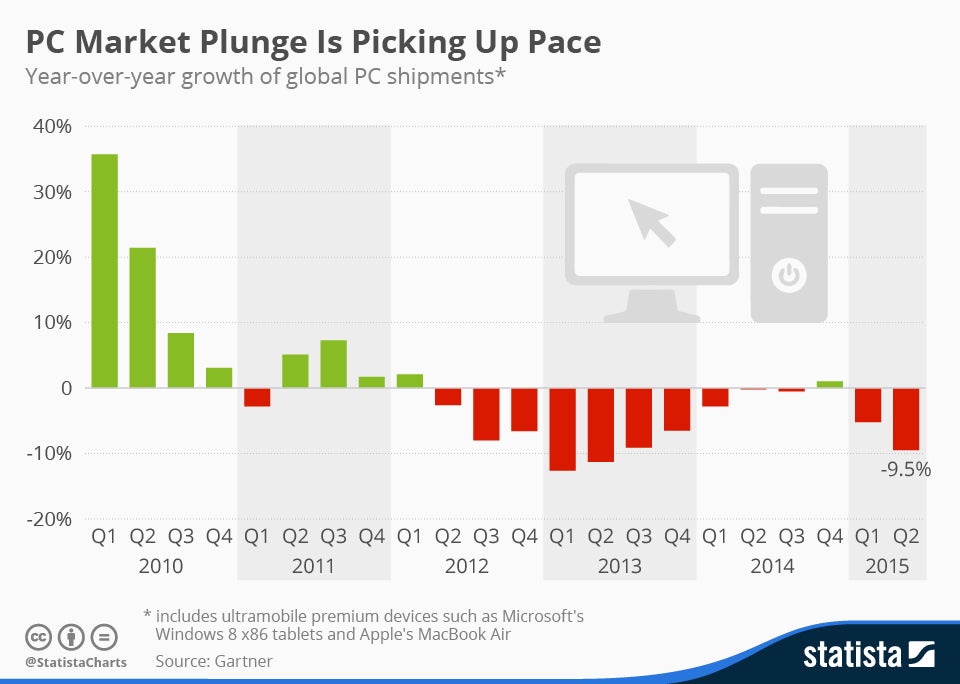 Image Credit: Public Domain
Posted-In: Amy Hood Brian Krzanich Gartner Mikako Kitagawa PC Demand PC market smartphonesAnalyst Color
View Comments and Join the Discussion!