Cramer Thinks Puerto Rico, Not Greece, Is Pressing Issue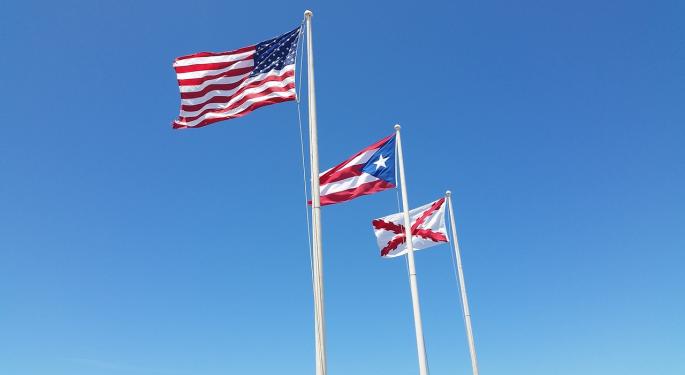 While investors the world over are worrying about the outcomes of the Greece debt crisis, investors back home in the U.S. received another shock when Puerto Rican Governor Alejandro García Padilla announced on Monday that the small territory is facing problems in paying its nearly $72 billion debt.
The situation worsened when Josh Earnest, White House spokesman, told reporters that the federal government is not considering bailing out Puerto Rico.
CNBC's Jim Cramer was recently seen discussing the Puerto Rico debt problems and comparing it with the monetary issues in Greece.
Not So Great
"Puerto Rico, I think, was more important in some ways," Cramer said. "I'll tell you why, because Puerto Rico? Everybody had it, so to speak. Rich people had Puerto Rico. Mutual funds had Puerto Rico. A lot of hedge funds had levered off of [sic.] Puerto Rico because it was such a great trade.
Related Link: Trouble In Paradise: Puerto Rico's Mounting Debt Crisis
"It turned out to be not so great. And now everyone is scrambling about whether MBI is going to guarantee and what does it means not to have interest payments for four, five years...Puerto Rico demographically was a terrible place."
No Bailout, No Help
Cramer mentioned that there were hopes that the federal government would come out with a bailout. However, that didn't happen.
According to Cramer, Puerto Rico having debt of $72 billion, which is more than any other state in the U.S., is a problem since it directly affects a lot of U.S. investors, unlike Greece.
"It's not like that Puerto Rico can go turn to a Chinese lifeline. They are not going to call Putin and have that meeting the way that Cyprus had," Cramer said.
Image Credit: Public Domain
View Comments and Join the Discussion!
Posted-In: Alejandro Garcia Padilla CNBC Greece Josh Earnest Puerto Rico Jim CramerAnalyst Color Media Best of Benzinga