Guggenheim Securities' Top Banking Picks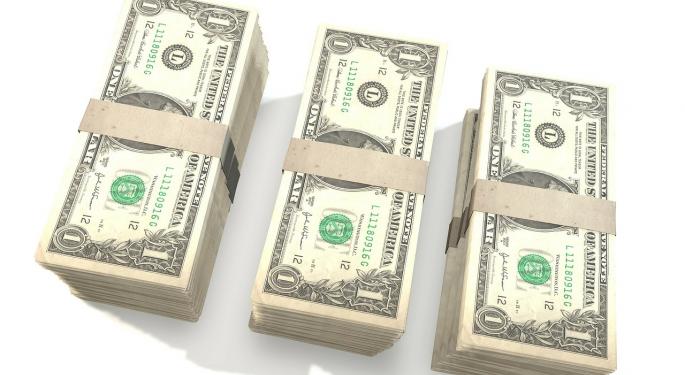 The banking sectors, especially big banks like JPMorgan Chase & Co. (NYSE: JPM), Morgan Stanley (NYSE: MS) and Goldman Sachs Group Inc (NYSE: GS), seem to be on a roll right now with shares trading at highs not seen since the start of the financial crisis.
Eric Wasserstromm, Guggenheim Securities, was on CNBC Friday to discuss why banking stocks are flying high and to list his top picks in the sector.
Exuberance In A Very Under-Held Industry
"I think there's a lot of exuberance moving into what has been largely a very under-held industry over the past few years," Wasserstrom began. "But in terms of rate expectations, we would argue that that's largely reflected in earnings. So, we don't really see earnings going up too much as a consequence of this yield-curve move."
Related Link: Piper Rolls Out Regional Bank Coverage: Sector Hitting Highs
Rate Expectations + Capital Market Strengths
On big banks showing strength more than regional banks on expectations of a rate hike, Wasserstrom said, "I think with the big banks it's a couple of different things – it is the rate expectation…although it is the regionals who are more exposed to that. But also, we have had some pretty good capital market's trends over the course of the quarter, and of course that tends to aid those institutions."
Top Picks
Wasserstrom was asked his top picks in the banking sector in the current economic scenario. He replied, "We like the big brokers because of this M&A activity that's coming, as well as their continued strength in terms of share repurchases. So, Morgan Stanley is our top pick and Goldman Sachs we like there as well."
When asked if he expects Morgan Stanley to continue to perform well, even though it has been last year's best performing banking stock, Wasserstrom said, "Yeah, the question is what's happening with their earnings stream. They have got probably one of the most compelling mix right now."
Image Credit: Public Domain
View Comments and Join the Discussion!
Posted-In: banking big banks CNBC Eric Wasserstrom Guggenheim Securities regional banksAnalyst Color Media