Piper Jaffray: Starbucks 'Can And Should Do Massive Share Repurchase'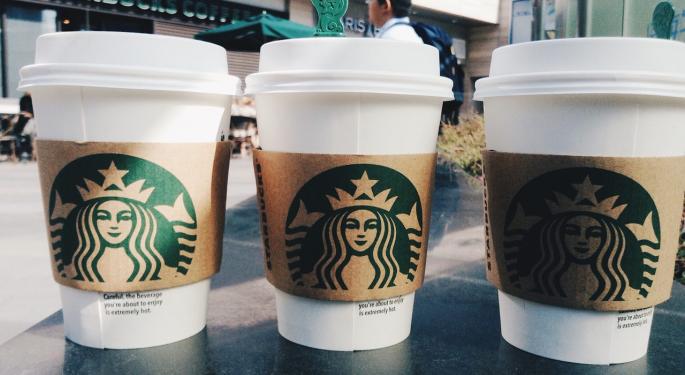 Shares of Starbucks Corporation (NASDAQ: SBUX) have had a straight upward run in the past few months, up over 27 percent year-to-date and trading near their all-time highs.
Nicole Miller Regan, managing director and senior research analyst at Piper Jaffray, was on CNBC Tuesday to discuss what's driving the rally in the stock.
The Concerns
"When you look at Starbucks, a couple of things – technology, you can practically eat online in terms of their mobile app order and pay," Miller Regan said. "Also, there's some concerns sometimes with investors about restaurant sales, and here you can go through the grocery aisle, pick up coffee and bring it home.
"And finally, people are worried about the avian flu and they are selling coffee."
Related Link: Deutsche Bank: Buy Starbucks, "Maybe The Ticker Should Be $BUX"
Should Complete Massive Share Repurchase
Miller Regan was asked if Starbucks can continue to grow at the same pace as it has in the past. She replied, "I think so, and there's just a lot of levers they can pull.
"In terms of the U.S. comp, they have food, they have delivery, they have mobile order and they have new products in LTOs (limited time offerings), like Flat White – extremely successful – but they can also grow earnings with their balance sheet. This is a company that can and should do massive share repurchase."
The Worry
On what she would worry about most if she had to worry about the company, Miller Regan said, "I would worry more about investors' concerns. Sometimes, the expectations get ahead of the stock and I would just worry about the perceptions from time to time due to that."
Image Credit: Public Domain
View Comments and Join the Discussion!
Posted-In: Avian Flu CNBC Nicole Miller Regan Piper Jaffray VetrAnalyst Color Media