Vice Index: Will The Boom In Prostitution, Gambling And Marijuana Last?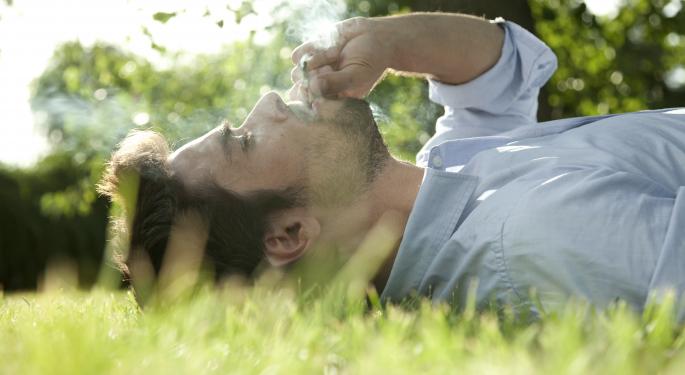 A Burst in Vice Spending
Vice spending, as we know, is affected by the weather. This year it was battered by storms which rocked the US from Spring Break into early April, holding back spending until Easter. It's fitting that the original Easter holiday was a pagan celebration of the Spring Equinox full of revelry, feasts and sex.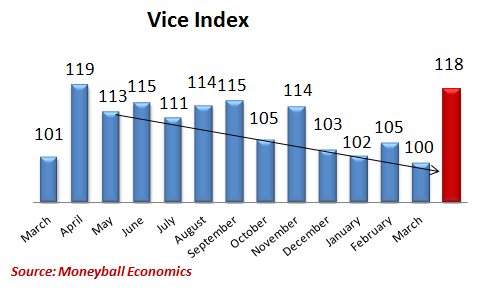 Last year, we saw a similar pattern: storms dampened play time but once they passed, the game was on.
We see that pattern of spending echoed in various other mainstream data points like Retail Spending. Look at the chart below showing last year's retail and food sales. You can see a three-month cycle: storms battered spending in the first month, then there was a bounce back which offset the previous month's drop, and the third was a recovery on steroids.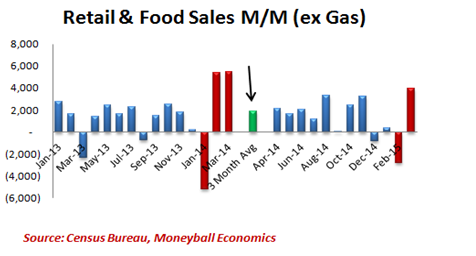 When we average that three-month period (the bar in green), we get basically the same level of spending before and after the storms. Essentially what this shows is that people have the money to spend and they use it, but the timing gets jerked around by whether or not they can get out in the first place. So why is spending able to move up in March, while the storms were still raging? The Internet, baby! Dope can't be mail ordered (yet), but clothes can.
Now notice this year's retail spending above. February got smacked down and then March rebounded. Plus there's a cool twist: it rebounded even higher than simply offsetting the February drop. That's a sign of big consumer demand.
Let's Get This Party Started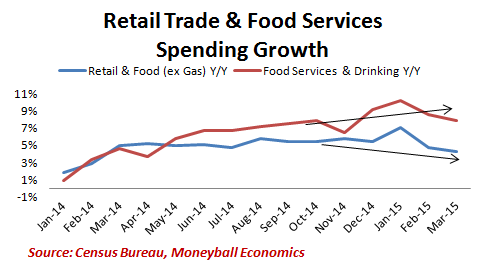 Party Time? Oh my, yes. If we dive into those retail numbers, you'll see that the strongest growth of all retail components has been going out and drinking.
Official retail figures won't reflect the overall consumer spending sentiment because they don't include vacation spending. That's right: it's Spring Break time, airfare prices are high and hotel vacancies are low, but the official data will only report in-store spending. When folks are hitting the beaches in Cancun, can you really expect high levels of in-store spending?
If you agree with that, you can ignore any mainstream reports of weaker-than-expected retail figures. There's a good reason why hotels and recreation spots like SeaWorld are reporting better than expected earnings: people are spending more on experiences and less on stuff.
Now, back to the ultimate experience spending… vices!
Hookernomics

: Is Nasty Outbreak of Inflation Contagious?
Previous expectations were for a vanilla first half of the year. Over the holidays, we conducted a business survey of escorts. The feedback was consistent: for 1H of 2015, escorts expected no inflation. Given that there was no jump in costs, no major change in client spending and no margin or demand-driven pressures; that prediction should have made sense.
In March we noticed that more escorts were taking road trips. In the business of Hookernomics, fishing in new waters is typically an indication of a business slowdown.
Fast forward to April, and prices are selectively moving up. Why the sudden change?
For starters, the March slump definitely seems to have been weather related. In response to the weak start to the year, escorts hustled to generate the necessary cash flow. More recently, however, some escorts are testing the waters to see if the market will bear higher prices.
The What: Prices have moved up 10%. The price jumps are very selective – mostly in the middle and upper tiers of escorts. The increases are also very sporadic, just as the previous month's road trips were.
The Why: Raising prices is demand-driven and client pockets are expanding with unspent cash, or so some escorts seem to believe. It's a not-so-shining example of the free market in action. Suppliers are responding quickly to customer demand.
Whether or not this inflation trend will continue depends on several factors:
Escort pricing power: College summer vacations are starting and that inevitably leads to greater escort supply.
Client discretionary cash flow: Are escorts correctly reading the signs when perceiving fatter wallets?
Staying power: Client spending might be getting artificially pumped up. The spending budget grew only because of a one or two month weather delay. If the built-up funds suddenly get released in a burst of activity, demand will droop again, bringing down prices.
So is this a head fake after all? There is a spring rebound underway in consumer spending, but it may lack sufficient stamina to last into the third quarter.
Gambling Limps Back
Per Macau's Gaming Inspection and Coordination Bureau, February saw Macau gambling revenues drop 49% year-over-year, the first annual drop in Chinese gambling revenues. The reason: Chinese government anti-graft crackdowns have set limits on the number of gamblers allowed to visit Macau, and many wealthy gamblers are keeping their heads down to avoid attention. Those travel restrictions and interest in laying-low is hitting Vegas as well. Not to mention, folks like Steve Wynn are reporting that business is bad in Sin City.
For a handle on US consumers, the odds are better if we ignore Vegas and concentrate on the local casinos; the drive-in places, not the fly-in places.
Just as retail partially rebounded in March, so too did gambling.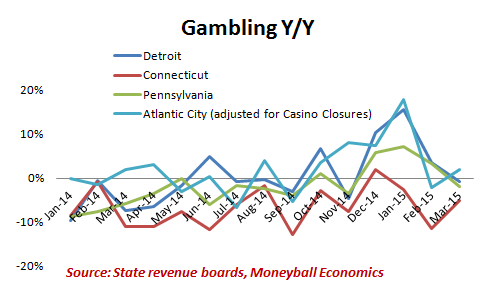 For some reason, many people expected that the March retail data would rebound a lot stronger than it did. This made no sense given that storms also hit March pretty hard, but there was a partial rebound in retail, just as there is a partial rebound in gambling.
What's especially interesting are the upticks in areas hit hardest by the snowstorms: Connecticut and Atlantic City. That just underscores the large pent-up desire and cash available to consumers, which is a great sign for April.
"High" Profits: Big Tobacco Turns Big Whacky

Tobacky
Name the world's biggest drug pushers and Philip Morris is near the top. As global tobacco consumption slows, Big Tobacco is looking at alternatives like cannabis. It's the equivalent of Seagram going after Molson. Liquor or beer… it's all drinking. Tobacco or cannabis… it's all smoking.
Big Tobacco also brings some much needed advantages to the cannabis community (in no particular order):
Political lobbying strength
Ties to farmers
Familiarity with the market dynamics of cash crops
Existing infrastructure to scale production
National branding
Quality control methodologies
Experience with extracting and mass producing the key chemical components (Cannabis-laced food products already exist, but are companies like Frito-Lay planning on tossing THC in the Tostitos?)
Also don't forget that people all over the world frequently smoke tobacco and cannabis together.
Big Tobacco has been studying the cannabis opportunity for decades. As part of the tobacco settlements a few years ago, millions of pages of documents were released by Philip Morris et al. According to a study done by the Center for Tobacco Control Research and Education, since the 1970s Philip Morris, RJ Reynolds and BAT:
Determined cannabis is not a threat to tobacco
Studied ways to affect decriminalization and legalization
Considered combining cigarettes and cannabis
The business potential was recognized quickly. Cannabis was not perceived as a competitive product. Philip Morris underwrote a study that concluded:
"…marihuana (sic) smoking will have grown to immense proportions within a decade and will probably be legalized. The company that will bring out the first marihuana (sic) smoking devices, be it a cigarette or some other form, will capture the market and be in a better position than its competitors to satisfy the legal public demand for such products."
Aside from business prospects, switching from tobacco to cannabis will have health benefits. Tobacco kills, that much is proven. Conversely, there are no meaningful studies that demonstrate cannabis is a health hazard. True or not, the general assumption is that it's healthier. In a 1976 memo to BAT, it was noted:
"If more restrictions are placed on tobacco and if the marijuana habit notches up further small advances in legality, many people may switch from one to the other in their search for a form of escape from our neurotic civilization. Marijuana supporters would claim that was a net improvement from the health aspect."
The key obstacle in all this is the public's conditioning to believe that marijuana is morally bad. As BAT noted in 1980:
"At present the taking of many of these drugs is either medically prescribed or regarded as deviant behavior, but could be "socialized" like alcoholic drinking and tobacco smoking…"
Philip Morris: The Best Cannabis Investment?
Move over Farmer John, the future of cannabis belongs to Big Tobacco. Cannabis Clubs are cute but they aren't the future of retail. We already have dedicated stores for selling vice products; they already sell controlled substances like alcohol and cigarettes. The novelty of cannabis will soon wear off, and with it the need for special restrictions.
While the local 7-11 begins to sell pre-rolled joints, you-know-who will be producing them. Not your small farmer but Big Tobacco. They have the capital, scale, and market reach necessary to being a key player in the national market. They have experience getting mass quantities of a controlled substance (1) into the hands of millions of stores and (2) ensuring that taxes are collected and paid. And they have been waiting for decades to do this.
The only thing stopping them is the current patchwork of legalization. If anyone has muscle and lobbying power at the Federal level, Big Tobacco does.
Near-Term Optimism in Vice May Not Last
The market seems revved up to further the gains in vice spending, at least in the short-term, as people spend their pent-up cash reserves from the storm-ridden first quarter of the year. Yet proceed with caution, because this short-term spurt in vice spending is a bubble about to burst by summer's end.
On the horizon are events that will only roil the markets: a symbolic (or "shambolic") Fed rate hike, higher gas prices, rising inflation and slower global growth. While the US is on a much stronger foundation than the last downturn, we also have a lot less ammunition to enable a QE4 (Fed buying up government bonds to manufacture lower interest rates). Interest rates are already pretty low and the Fed hasn't reduced the debt on its books.
The preceding article is from one of our external contributors. It does not represent the opinion of Benzinga and has not been edited.
Posted-In: gambling marijuana Spending on prostitution Vice IndexAnalyst Color Opinion Economics Best of Benzinga
View Comments and Join the Discussion!