O'Boyle: Regulators 'Should Block' Charter-Time Warner Cable Merger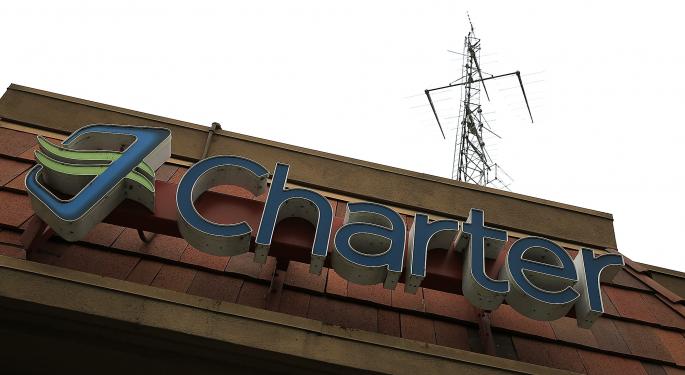 Charter Communications, Inc. (NASDAQ: CHTR) plans to acquire Time Warner Cable Inc (NYSE: TWC) for approximately $55 billion. The deal comes a month after the demise of the proposed merger between Time Warner Cable and Comcast Corporation (NASDAQ: CMCSA).
Unfazed by that failure, investors poured into Charter (which closed up 2.54 percent on Tuesday) and Time Warner Cable (which closed up 7.26 percent). One question remains, however: is this deal more likely to go through?
"This one is no less problematic and we know how the last one turned out," Todd O'Boyle, program director for the Media and Democracy Reform Initiative at Common Cause, told Benzinga. "I think there's compelling reasons to believe this gets blocked as well."
Common Cause is a nonpartisan, nonprofit advocacy organization. The organization came into the spotlight after Michael Copps, a former FCC Commissioner, joined as the special advisor to the Media and Democracy Reform Initiative.
"The burden is on the merging parties to demonstrate that this proposal would advance the public interest, so they can't just say, 'No harm,'" O'Boyle added. "They have to show this would actually benefit the public interest."
He continued, "I think it's very clear that this would bring intolerable levels of gatekeeping control to the interconnection and cable carriage markets, and for that reason regulators should block it."
Related Link: Will The Verizon-AOL Merger Help The Carrier's Lobbying Against Net Neutrality?
Charter's History With TWC
This isn't the first time that Charter has attempted to acquire Time Warner Cable. "More than a year ago, Charter was courting Time Warner Cable," said O'Boyle.
"They went through a couple of rounds of negotiations and Charter couldn't come up with a number that Time Warner Cable liked. That's when Comcast jumped in to say, 'We'll pay whatever they want.' That's where their $45 billion figure came from, and we know how that turned out."
When asked if the Charter-TWC deal is as dangerous as the failed Comcast-TWC merger, O'Boyle said that it's important to look at the "amount of market power it would have in the interconnection market."
"The amount of leverage it I would have in cable carriage negotiations…is troubling," O'Boyle warned. "Regulators are really keen on this dynamic -- new market in online video and over the top. Any combination that brings this much concentration to the home broadband market is going to raise some red flags because it threatens to foreclose innovations in over the top."
Is Consolidation A Way Of Life?
The Charter-TWC proposal has overshadowed the fact that Charter has also offered to buy Bright House Networks (the sixth-largest American cable company) for $10.4 billion. "Monopolists will always try to monopolize, so there will always be another merger proposal," said O'Boyle.
"The fact that we've got more of them before isn't surprising in itself."
Earlier this month Verizon Communications Inc. (NYSE: VZ) announced that it will acquire AOL, Inc. (NYSE: AOL) for $4.4 billion. O'Boyle said that the biggest distinction between that merger and the rest is scale. "It does involve some overlap because you have to ask the question, 'What sort of editorial control will Verizon exercise over the AOL media properties?'" O'Boyle questioned.
"'Will Huffington Post be able to operate blogs that are critical of Verizon?' That sort of question, right?"
Disclosure: At the time of this writing, Louis Bedigian had no position in the equities mentioned in this report.
Posted-In: Charter Comcast Common Cause time warner cable Todd O'BoyleAnalyst Color Tech Best of Benzinga
View Comments and Join the Discussion!