Why HP Is Finally 'Waking Up' And Considering The Benefits of Splitting Its Business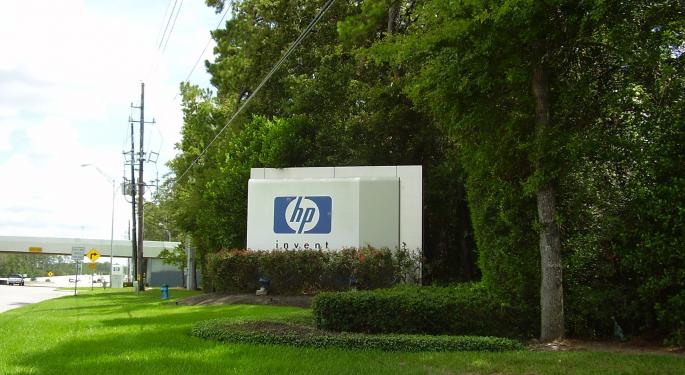 When Hewlett-Packard Company (NYSE: HPQ) reported its latest earnings last Thursday, very few were expecting the company to make any sort of announcement regarding the proposed splitting off of company's businesses.
However, on the earnings call, HP CEO Meg Whitman surprised the Street by saying that she is "more convinced than ever" that splitting the company's business in two is "the right thing to do."
Roger Lee, Battery Ventures partner, was on CNBC recently to discuss why HP is finally waking up to the idea that two different, better-managed businesses are better than one.
Smart Thing To Do
"I think it's a very logical thing for them to do, and I think it makes sense," Lee said. "People forget actually how big Hewlett-Packard is. I mean, even after the split they will have two Fortune 500 companies divided up into very logical ways. They have got their slower-growing PC and printer division and their faster-growing storage servers and networking group."
He continued, "And so as Meg (Whitman) was saying, dividing those into two different companies, I think, will allow them to operate a lot more efficiently, a lot more effectively and handle what is a pretty challenging market environment for both businesses right now. So I think it's a very smart thing for them to do."
Related Link: Hewlett-Packard Earnings: The Good And The Bad
The Challenges
On the challenges being faced by the company's two businesses, Lee said, "Both businesses are under pressure for sure, and the core PC and printer business, you have the changing nature of how people compute and they are migrating away from PCs towards tablets and smartphones.
"Now the supposedly faster growing storage and server business, that business is under pressure too," Lee commented.
"You have got a changing of the guard, and the whole software industry is getting reinvented right now around things like cloud and big data and mobility. These are all kind of big buzz words out here. But real companies are getting built around these trends, and HP is going to have to figure out how to handle them," Lee concluded.
Image Credit: Public Domain
View Comments and Join the Discussion!
Posted-In: Battery Ventures CNBC Fortune 500 Meg Whitman Roger LeeAnalyst Color Media