Why Best Buy Is The Cadillac Of Consumer Electronics Retail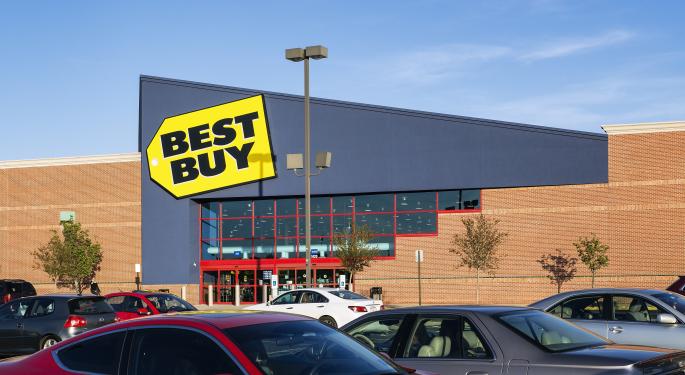 Shares of Best Buy Co Inc (NYSE: BBY) traded strong on Thursday following the revenue and earnings beat posted by the company for the latest quarter. Michael Pachter of Wedbush Securities was on CNBC after the results to share his outlook for the stock going forward.
Moves Sideways
Pachter was asked that his price target of $37 is very near to where the stock is trading right now, so doesn't that basically makes Best Buy a sell for him. He replied, "No, actually. I am pretty well known for having sell ratings..So, if I hated these guys, I'll have a sell. The truth is we have one-year price targets, one-year investment recommendations."
"I think Best Buy moves sideways this year. I think it trades on comps and I think it has a tailwind from RadioShack going away from lower gas prices and from increased housing starts which help appliances. So, they have got three things that are going to drive their comps positive and kind of hide the fact that they are losing share online on consumer electronics."
He continued, "I think maybe a slight benefit from 4k TVs, but I think pricing on those are coming down so fast that that's not going to help them next year and next year I'll revisit. I think that these guys get the tailwind. I think they sail really well over smooth waters this year. Next year, it becomes déjà vu all over again and Amazon takes more share."
Your Dad's Brand
On the possible bull case for Best Buy Pachter said, "The bull case is that these guys are the Cadillac of consumer electronics retail and I think the problem with that bull case is that Cadillac is your dad's brand, it's not your brand. So, if they don't win over new customers, young people, and their old customers die, I mean eventually that's what going to happen, they have got a problem."
Posted-In: Michael Pachter WedbushAnalyst Color CNBC Analyst Ratings Media Best of Benzinga
View Comments and Join the Discussion!