SolarCity & Tesla's Battery Storage Plan: Is It Viable Sans Subsidies?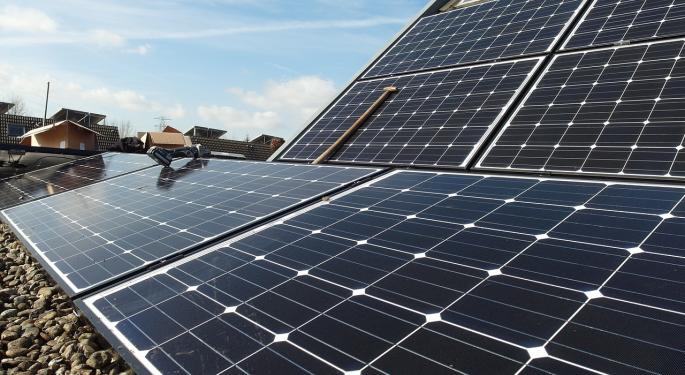 Last week, Elon Musk revealed plans for Tesla Motors Inc (NASDAQ: TSLA) to ramp-up the efforts currently being tested in California jointly with SolarCity Corp (NASDAQ: SCTY) to sell "Powerwall" battery systems to residential customers. These Powerwall battery systems will store energy derived from PV solar panels.
On Monday, Greentech Media (GTM) published, "SolarCity's Plan For Tesla Batteries: Share Grid Revenues With Homeowners," by Jeff St. John, which describes potential game changers and challenges when it comes to networking distributed solar power generation with behind-the-meter energy storage systems.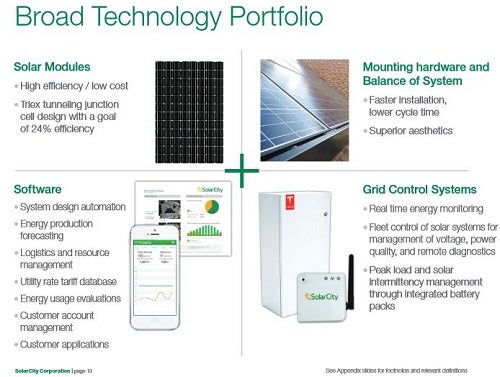 Source: SCTY presentation
One key to allow this revenue sharing will be the evolution of the utility owned and state regulated, electrical-transmission grid.
A $500/KW Price Point
Peter Rive, Musk's cousin and co-founder and CTO of SolarCity revealed that SolarCity will install Tesla's 10-kilowatt-hour batteries for about $5,000, "a figure that clarifies just how much markup it plans to add to the $3,500 pre-inverter and installation price Tesla quoted in last week's unveiling."
Related Link: Tesla Does Home Battery Solar Disruption
While subsidies for California pilot projects are estimated to have contributed about 50 percent towards the overall system installation costs, the $500/kW system cost should make systems viable in other states and in California after the subsidies end.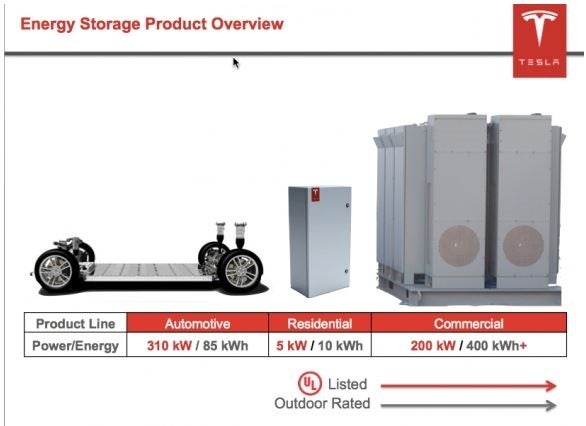 Source: Tesla - greentechmedia.com
Among the things investors must factor into the equation of the viability of lithium-ion batteries for stationary (non-vehicle) use is the evolution of utility regulations.
Smart Grids & Regulators
In California, the Big 3 investor owned utilities (IOUs) – Pacific Gas & Electric Company (NYSE: PCG-A), Southern California Edison Co. (NYSE: SCE-E) and San Diego Gas & Electric Company (NYSE: SDO-H.CL) – are estimated to spend $6 billion per year on grid distribution infrastructure.
California's AB 327 mandates that these IOUs take distributable energy resources (DERs) into account when spending money for planning and construction of grid investments.
It is far more complicated to build and maintain a grid designed for two-way electricity flows and the capacity to network with many more nodes than a traditional 100-year old, one-way transmission model.
A Grid Ready 'Fleet'
Last year, in another GTM article, SolarCity's Eric Carlson planted the seeds for how a "fleet" of behind-the-meter residential battery storage systems "could be a valuable resource for a whole host of grid functions, if it's connected to the IT infrastructure to make use of it – and SolarCity just happens to have that infrastructure in place."
SolarCity has been installing in-home controllers and broadband connections at its residential solar sites for years now, and recent pilot battery storage projects have shown "how battery charge-discharge cycles could be altered to help meet utility and grid needs."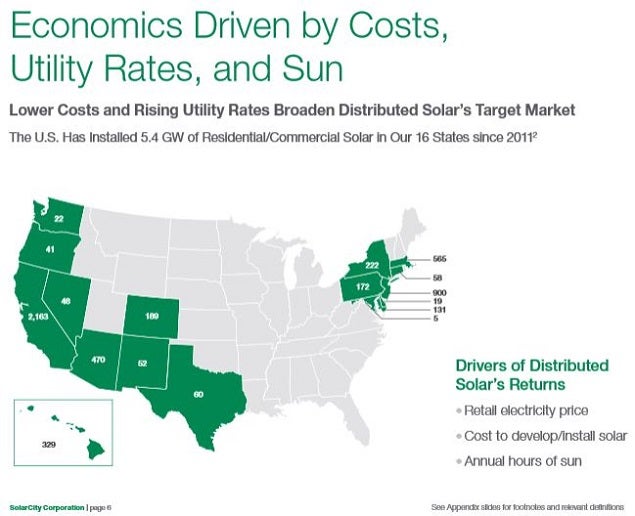 Source: SCTY presentation
"All of the contracts that customers are signing, and all of the batteries we'll be deploying, are grid-services-ready," Rive said in the GTM article from May 4.
Merging Utility & Customer Assets
Rive also mentioned that in California utilities pay about $10 per kilowatt-month for grid capacity services – funds which could potentially be used to compensate SolarCity and homeowners for a multitude of grid support services.
Grid support functions that networked battery storage customers could provide, include: automated demand response, distribution bottleneck reduction/avoidance, flexible capacity resources that can be ramped up quickly to meet peaks in demand and reducing or eliminating the need to construct new fossil fuel "peaker plants" or transmission lines.
Related Link: Grid Edge 20: Who Is Disrupting The U.S. Electric Market?
Smart inverters could help with voltage management and "mitigate the unusual grid conditions that can arise on circuits experiencing voltage fluctuations and two-way power flows from distributed solar," GTM reported.
Bottom Line
Regulation reform is critical to the rate of grid edge solar and storage adoption in each state.
As GTM stated, "California has mandated that its three big investor-owned utilities procure a combined 1.3 gigawatts of energy storage by 2022 – and it has set aside customer-sited storage systems as being eligible for meeting that mandate."
Agreement on utility industry standards for interoperability, smart inverters and other grid management protocols, are all necessary for SolarCity to leverage its network of residential Tesla battery storage systems – and for customers to participate and receive their "fair share" of economic benefits.

Image Credit: Public Domain
Posted-In: Elon Musk Eric Carlson Greentech MediaAnalyst Color Previews Tech Trading Ideas Real Estate Best of Benzinga
View Comments and Join the Discussion!