Leon Cooperman Predicts Fall/Winter Fed Hike, But Fails 'To See The Significance'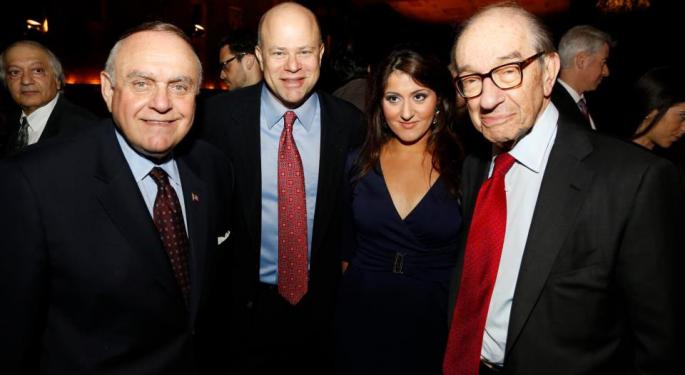 Whereas most market participants are worried about interest rate hikes, billionaire investor and chairman of Omega Advisors, Leon Cooperman, feels a rate hike in September or December isn't of much significance.
Cooperman was on CNBC Monday to discuss the current state of the market and when Fed will be raising rates.
The Market 'Seems About Right'
"I think the market is in a zone of fair and full valuation," Cooperman said. "I don't think it's overvalued; it's not priced to perfection.
"If I thought there was something overvalued, I'll have to say I think it's the bond market [that] is overvalued, but stock market is about 16.5 times earnings and seems about right."
Related Link: Bill Gross: Fed Will Raise Rates, If Only To Prove They Can
Rate Hike: Insignificant
Cooperman was asked about when he thinks the Fed will start raising rates. He replied, "Probably September or December, and I fail to see the significance."
He explained, "I am kind of the viewpoint that it's more negative if the Fed doesn't move, because it says something about the condition of the economy.
"So, if historically, if you look at the market versus interest rate cycles, on average after the first Fed rate hike, the market didn't peak for 30 months. And the shortest period of time when the market peaked before the rate hike was 10 months."
Cooperman continued, "And on average, after the first Fed rate hike, the market a year later was 9.5 percent higher than it was at the first Fed rate hike. So, I think all this preoccupation about the Fed is somewhat misdirected."
Bear Markets
According to Cooperman, bear markets come about for one of four reasons:
1) Stock markets start to decline in anticipation of a recession
2) The stock market gets overvalued
3) A geopolitical event shocks the market
Cooperman expressed that he feels none of these four reasons are currently present for a bear market to occur.

Image Credit: Public Domain
Posted-In: CNBC Leon Cooperman Omega AdvisorsAnalyst Color Media
View Comments and Join the Discussion!